Family treasures tell a story
Welcome to my first post on the new
Genealogical Society of Queensland blog. My name is Pauline Williams and I will be blogging here once a month. My topics will mainly relate to writing, but I may talk about something else if it grabs my attention and doesn't cut across the other regular bloggers. I tend to shy away from social media in general and am new to blogging, so this is an interesting development for me.
Why talk about writing? Well, I'm always writing: writing helps me to learn and remember. My formal writing skills were grounded in an academic education in an English grammar school. I'm now retired from full-time work, but they were honed during my many years working in a major Queensland university starting as a minute secretary and working my way up to be a manager producing innumerable reports. Along the way I completed a Bachelor of Arts and a Masters in Public Administration. Latterly I completed a Graduate Certificate in Writing, Editing and Publishing.
I started editing GSQs quarterly journal
Generation
in 2009 and this prompted me to put all my experience to good use by developing and offering an education course for GSQ and Brisbane City Council Libraries on Writing your family history.
This morphed into the establishment of a Writing Group at GSQ in 2011, which I convene. The Writing Group meets bi-monthly: February, April, June, August, and October for two hours, although members usually stay on to chat over lunch or do some research, or both. From small beginnings the core group now sits at around 20 members. Writing experience ranges from the novice (where do I start) to the more experienced.
In our relatively short life as a GSQ special interest group we have had guest speakers talking on a range of topics, technical input on issues such as editing, revising, features of word processing programs, and different ways of writing a family history. We have built up a small library of books, which members can borrow (GSQs main library is reference only).
One member volunteers to write something for discussion at the meeting, with the group offering constructive advice on how they think the writing could be enhanced. Obviously these are suggestions only and the writer can choose whether to accept them or not! Many of these pieces are subsequently published in Generation.
In 2011 I asked members to write about a family heirloom – what it meant to them and why, and to bring it along if possible. Three members took up this challenge and we had three quite different stories focussing on some diaries/notebooks, a wooden chest full of letters, and a pair of gold tie studs converted to earrings. These stories were published in
Generation
in December 2011.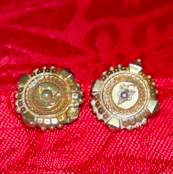 The gold tie studs reflected the progress of a young man to a position of comparative wealth and financial rewards, who sadly died before he could fully take advantage of the fruits of his labours.

The handmade wooden chest full of letters documented the love story of the writer's parents who did not marry until the man had transferred with his job from a remote isolated country area to one which he deemed suitable for a young bride.
The diaries/notebooks record all the family's 'hatches, matches, and dispatches', together with a delightful memoir of a holiday back to the home country of Ireland, as well as a description of the Eiffel Tower built for the Great Exhibition in Paris.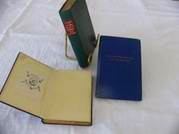 So, new members of the Writing Group often say "I don't know where to start". A sound piece of advice is to start with something that you know – be it a family heirloom, family business, 'favourite' or most intriguing ancestor. Ultimately, it doesn't matter where you start – just start and see where you end up.
If there are any topics you would like to see covered, don't hesitate to let me know.
Until next time … happy writing!