Gold Coast – January 2019

Recently my two older cousins and I were reminiscing about our paternal grandfather and the Sundays we spent at our grandparent's house during the 1950s. We laughed about running through the house, remembering how we had to jump over the sills that lead onto the side veranda, making sudden noises and laughing and yelling as we went.

These were activities that we cousins had been given strict instructions not to do. None of the adults gave any explanation as to why we shouldn't so we took delight in doing all these things, much to Papa's displeasure.

If only I had known …

(The impact this noise and boisterousness had on Papa due to his World War 1 experiences.)
Belgium – January 1919
My name is Alan Frankel, my service number is 382. I am a member of the 49th Battalion of the Australian Imperial Force (AIF). Together with others in my Battalion we are in Belgium helping to rebuild destroyed farms and villages.
If only I had known …
(That actions I took in 1916 would lead me to this place.)
It was with a mixture of excitement and a sense of duty that I and another couple of close friends from school, university and the 23rd Signals, Engineering Battalion of the Citizens Military Force (CMF) enlisted in the AIF.
I had just finished my engineering and science courses at the University of Queensland and was working part-time at my father's company of Philip Frankel and Co when there was a call for men to join a newly formed Motor Cycle Despatch Riders Company for the AIF.
These friends and I enlisted in Brisbane on 7 March 1916. I was 21 years and 7 months. My father was unhappy with my decision to enlist in the AIF. While I considered it my duty to give my best services to King and country; my father's wish was that, as an only son, I stay and take an active part in the management of Philip Frankel and Co.
At my farewell party organised by the staff of Philip Frankel and Co both my father and I spoke about these differing opinions. In his speech, my father also added that while we may have different opinions, he admired my spirit for joining and felt sure I would fulfil my duties. He then presented me with a wristlet watch which he placed on my arm and said, ''Alan ….. you have always been a good son, and I trust you will make a good soldier.'' It was a very emotional moment. The staff then gave me a farewell present of a silver mounted pipe and tobacco pouch. We ended the afternoon with me calling for three hearty cheers for the King and Empire.
During the remainder of March and the whole of April 1916, I and the other reinforcements were housed in temporary accommodation in and around Enoggera Barracks and provided with military training in preparation for overseas service. On 1 May 1916, a cohort of men destined as second reinforcements for the 4th and 5th Divisional Cyclist Companies, as well as reinforcements for the 13th, 47th, 49th and 2nd Battalions, and the Pioneer Machine Gun Sections boarded the Clan McGillivray A46, docked at Pinkenba Wharf. The Clan McGillivray was a Scottish steamer leased as a troop ship by the Commonwealth Government. It was a smallish ship with an average speed of 14 knots (25.92kmph).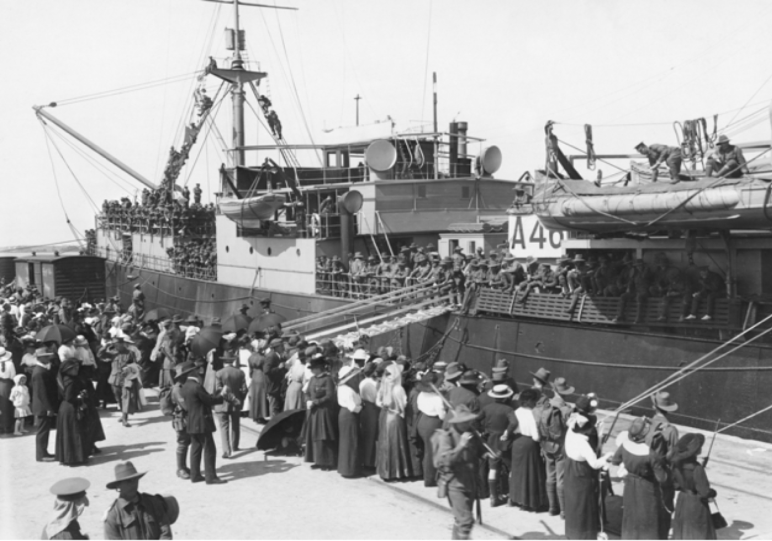 After leaving Pinkenba Wharf, we sailed for Sydney, arriving on 3 May 1916. Here more soldiers boarded and we slowly made our way to Fremantle in Western Australia, arriving on 13 May 1916. Not long after we sailed from Sydney, some of the men came down with influenza. Soon it spread throughout the ship. With many hundreds of men and up to 17 officers aboard, everyone lived in close quarters.
My dear friend William Campbell Thomas caught it and during a coughing fit, he severely strained himself and eventually died of "heart failure". This was devastating. We had been good friends for many years, firstly as classmates at Brisbane Boys Grammar and then as students at the University of Queensland. As well, he was a family friend. I was asked if I would say prayers for him before he was buried at sea before we sailed into Fremantle. I did this.
My father was very upset when he heard news of William's death. Immediately upon hearing this news he wrote to the Commandant of the Defence Department in Melbourne, asking if this were true.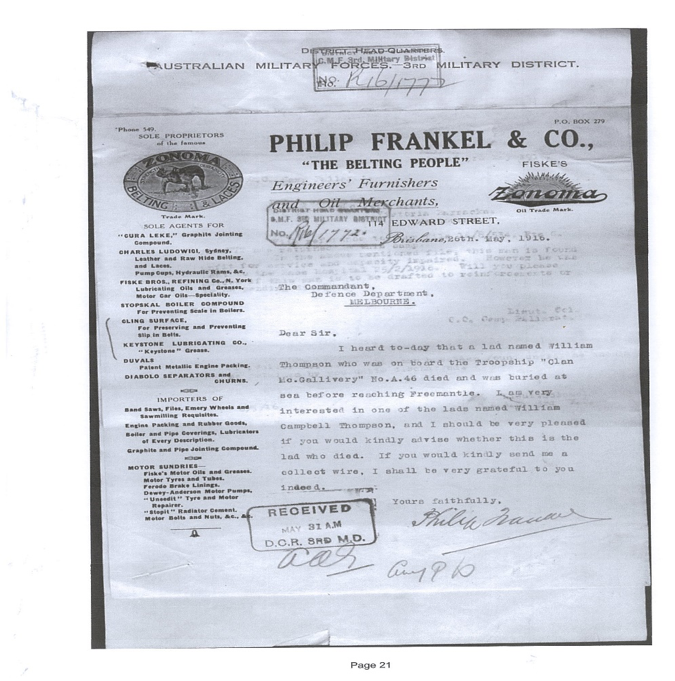 After two days in Fremantle where more men and fresh provisions were taken on board, we sailed for Ceylon (Sri Lanka) on 15 May 1916. By then our complement of men was 1013 men and 17 officers. It took us thirteen days to reach Colombo, arriving on 28 May 1916. It was during this sailing that I caught meningitis and spent about ten days in the ship's hospital. Others in the hospital had influenza or measles. When we reached Colombo, the men were allowed onshore.
Within 24 hours (on 29th) we sailed again. Our destination was Egypt. After sailing through the Suez Canal we arrived in Alexandria on 13 June 1916, a voyage of forty-three days.
We were all pleased to be on land again particularly as there had been insufficient food for the number of men on board. This was an issue from the very start of our journey and particularly from Brisbane to Fremantle. During this period, porridge was only served on alternate days and plum pudding only on a Sunday. Food was rationed and this caused many complaints. Each man was allowed a quarter of a pint of tea or coffee for breakfast. Tinned fish was served on Fridays and also when other food was in short supply. No meat of any kind was provided at the teatime meal. It was possible for us men to buy fish at the canteen for this meal.
After we left Fremantle, our meals were better with pudding served at each evening meal. However, there were still complaints about food shortages.
If only I had known…
(That in Egypt my duties would change dramatically.)
To be continued in July blog
---
All information contained in this blog is accurate and true and not fictional.
Research was carried out at the Australian War Memorial (AWM), the National Australian Archives (NAA), National Library of Australia (NLA) and the Queensland office of the NAA.
Sources used included World War 1 Service records, Enlistment papers, WW1 Embarkment papers, Unit Diaries, Histories of the 52nd and 49th Battalions, Troop ship passenger records,Veteran Affairs files, Trove articles;- April 1916 to July 1919, family papers, Wikipedia articles and University of Queensland and Brisbane Boys Grammar archives.