My Webster ancestors: Part two
This story is a continuation of my blog of 28 January 2019
The Websters in 'Oz – Sibling James Webster
Travelling to New South Wales from their home in Fife was David & Euphemia Webster's eldest son James, born in 1829. Shortly after he married Elisabeth Redpath in January 1853, the couple emigrated to Sydney onboard the 'Empire' arriving on 27 July 1853.[1] [2] Elisabeth had been given a tiny bible prior to her marriage, which was embossed 'ER' on the brown leather cover. This bible is still in the family and held by my sibling.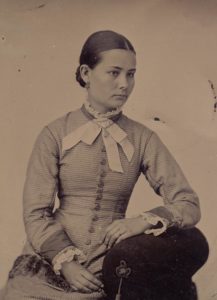 The couple settled in the Windsor district west of Sydney for the next twenty years or so, then moving to Harrow Road, Bexley on the border of Rockdale in Sydney. They had eight children with six of them surviving until old age. Following Elizabeth's death in 1894 in Rockdale, James Webster remarried in 1898 to Charlotte Louisa Wright (ms Vowles). At the time he was a retired railway employee. James died on Christmas Day 1906 when he was 77 years old.
From the late 1890s, James and Elisabeth's daughter, Euphemia Brown Webster, lived next door to her father with her husband William White and their four children. Euphemia's daughter, Elizabeth Agnes White, is my grandmother on my paternal line, so Euphemia Brown Webster and William White are my great-grandparents.[3][4]
As it happens, Elizabeth White's daughter in law, who is my Mum, had a sister who married into the family of the 'Brisbane Websters' descended from John Webster. I wrote about this branch of the family in Part 1 of my Webster Ancestors story. My uncle by marriage is Mervyn Thomas Webster, great-grandson of John Webster (b1833) & Margaret Ramsay. Locals of Nundah may remember my Uncle Merv who taught at Nundah State School for many years.
I have been fortunate enough to receive a copy of William White's diary, which contained a day by day account of everyday happenings. It widened my eyes as to how close the Webster family was with frequent letters being exchanged with other distant family members, and in some cases confirming relationships to me. My grandmother, Elizabeth Agnes White was very proud of her Webster ancestry and memories of stories that I was told by her follow.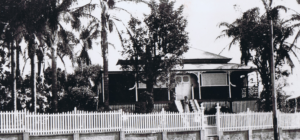 Elizabeth, known as Lil or Lilly to the family, lived with husband Andrew Irvine in a beautiful home in Old Cleveland Road, Coorparoo, following their 1914 marriage at her parents Sydney home. Their home named Merkara, was situated on a deep double block on the corner of what is now called Dowar Street.[5]The home had been built by Councillor Dansie (Dansey) in the 1870-1880s, and was one of the three properties in the block fronting Old Cleveland Road between Dowar and Baragoola Streets.[6]
The middle of these three homes was named Dulerton and this was owned by David John Webster and his wife Olive. David was the son of George McCullough Webster and a grandson of John Webster and Margaret Ramsay. During the depression, Andrew Irvine had to walk away from his delicatessen shop at Fortitude Valley as times were very hard. The Irvine family would find baskets of food on their doorstep to help them out, and it was felt that they were left by the Webster family anonymously.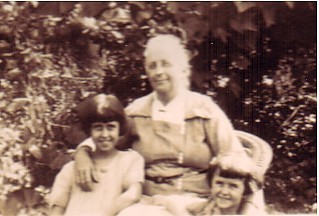 The other branch of the Webster family that the Irvine family constantly interacted with, was the widow of Thomas Webster, son of John & Margaret Webster. Mary Amelia Osmond (known as Minnie) married Thomas, a baker in 1889 however he died ten years later of lung disease.[7] The couple had three sons prior to his untimely death – Frederick William (1890-1913), Ralph Vincent Earle (1892-1912 died of dengue fever) and Eric Osmond Webster (b1894).
No doubt Minnie was distraught when her only surviving son, Eric decided to join the Australian Imperial Force on 19 August 1914. He was attached to the 9th Infantry and sailed shortly after. He survived the tragic fighting of WW1 for just six months, dying of pneumonia in Lemnos on 28 March 1915.[8] He is buried in the East Mudros Military Cemetery in Lemnos. Eric's mother was sent the Dead Man's Penny which she passed on to my father who was born shortly before Eric's death. Minnie remained close to Lil and Andrew Irvine and their children, who often visited her in her Rosalie home. Amelia (Minnie) died on 11 May 1949.[9]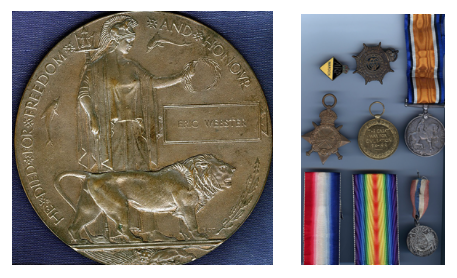 The Websters in 'Oz – Sibling William Webster
David and Euphemia Webster's second son William born in 1831 also emigrated to Australia and initially lived with his brother James at Windsor, Sydney. James sponsored the immigration of his wife's sister, Janet (aka Jessie) Redpath who arrived in March 1857 on the vessel Mary Ann and she also lived at Windsor with her sister Elisabeth and brother in law, James. It was probably inevitable that William Webster and Janet Redpath married, which they did in September 1858.[10] With two brothers marrying two sisters and the Scottish naming convention very favoured when naming their children, when researching them it became a challenge to separate the children of these two families.
The following children were born to William Webster and Janet/Jessie Redpath:- William Redpath Webster (b1866 Vic), David Webster (b1861 Essendon, Vic), Elizabeth Adamson Webster (b1859 Essendon, Vic), Euphemia Brown Webster (b1863 Malmsbury, Vic) and Jessie Redpath Webster (b1869 Daylesford, Vic).
As luck would have it, William and Janet Webster moved to Victoria immediately after their marriage, so all their children were born in that state. Hence, we had two David Websters, two Euphemia Brown Websters and two William Redpath Websters born in similar periods. Mind you, there are numerous Davids (24), James (17), Williams (15) and John Websters (12) scattered throughout time that I have traced as family members! My thanks to Lyn Hood for collaborating with me following our DNA match.
The Websters in 'Oz – Sibling Margaret Webster
Returning to David and Euphemia Webster's children, their daughter Margaret, born in 1841, married a local farm servant David Kay (aka Keay) on 14 November 1863 in their parish church of Dunino. David was also from Kingsmuir and at the time Margaret was working as a house servant in Kilrenny. In the 1881 census Margaret's newly widowed mother, Euphemia was living with the couple at Ragfield, a farming community near Crail. David passed away on 24 July 1884 and his mother-in-law, Euphemia passed away two months later on 25 September 1884. Margaret erected an elaborate tombstone to her parents and sister on their grave in Dunino churchyard.
Following this double tragedy, Margaret, known as Maggie to the family, decided to emigrate to Australia to join her brothers. Listed as a 'single' lady, sailing from Glasgow in Oct 1885, she arriving in Brisbane on the 'Roma' on 20 December 1885. I imagine that she would have spent her Christmas Day with her brother John Webster in Dutton Park, prior to travelling south to Sydney sometime in the next two years.
There is a note passed down from Maggie's niece, Euphemia Brown Webster about two towels made by her grandmother, Euphemia Brown who married David Webster in 1829.
'She spun from flax to weaving for her glory box long before she was married that's why E.B. was marked, Euphemia Brown was her maiden name. Well some few years after she (Maggie) came from Scotland she married a Mr. Julian of Windsor. I was staying up there for about a week or more when she showed me the most beautiful damask I ever saw or since, Hers and her sister Jessies, and two towels of 'my' Grandmothers all made for glory boxes made from flax first to last by each.'
This note from another era of living, made me stop and reflect the massive changes in our lives over this period. Euphemia Brown was born in January 1800 so the towels were made over two hundred years ago. I believe they are held in the family today.
Margaret was living in Sydney in 1887 when she married Joseph Julian, a widower referred to in the note above. There were no children borne by Margaret to either of her husbands. Margaret passed away in 1928 in Windsor, west of Sydney and is buried with her second husband Joseph Julian in the Methodist portion of McGraths Hill Cemetery.[11]
---
[1] Ancestry.com. Scotland, Select Marriages, 1561-1910 [database on-line]. Provo, UT, USA: Ancestry.com Operations, Inc., 2014.Original data: Scotland, Marriages, 1561-1910. Salt Lake City, Utah: FamilySearch, 2013
[2] Source Ancestry.com. New South Wales, Australia, Assisted Immigrant Passenger Lists, 1828-1896.
[3] Source: NSW BMD Births – Ref: 14778/1863. Name: Euphemia B. Webster. Father: James. Mother: Elizabeth. Reg at Windsor (NSW)
[4] Source: NSW BMD – Marriage Ref: 1122/1886. William White married Euphemia B. Webster. Regd at Sydney Dist
[5]Personal memory of writer, Roberta (Irvine) Edes
[6]The Brisbane Courier – Wednesday 3 August 1892 Page 8. https://trove.nla.gov.au/newspaper
[7] Qld BMD – Death Ref:1899/C1922. Name: Thomas Webster. Father: John Wester. Mother Margaret Ramsey.
[8] War Grave Register awm.gov.au: Webster, Pte. Eric Osmond, Number: 72. 9th Bn. Australian Inf. Died of pneumonia 28 March, 1915. Source AWM145 Roll of Honour cards, 1914-1918 War, Army
[9]Qld BMD Deaths.1949/21797 Webster, Mary Amelia. Father: Frederick Cropley Osmond. Mother: Mary Alice Robins
[10]NSW BMD Marriage Ref: 2879/1858. Name: Webster, William. Married: Redpath, Janet. Registered at: Windsor, NSW
[11]NSW BMD Index. Ref: 5057/1928. Name: Margaret Julian daughter of James (incorrect, should read David) & Euphemia. Death Reg at Windsor, NSW. Buried in Methodist section of McGraths Hill Cemetery, NSW