My paternal great great grandmother was a bolter!
In the mid 1850s, she left her husband, the second son of one of the Hunter Valley's earliest free settlers, and ran off with the local draper, Robert Hector Paulovich.
This all seems like I may be about to tell a rather grubby tale – he has a very foreign surname and she was 'obviously' of low moral character. But like most family stories, there is more to this one than meets the eye and while Mary Anne figures in this account, the person of focus is Robert Hector.
So, who was this fascinating man who charmed my great great grandmother and by whom she had at least four children (with two surviving to adulthood), though I doubt they ever married?
Mary Anne (nee Lyons) left William Thomas Phillips, the son of a respectable Hunter Valley settler, about 1855, taking with her their five children (the youngest of whom was only a year old) and travelled with Robert to Raymond Terrace, Sydney and Melbourne and finally to Brisbane, arriving about 1862 or early 1863. The Phillips family obviously saw Mary Anne's flight as the greatest of betrayals because when William Thomas died in Mudgee in 1864, his sister Lydia, as the informant for his death, stated that he was never married and had no children. This was more than just unfortunate – it was unpardonable – as, for many years, family historians and authors were unaware of this branch of the Phillips family, with some refusing to acknowledge it even when presented with proof in recent years!
Robert Hector Paulovich/Paulovitch appears to have been a cosmopolitan character, described by Archibald Meston (journalist and Queensland MLA) as a "tall, dark man of distinguished appearance".[1] The Maitland Mercury, on hearing the news of his death in Brisbane in 1874, wrote; "[He was] …many years ago a draper in West Maitland and who was very much esteemed here".[2] His family too, was devastated by his loss as he died suddenly at the age of fifty-three years. Mary Anne survived him by only three years, dying at the age of fifty-two and I have often wondered if Robert's loss was just too much for her to bear.
The only document I have which gave me some clues to Robert's life was his death certificate. It told me where he had been born, who his parents were and his father's occupation and while the information on death certificates can often be wrong, these were my only leads.
Robert Hector Paulovich was the youngest son of Stephan (Stephano) Paulovich and Ephrath Rickards. His parents were married in 1810 in the church of St George in the East in London.[3] Stephen, a merchant, was apparently born in Dalmatia, part of what is now known as Croatia.[4] According to Robert's death certificate, Stephen was a British Consul in the Dardanelles (Turkey).
For a time following their marriage, Stephan and Ephrath lived at 16 Clarendon Square in the parish of St Pancras, London, the home of Ephrath's father, Richard Rickards, a customs agent. Three sons – Stephen John (1814), Alfred Rickards (1816) and Francis Richard (1818) were born while they lived at the house.
Around 1819, Stephen and the family moved to the Ottoman Empire as Alfred died in Smyrna (now Izmir) in Turkey in 1819.
Robert Hector was born in 1820 or 1821[5] and using the clue from his death certificate of his father's occupation, I searched for his surname (and its variations) in Discovery, the catalogue for The National Archives (UK). Paulovich yielded one record but not for the right person while Paulovitch brought up six records; namely letters to and from Stratford Canning, the British ambassador to the Ottoman Empire, and Consul Paulovitch.[6]
Stephen was promoted from consular agent to vice-consul and then to consul, for the Dardanelles, roles he held from about 1821 until around 1829. He was based in what is now known as Canakkale but during this period had many names, most notably Chanak Kalesi.
Around this time, Canakkale was only a small port but was situated on a strategic shipping lane leading to and from Constantinople (Istanbul). Gallipoli, on the other side of the Strait, also saw an explosion in consular activity during the early 19th century.
As a representative of the British government, Stephen's role was to deal with matters affecting citizens or travellers from that country in that locality and to assist merchants with advice about trade opportunities. However, he was also expected to provide detailed reports on military and political developments; a task he obviously did not relish as he was frequently admonished by Stratford Canning for the poor quality of information in his reports.
It is not known where Robert went to school but in 1823 his older brother, Stephen, was sent back to England to attend school (or be privately tutored) at Hengrave, near Bury St Edmonds.[8] Also at the same school was Stephen's first cousin, John Rickards, the stepson of Ephrath's brother John Rickards and son of John's wife Sarah Slade, both of whom had been sent to Australia as convicts and later amassed a fortune (but that is another story).
By 1829, Stephen Paulovich was no longer listed as the Consul for the Dardanelles. I can find no trace of his life after this point in time, nor that of his wife Ephrath and their eldest son Stephen John.
Eight years later, Robert aged seventeen and his older brother Francis, aged nineteen, sailed to Australia with their cousin, John Rickards, arriving in 1837. Over the next seven years, John Rickards junior established himself as a draper, with stores in Sydney, Maitland and Musswellbrook. Robert was sent to manage the Maitland store while Francis stayed in Sydney working for his cousin as a bookkeeper. Mary Anne Phillips is likely to have met Robert when she travelled from the Phillips' property Bona Vista at Paterson into Maitland and shopped at his 'fine establishment'.
On arriving in Brisbane, the couple wasted no time in establishing their business though this would have been tinged with sadness as their infant son, Alfred, born in early 1864, died in August 1865.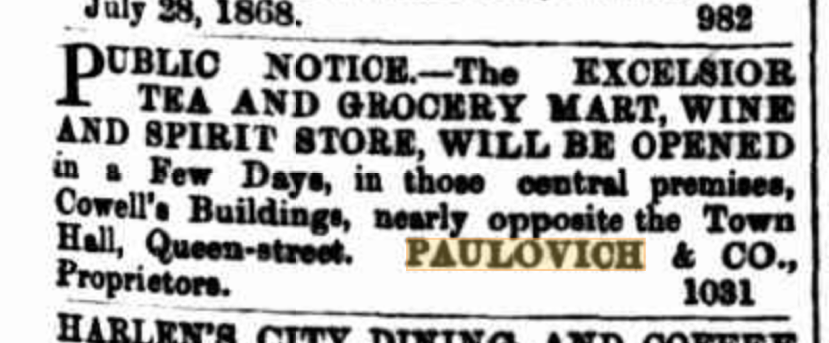 Smaller premises were used in the early years but by 1868, the Excelsior Tea and Grocery Mart was opened in Cowell's Buildings 'nearly opposite the Town Hall'.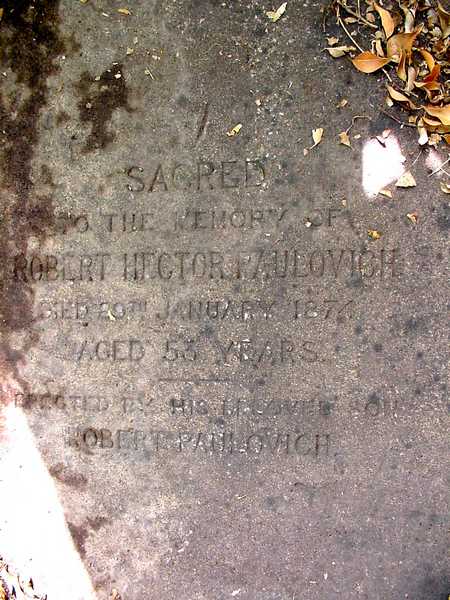 Over the following years, until his untimely death, Robert operated his drapery and grocery store firstly in the city and then in South Brisbane.
During much of this time, Mary Anne ran boarding houses – Riverview House (near where the ABC is at South Bank today and next to where the original South Brisbane ferry terminal stood) and then in 1873, the Acton Boarding House (now known as the Ship Inn Hotel).
Robert died in January 1874 and in March of 1876, Mary Anne moved from Acton House into a cottage in Grey Street she called Bona Vista after the Phillips' property at Paterson. She died in September, 1876. Both are buried in the South Brisbane Cemetery at Dutton Park but are not together and only Robert has a headstone.
---
Endnotes
[1] The Brisbane Courier, Sat 7 July 1923, p19
[2] The Maitland Mercury and Hunter River General Advertiser Tues 3 Feb 1874 p3
[3] Marriage Banns, Parish Register, Parish: St George in the East Borough Tower Hamlets. London Metropolitan Archives, Saint George in The East, Register of marriages, P93/GEO, Item 040. Ancestry.com. London, England, Marriages and Banns, 1754-1921 [database on-line]. Provo, UT, USA: Ancestry.com Operations, Inc., 2010.
[4] https://archive.org/details/in.ernet.dli.2015.48430
Madox, John (1834) Excursions in the Holy Land, Egypt, Nubia, Syria, &c. Including a visit to the unfrequented district of the Haouran. Vol. I.
P40, Aug 10 1821: In the morning of the 10th we were hailed from the shore by a man on horseback; a boat having been lowered, the Captain, Strutt, and myself, pushed off to him, and found that he was a Jew, with an immense beard, having a letter from the English Consul at the Dardanelles, Mr. Paulovick, directed to the Captain of the English ship. Having returned to the vessel, we proceeded again on shore to the Consul's, and had a delightful walk of about eight miles along the coast, though it was very sultry. … The village where Mr. Paulovick resided was soon reached. This Consul is a Dalmatian by birth, but speaks English very well. His wife is an English lady, whom, as she was indisposed, we did not see.
[5] Based on the age given on his death certificate, QLD 1874 B8271 Robert Hector Paulovich
[6] The National Archives of the UK (TNA) Stratford Canning Papers. FO 352/14A/2G; FO 352/16A/3G; FO 352/12A/3D; FO 352/21A/2C; FO 352/20A/4D
[7] www.levantineheritage.com/Consuls_of_the_Dardanelles.pdf, p10
[8] Edward Rogers Webb, the son of Henry Richard Webb who was a first cousin to Robert Hector Paulovich, wrote a history of the Webb and Peacock families. The information about the boys going to school is in that document which is held by the family, including transcriptions of letters written by Ephraph Paulovich and Stephen John Paulovich in 1823 and 1824.