This blog post is scheduled for 21 September; in 2020 my dad, Charles Joseph Stirland, would have been 99 years old, but sadly he didn't make it much beyond his 65th birthday, passing away in March 1987. His recorded cause of death was cancer of the stomach, but as a former underground coalminer, he had his share of lung-related health issues. My sister and I, who both live in Australia, made it back to England in time to see him before he passed away. I think he was actually waiting for us to arrive – the first time in 16 years that all family members had been together. My heart goes out to those who are currently unable to travel and see loved ones and say their final farewells. A couple of years ago I created a story about my paternal direct ancestors for the remaining members of my quite small family. This is an edited and significantly abbreviated version of my dad's story – I called it Charles Joseph Stirland – The end of the coalmining line.
The principal paternal line for Charles Joseph, or Joe as he was known, was the STIRLAND family, originating in the Cotmanhay/Ilkeston area on the Derbyshire and Nottinghamshire border in the East Midlands of England. Joe's principal maternal line was the KINSTON family, which originated in Rosliston in South Derbyshire, next to the Staffordshire county border. Born on 21 September 1921 in Newhall, South Derbyshire, he was the middle child and only son of Arthur Stirland and Lizzie Kinston. He had an elder sister, Irene, and a younger sister, Jean. Named after his grandfathers, Charles Stirland and Joseph Kinston, he was born into families where most men had worked in coalmines for several generations. His maternal and paternal families were spread among the contiguous villages of Church Gresley, Swadlincote, Newhall, Rosliston and Cauldwell in South Derbyshire. The pottery industry also thrived in the area focussing more on sanitary pipeware rather than domestic pottery. What were once distinctive villages or hamlets are now hard to distinguish apart due to development. The nearest main town is Burton-upon-Trent across the county boundary in Staffordshire, a brewing town.
The landscape Joe was born into was dotted with privately owned coalmines until nationalised after the Second World War when the National Coal Board was established. Aside from the mines and potteries, the land was primarily devoted to farming, although contemporary maps suggest that these were on a relatively small scale. It was possible, and I'm sure Joe took advantage of this as a boy due to his extensive knowledge of birds and plants, to wander through fields whose only occupants were cows. Typical activities for boys were finding birds' nests with eggs in them, which they then blew. Not much seemed to happen and horizons were fairly limited. As a boy, Joe became involved in pigeon racing, most likely with his maternal grandfather, Joseph Kinston. This was a hobby that he was to return to later in life.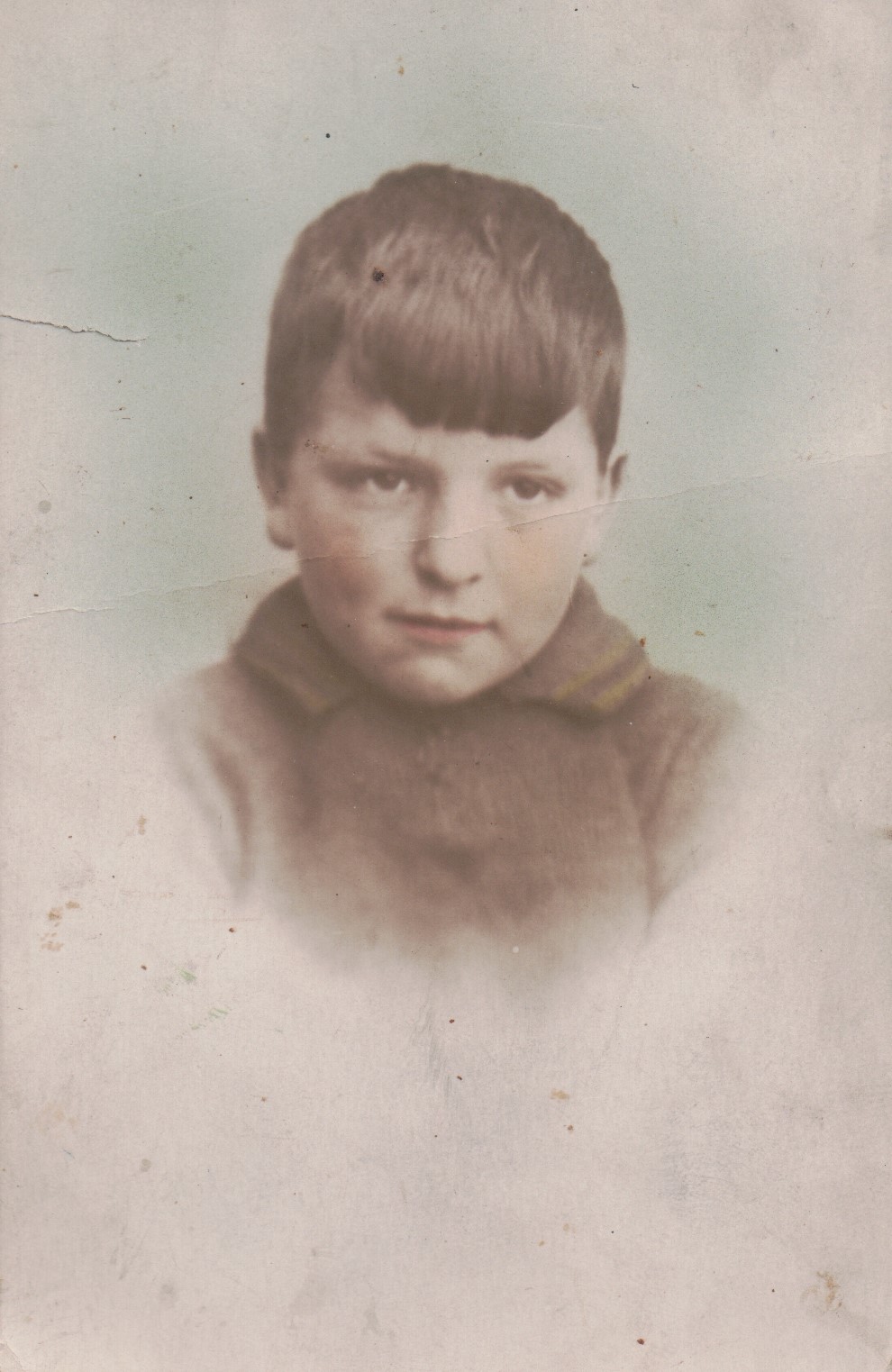 From family stories, Joe was a clever child and won a scholarship to stay on at school after compulsory education ended. Unfortunately, it appears that the family couldn't afford the fees, so he had to find work. This impacted significantly on his future opportunities. Early photos show a fairly serious boy but still with the same half-smile which is seen in later photos.
His first job was as an apprentice cooper at the brewery in nearby Burton; at one time Burton breweries accounted for a quarter of UK beer production. Wooden beer barrels were still in demand in the 1930s, so a career as a cooper seemed a good option if you wanted to avoid coalmining or the pottery industry. Joe's apprenticeship was rudely interrupted by the outbreak of World War II in September 1939.
Opting to serve in the Royal Navy after the war broke out one of the most significant events in his life occurred when he travelled to Derby to enlist. He met a young man from Liverpool called Walter. During their training, Joe noticed a young lady's photo that Walter had with him and asked who it was. Walter explained that it was his sister, Mary. Joe asked if Mary would mind if he wrote to her. A copy of his first letter addressed to "Dear Miss…." makes poignant reading. This was the start of a relationship which lasted until Joe died in 1987.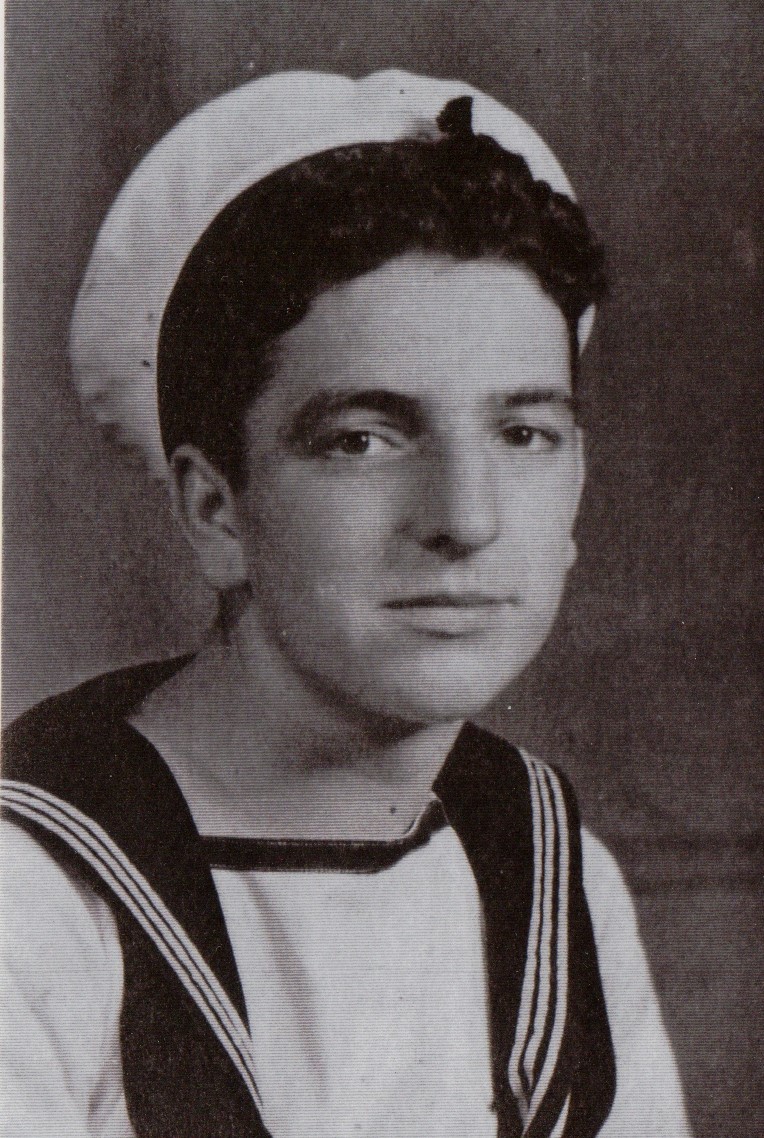 After training, Joe was assigned to several ships that served in the Mediterranean. For someone who had never been very far from home, travelling to places such as Alexandria and Benghazi in North Africa was a real adventure, but once it was over he never wanted to travel overseas again.
Demobbed at the end of the war in 1945, Joe was awarded the 1939-45 Star, Burma Star, Africa Star, Italy Star, France and Germany Star, Defence Medal 1939 to 1945, War Medal 1939 to 1945. The 39-45 Star was awarded for all overseas operational areas in WW2; the Burma Star was awarded for 1 or more days' service in Burma/Bay of Bengal in the period 1941-1945 and was only awarded after the 39-45 Star.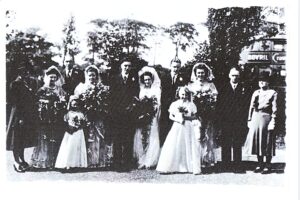 Joe and Mary married in August 1946 in Liverpool and relocated to Swadlincote. After a brief return to the brewery he took up employment at a local pipe works, where he was working as a kiln fireman when I was born; by the mid-1950s he had become a coalminer.
Although coalmines in South Derbyshire were generally much cleaner than elsewhere, coalmining was a dirty and dangerous occupation. Fortunately, by the time Joe became a miner, most pits had installed washing facilities so he didn't have to come home covered in coaldust. He had at least two serious accidents while he worked at the coalface, one of which ruined his health permanently as a roof collapsed on him. The incredible camaraderie or mateship that existed among fellow miners was demonstrated as they urgently dug him out.
His strong relationship with his maternal uncles and aunts was forged through the shared love of pigeon racing, which was a well-established local pastime. Sheds that were initially located at the bottom of my grandfather's garden were subsequently relocated to the bottom of our garden just a few doors away. Joe's dog, Lucky, was never far from his side and would trot up and down the garden path with him as he went about his daily chores of cleaning, feeding and watering the pigeons.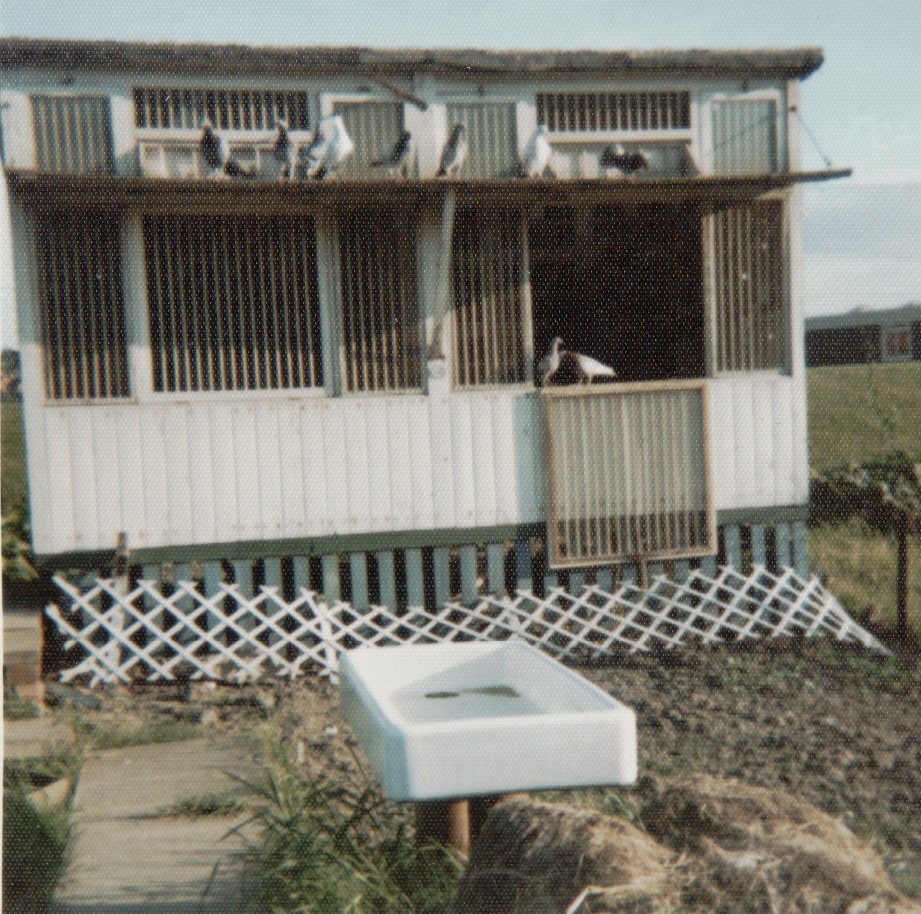 These tasks provided a wonderful outdoors outlet for him and many other coalminers who had pigeons; they revelled in the opportunity to be out in the fresh air after spending their working lives underground.
Every Friday night during the racing season, a stream of men headed to the Coalminers' Arms in Swadlincote carrying their baskets of pigeons and their pigeon clocks; these had to be calibrated, set at the correct time, and have a new recording sheet inserted. The clocks were then locked so that the results couldn't be tampered with. Racing pigeons have rings fastened to their legs – these are removed when they arrive home and locked into the clock. A few beers later and the men would head home to await the race on the Saturday. Most Saturday afternoons were spent in the back garden searching the skies for the first birds to arrive. The men would often recognise each other's birds by their direction of flight. Winning a race all came down to the time and distance travelled, so the first bird home may not necessarily have been the winner. Dad won several small trophies over the years. He used to breed pigeons, taking into account a bird's speed, endurance, etc. Some competed in races from as far away as France, but mostly to the South West of England.
Joe was also keen on horse racing and football. He regularly checked the racing results and, later in life, it was more of a challenge to see how well he'd done in picking winners rather than placing a bet. Similarly with football; for years, Dad would submit his pools entries each week and no-one was allowed to interrupt when the results were read out, either on the radio or TV. I still remember some English towns by the names of their football teams. The newspaper published a list of all the games being played with space for the results and these were religiously filled in as they were broadcast. Dad would then know whether he'd won or not. I don't think he actually followed a particular team.
In hindsight, my Dad's life was fairly circumscribed by his location, lack of educational opportunities when young, and his determination to provide for a wife and three children. Throughout his life he didn't complain about the cards that life had dealt him. He was a pragmatic person rarely prone to expressing his emotions or his pain. His funeral service was held at St John's Parish Church, Newhall, the same church where he had been christened 65 years earlier. He was cremated at Bretby Crematorium where his ashes were scattered.
I often think of my dad and think he would be proud of his children, grandchildren and great grand-children. It is a pity that he couldn't live to see what we had achieved. So, this is to remember him on what would have been his 99th birthday.