James Reibey Atkinson – descendant of a pioneering convict.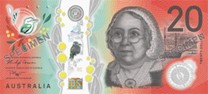 It seems a long time since I contributed to the GSQ blog and thought I'd use this post as a catch up with things I've done since my previous one. I mentioned earlier this year that, together with a group of others, we researched descendants of Mary Reibey, whose image appears on the Australian $20 note. Mary (Molly) Haydock was only young when she was transported to New South Wales and it was there she married Thomas Reibey in September 1794. 
Together they had seven children and over the following years she developed into an astute and wealthy businesswoman. Many of their descendants became well-known in the colonies and overseas. I often find that the convicts whose lives and futures I've researched present a fascinating story and an insight into colonial Australia. Their transportation has often led to opportunities which would not have been open to them in their homeland. A few weeks ago, I discovered that an Australian author has researched and published a book on Mary's life. Having not yet read Grantlee Keiza's book, The remarkable Mrs Reibey, I decided not to write about her, but to share the research that I did on one of Mary and Thomas's grandsons.
James Reibey Atkinson was the eighth child and third son of Jane Penelope Atkinson, one of Mary and Thomas' daughters. Jane married John Atkinson, a merchant and auctioneer in Sydney.  Initially the couple lived on one of Mary Reibey's properties in Wilberforce, NSW, before relocating to Launceston in Tasmania around 1834. They had at least 11 children, some of whom died in infancy. There is a delightful portrait of Jane from 1828, which I located at the https://www.portraitdetective.com.au/1828-mrs-jane-penelope-atkinson/ . The original of this miniature is held in the collection of the State Library of New South Wales (https://archival.sl.nsw.gov.au/Details/archive/110322249)
The Atkinson family became well-established in Launceston, Tasmania and James was born there in 1841. He was described in various newspaper articles as the son of one of the early pioneers of New South Wales. Educated in Christ College, Bishopsbourne in Tasmania, he excelled at a number of sports, including cricket, rowing, rifle shooting and football, i.e. Australian rules. He developed skills in rifle shooting as a member of the Launceston Volunteer Artillery. As a footballer, he was later recorded as a member of the Ipswich team in the first match played between Ipswich and Brisbane in 1870.
James trained as a surveyor and he first married Henrietta Agnes Garrett in Tamar, Tasmania; they had three children together. Unlike many members of his extended family, he did not remain in Tasmania, but took up employment in Queensland, arriving in 1862. It  is recorded in a later profile and obituary that "he made himself very popular with the early residents of the metropolis". James was attracted to Queensland and was an advocate for the construction of a railway system from Ipswich to the Darling Downs. He was one of a number of surveyors who were appointed to mark out the permanent railway track from Ipswich to Dalby in 1865. He worked as surveyor on the staff of Chief Engineer of the Southern and Western Railways in the Public Lands Department, and three years later was appointed as a draftsman. 
James' wife Henrietta died in 1873, and it is possible that her sister came to Queensland to help him with his young family. James then married this sister, Sarah Margaret Augusta Garrett in South Yarra, Victoria in 1876. The two women were daughters of the Reverend James Garrett of West Tamar in Tasmania. James and Augusta had seven children together.  
Although James did not stay in Tasmania, many articles and family notices appearing in the Queensland newspapers were copied to those in Launceston where his family was well-known. As work on the railway network declined, James was retrenched from the Lands  Department in 1902. The notice in The Week (Brisbane) of 16 May 1902 reads: "LANDS DEPARTMENT. The Governor in Council is pleased to dispense with the services of the following officials as from June 20 next." It was interesting to note that one of the other officers 'dispensed with' was Mr Donald Sydney Thistlewaite, who was James' lifelong friend. James and Donald went into practice together in Ipswich after they left the Lands Department, continuing extensive survey work in Queensland. In his working life as surveyor, James travelled the length and breadth of Queensland from Tweed Heads to Cape York. As well, he did a great deal of marine work on the Queensland coast from Moreton Bay to Thursday Island. He also surveyed several collieries in the West Moreton zone.
An extensive obituary for James Reibey Atkinson appeared in the Queensland Times following his death in September 1919. This obituary drew mainly on a profile of him, which had been published in 1914, where the author extolled James' sporting prowess across a range of sports. As well as his sporting achievements, James also had literary interests and was one of a group who produced the Ipswich Punch between 1866 and 1867. The Ipswich Punch was an illustrated magazine that contained many skits on topical events and caricatures of prominent people of the 1860s. It was an offshoot of the School of Arts.
A devoted member of St Paul's Anglican Church James frequently acted as lay reader. He also conducted afternoon services at the Anglican Church at Pine Mountain and elsewhere. He was regarded as kindly with a genial disposition. The Queensland Times proved a goldmine of information about James and his family, with stories and family notices also published in the Launceston Advertiser and Launceston Examiner.  
James resided mainly in East Ipswich and several properties are recorded in family notices that appeared in the newspaper. After a full life he died of heart failure on 3 September 1919, aged 78 years. He was survived by his widow and nine members of his family, four daughters and five sons. The obituary published in 1919 noted that two of James' sons, Noel and Clare, had both fought in World War One. Noel had been wounded at Gallipoli and invalided home. Both sons followed in their father's footsteps: Noel as a draftsman and Clare as a railway engineer. James was buried alongside his first wife Henrietta in a Pioneer plot at the Ipswich General Cemetery. It was notable that Donald Thistlethwaite, his life-long friend and work colleague, was present at the funeral.
James was not the only descendant of convict Mary Reibey who established himself as a pillar of society. Mary and several other family members travelled back and forth between Australia and England. Another descendant, Thomas Haydock Reibey, was a clergyman and politician and served as Premier of Tasmania.  This family certainly left its convict heritage behind.
It will be interesting to read the new book about Mary which should shed more light on how she became so successful that she was deemed an appropriate pioneer to appear on the $20 note.