We gazed across the paddock to the area along the bank of Duckworth Creek where we understood Jane Heffernan had been buried in January 1877. The need to reach our next destination on time, fences and long grass prevented my cousins and I from looking for the exact spot where local people believed some trace of graves remained.
Jane Heffernan's death at about 37 years old followed two days after the birth of twins. The twins were also buried near their mother; Jane's unnamed son 8 days later and her unnamed daughter 16 days later. Husband and father, Francis Theobald Heffernan was left to care for their six older children aged from eleven to three years. Francis's brother, John may have been able to assist as he was present to certify the burials of Jane and her babies.
Great-grandmother Jane seemed to have been forgotten among my branch of her descendants as I began my family history journey.  This in contrast to her husband, Francis who did not remarry, lived for about 68 years and spent time with several of his children. More recently, however, her story is being revealed and shared by members of her descendant lines.
Jane Hope was born in Paisley, Scotland to Irish-born parents James Hope and Catherine Robinson. Her arrival in Queensland is unknown; quite possibly she travelled on one of the ships of the early 1860s, the passenger lists of which were lost in the early 1890s floods in the Brisbane River. We do know that she was married to Francis Theobald Heffernan, ten days after he arrived in Rockhampton from Dublin on the Beejapore in June 1863. The chances of them knowing each other before arrival seem limited; Jane's parents being born in Fermanagh and Francis emigrating from Dublin. Perhaps it was their common Irish ancestry that brought them together so quickly.
The birth registrations of the couple's children help us to trace their movements – the eldest son in North Rockhampton (1865) and the eldest daughter in Gracemere (1866) on the western fringe of the emerging town. For most of the following decade children were born on short-term goldfields of central Queensland, Crocodile Creek, Three Mile Creek and Cawarral. They lived on the Crocodile Creek field through the clash in January 1867 between European and Chinese miners, which followed the Europeans pegging claims in the Chinese gardens after which several of the Europeans were charged and found guilty of affray.[1]
While it is likely that these children were born in a tent or shack, five of the eight children lived beyond their 60th year, one daughter to 98 years.  It is difficult for us a century and a half later to imagine what Jane's experiences of childbirth were even before the birth of the twins. Francis is variously described as a labourer or miner during these years. However, he submitted the registrations of his children's births in writing and a collection of poems he transcribed was passed down to descendants. We owe much of our knowledge of the genealogy of this family to his literacy and diligence.
As the construction of the Central Queensland railway from Rockhampton continued westward, the Heffernan family also moved west with Francis working as a sub-inspector and qualifying as a colonial elector on the residential basis. They had reached Duckworth Creek, now the town of Bluff, by the time of the family tragedy . At the Bluff State School, Jane has been remembered on a paver among many placed for pioneers of the district. It was organised by descendants of Jane's eldest daughter.[2]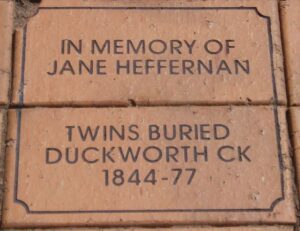 As we place memorials and share stories of our sometime forgotten ancestors, their lives are remembered, at least in part. While Jane Heffernan has no descendants carrying the Heffernan name, her surviving daughters' families now extend across many generations to read this brief account of her life in colonial Queensland. 
[1] Northern Argus, 23 Mar 1867 p.3.
[2] Photo source: personal collection.