The challenge of names and places in Irish family history.
By Stephanie Ryan.
Most of us find brick walls when researching the Irish. Names, places, spelling inconsistencies, dates and gaps in the records provide frequent challenges. The following case study illustrates this and suggests ways to solve some problems.
When Hannah Skinner married, she was described as being from "Baltimore, Cork, Ireland" Brisbane Courier 8 June 1899 p7. Her marriage certificate echoed this place of origin and gave her age as 26. She had arrived in Brisbane 23 November 1891 as a dressmaker, aged 20. These records indicate, not unusually, varying years of birth.
Hannah Skinner's birth: civil records
Civil (government) records and baptismal (church records) provide different information. The marriage civil records for those not Catholic commenced in 1845 and for Catholics – 1864. Hannah Skinner's birth comes within the range of both civil and church records which began in 1864.
Details on Irish civil records included are:
date and place of birth
name and sex of the child
father's name and address
mother's first name and maiden surname
father's profession or rank
informant's name, qualification, and address
the date of registration.
Records are produced quarterly by the General Register Office of Ireland (GROI) and the General Register Office of Northern Ireland (GRONI). Northern Ireland, as part of the United Kingdom, has separate records.
FamilySearch records
The index to Irish civil records 1845-1958 is accessible at FamilySearch but has limited information. All FamilySearch records are free, but it is necessary to set up a cost-free account.
"Ireland Civil Registration Indexes, 1845-1958," database, FamilySearch (https://familysearch.org/ark:/61903/1:1:FYYP-JXM : 9 March 2018),
 BIRTHS entry for Hannah Skinner; citing Skibbereen, 1870, vol. 10, p. 76?,
General Registry, Custom House, Dublin; FHL microfilm 101,047.
Irish genealogy
However, it is possible to get more free information on the civil registration for Hannah Skinner's birth from Irish genealogy which leads to an image from the original register.
In this case additional information includes exact date of birth, 20 March 1870; parents' names: William Skinner and Mary Shipsey; residence: Rath (which looks like Nath and is pronounced Rar); and the Registrar's District of Tullagh in the Superintendent Registrar's District of Skibbereen. Hannah Skinner claimed none of these places as her place of origin.
Hannah Skinner's baptism: church records
Details on baptismal records are:
date
child's name
father's full name
mother's first name and maiden name
names of godparents/sponsors
parents' residence
The Irish genealogy site also has transcriptions of pre-20th century church records of baptisms, marriages and burials for some Church of Ireland and Catholic parishes in counties Kerry, Cork and Carlow, the city of Dublin, and one
Presbyterian register for Lucan, County Dublin. Some records date from the 17th and 18th centuries, with much of the rest from the early 1800s and later. In some cases, images of original records are online.
When I searched for Hannah Skinner in 1870, based on information from the civil record, I did not get a result until I removed her first name. When I used the year of birth and added her father's name in advanced search, I found she was baptised as Johanna Skinner. Her place of baptism was given as Rathmore, in the parish of Rath & the Islands (Cape & Sherkin) in the Catholic diocese of Cork and Ross. Her mother's maiden name, Shipsey, is spelt without the 'e'. There are now several more names added to her place of birth. None mentions Baltimore and most are unfamiliar to Australians.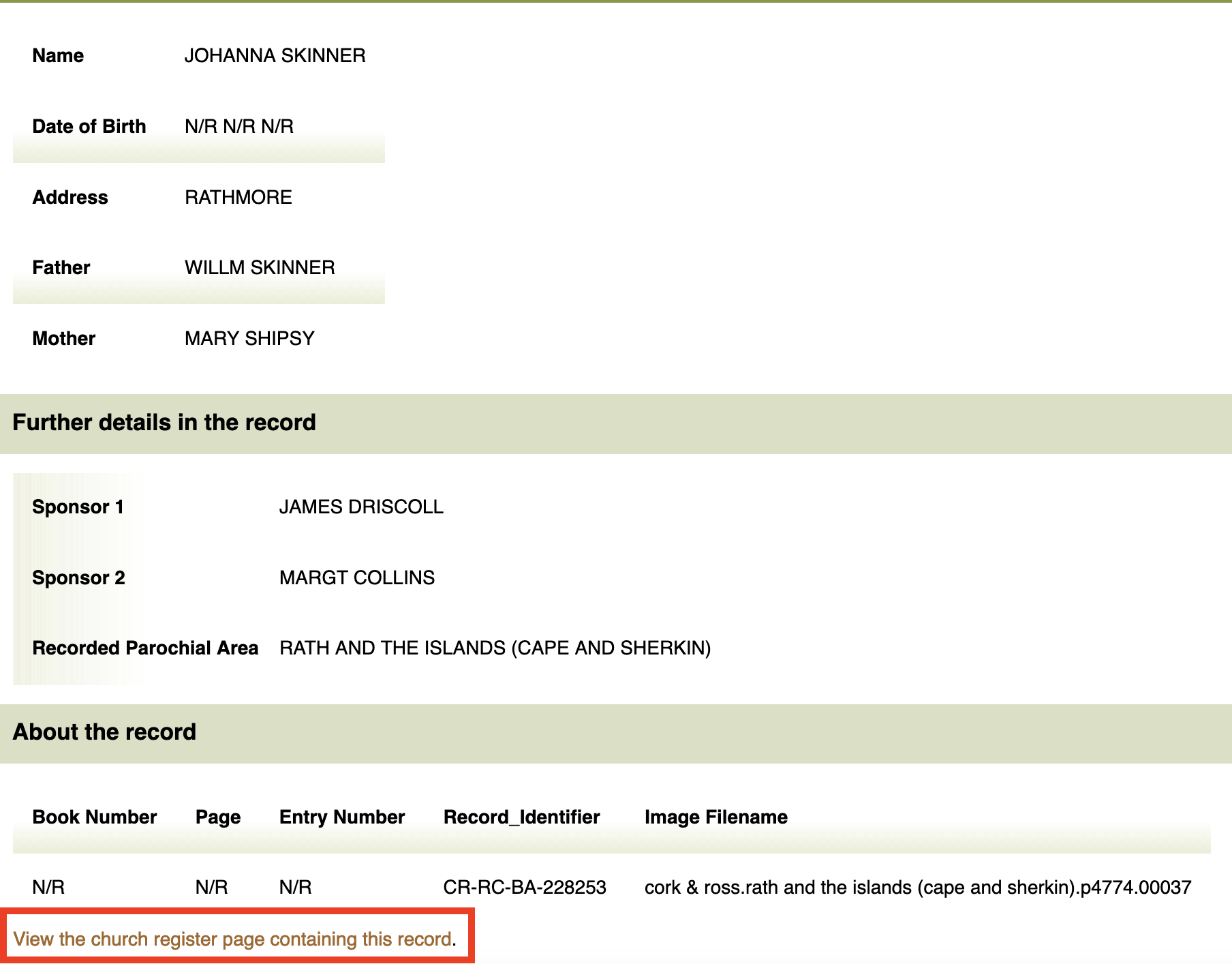 The Irish genealogy index includes the names of the baptismal sponsors, a bonus as they are often family members and so a way of identifying the right ancestor in a web of names repeated frequently in traditional naming patterns. Once again it is possible to view the original register free.
Where is Baltimore?
Putting the information together for Hannah Skinner we now know that she came from the townland (smallest division of land) of Rathmore in the Catholic parish of Rath & the Islands (Cape and Sherkin) diocese of Cork & Ross. Rathmore is in the Civil parish of Tullagh, in the Superintendent Registrar's District of Skibbereen. What has any of this to do with Baltimore? A map helps to explain this.
Hannah Skinner gave the best description of her place of origin for non-Irish trying to find it. The townland (which may have nothing to do with a town), in this case Rathmore, was an isolated area where her father built and repaired boats. Its closest settlement was the village of Baltimore. The problem is finding civil and church records and the confusion of names it involves. Fortunately, sometimes it has become easier to search.
The problems of finding Hannah's birth:
her varying age and names across the records
inability to locate a birth/baptism simply by using the place name, Baltimore.
Factors which helped in this circumstance are:
her birth in a time and place when and where there were civil and church records
the availability of the website Irish genealogy for this area where both sets of records could be checked free
her English names.
This search for the time and place of Hannah's birth was relatively simple.
Other indexed records
Findmypast and Ancestry, both subscription sites free at GSQ and State Library, have indexed records of Irish church and civil records which can help. However, sometimes original church records are so damaged or illegible in some other way, that it is necessary to search through the online, unindexed National Library of Ireland's Catholic parish registers.
Non-Catholic church records
Hannah Skinner's forebears, of a few previous generations, in the parish of Tullagh, were Church of Ireland. How can they be found? The National Archives of Ireland has released THE LIST of CHURCH OF IRELAND PARISH REGISTERS: A Colour-coded resource accounting for what survives; where it is; & with additional information of copies, transcripts and online indexes
The Church of Ireland records for the Diocese of Ross exist, at least to some extent, at the Representative Church Body (RCB). It also has a list of parish registers updated in January 2023 which includes records for Tullagh. Some Tullagh records can be found at Roots Ireland another subscription site, free at GSQ. The RCB is gradually putting some registers online but provides a research service and a quotation option for costs where this is required.
Searching for Presbyterian, Methodist, Quaker and Jewish ancestors is more complex so it is worthwhile checking the free Irish genealogy toolkit and Irish ancestors website, free at GSQ, for information about these records. John Grenham, an authority on Irish family history, covers each denomination's records sequentially starting with Irish church records  in Irish ancestors, free at GSQ,
GSQ also has an Irish research group which meets regularly and can help with advice and links to Australia.
Where possible, start with Ireland's civil records.
Find out about
Irish land divisions used in civil and church records
Ireatlas townland database is useful for finding townlands and parishes Check the help page
Irish Ancestors – John Grenham's coverage of resources, strategies and advice for all Ireland
Ulster Historical Foundation with several databases including a specialty in Antrim and Down records.
Access to records is pay-per-view.