Researching in Northern Ireland
Having put my hand up for a request to do a 'one-off' blog I'd like to introduce myself. My name is Bobbie Edes and I'm possibly addicted to genealogy (only possibly). Having a hubby who is also into genealogy means we tend to do quite a lot of research when we return to his place of birth in England. During this extended period I generally leave hubby with his hometown mates and fly to Northern Ireland for two or three weeks of dedicated research which is pure heaven!
On my first foray in 2002 I was totally unprepared, in fact I arrived at the site of the old Public Records Office of Northern Ireland (PRONI) in Balmoral Avenue on Day 1 in Belfast to find that the records office was closed for two weeks stocktake. This happens every year, generally in early December, so many tears later I decided to head back to Dublin for the remaining week to do more research there at the Representative Church Body (RCB) Library and the National Archives.1 
Whilst writing this article I emailed PRONI to find out further details re their yearly stocktake and this is their advice:
'PRONI do not close but there is a closure as such for a week twice a year. You will not be able to order out documents that week, but you can view microfilms that are held in the Search Room which are self-service. PRONI also have internet where you can view other websites, we do have access to Find My Past. PRONI also hold 4 GRONI search computers, which you can access as long as you are already registered and have credits. You can access all birth, death and marriage records from 1864 up to last week on the GRONI computers.
Please see the PRONI website in and around end of November beginning of December for the dates where you will not be able to order out documents. No date has been given yet, but it will be on the website.'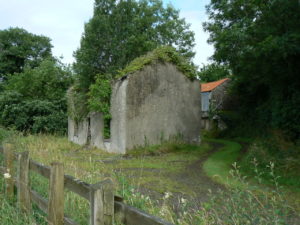 Not one to waste a visit I travelled to the two areas my ancestors came from, that is Co Down and Fermanagh/Tyrone. I stayed with a friend who had arranged for us to visit various churches and to access their records. I also stayed with good friends I'd corresponded with for some time who drove me to the remains of local family homes.
Hint number 1 – check the website for full visiting details including closed dates and if possible, avoid December.2,3 
Hint number 2 – contact your family's local church and arrange access to see inside the church and search records if still held locally.
Hint number 3 – It is also wise to email the church asking for permission to copy relevant records you may find at PRONI. This used to be a rule, but I haven't been asked for proof for many years however it doesn't hurt to be prepared.
Happily I did return to Belfast later in that visit and managed the full week of research. Nowadays I have an Excel 'to-do' list that I compile between visits. When I've tackled a particular church's records I shift the entry from the 'to-do' tab list to the 'done' tab list.
It is essential to spend many hours trawling through the PRONI online catalogue including their marvellous 'A Guide to Church Records' published online in pdf format by PRONI.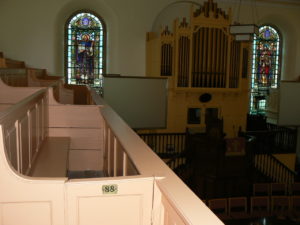 Hint number 4 – Travelling to research, as well as accommodation costs in your researching area, is expensive. Don't waste precious time at a Records Office going through their catalogue; compile your 'to-do' list at home before your holiday.
Hint number 5 – While searching through an archives catalogue, search by locality as well as surname, also search by surname variants and other interests or occupations they may be listed under.
Hint number 6 – Don't ignore the Vestry Notes of your parish. On those relating to my Presbyterian paternal line, there are notations of the 3/4d Pew Register fees and payments collected year by year in townland order. This enabled me to work out exactly when my g-g-grandfather and family left his parents' farm to move into their own leased residence. With the pew numbers notated I was lucky enough to find the family pew remaining in the church today.
PRONI is located in the Titanic Quarter of Belfast. Route 26 or 26b buses leave from the stop near the 'Visit Belfast' tourist office in Donegal Square North regularly throughout the day. Alight outside the Premier Inn, just past the Odyssey Pavilion/SSE Arena building. Lockers are located just inside the front door as you are only allowed to take your notebook, pencil and laptop into the reading room. Before going upstairs, you will need to check in with Reception to get a Visitors Pass card. To obtain this you will need a photo ID (Drivers Licence, passport etc).
Hint number 7 – Always check Google map before your visit, you will find bus stops listed as well as the relative bus route number in the icon. Check the timetable with the local transport authority. In Belfast you have the option to purchase a tap-on bus card and load funds onto it at the little booth in Donegal Square.
Hint number 8 – If you choose to use PRONI's copying service, charges apply so take a small purse in with you to save a trip down to your locker each time. The charges were increased at the end of 2016 (some significantly) and can be found at the link below.4 
Hint number 9 – Have a USB handy to save documents onto when using some of their equipment.
Hint number 10 – Take your phone or camera with you, rules to allow this came in effect last year; you can then photograph the document or screen yourself.5
PRONI's location is a little out of the way of the city central so your eating options are limited. There is an onsite café which serves lunch every day with a couple of hot options as well as sandwiches etc and you can take you own prepared lunch to eat there. Premier Inn across the road also serves meals or along the waterfront is The Dock Café, a rather quirky café with yummy cakes, great tea & coffee and you pay into an Honesty Box. You can also purchase sandwiches and fries at the Spar next door to there and eat them in the Dock Café.
Hint number 11 – Take at least a light cardigan with you into the search and reading rooms. Having been present during a fire alarm, I can vouch for the fact that even in summer it is freezing standing at the waterfront evacuation zone across the road for over an hour.
In Belfast the Linen Hall Library has a genealogy collection on the 4th floor of their 17 Donegal Square North building6. Also worth visiting in Ulster are the museums run by National Museums of Northern Ireland. There are two recreated villages. The most popular one is the Ulster American Folk Park on the A5 just north of Omagh in Co Tyrone. The Ulster Folk and Transport Museum is located in Cultra, Co Down within walking distance from the Cultra train station. Trains depart from Central Railway Station every half hour and the journey takes 17 minutes.7,8
Hint number 12 – Time a trip back in time to see how your ancestors lived and travelled. The Ulster American site is particularly entertaining for all ages and whilst it is easiest reached by car, the Ulsterbus Express No. 273 from Belfast to Derry passes the main gates of the Ulster American Folk Park. This Express service stops on request outside the main gates.9
Much of Northern Ireland is not covered by a rail service but with buses linking various towns.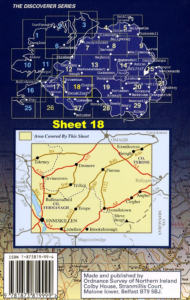 However for the time-poor travelling researcher these are really not an option as 'your' church or homestead will possibly be in an out of the way spot not serviced by these options. To get around it's usually best to hire a car for trips outside the main city area. I find the Discoverer Series of maps by the Ordnance Survey Department to be excellent as they are based on an updated format of maps as the Griffith Valuation series with building etc. marked.10
Hint number 13 – Search on the Internet for the map covering your ancestor's location a couple of months prior to your trip as they may take 3 weeks or so to be sent to Australia. They are difficult to find in UK local shops or stationers so try eBay, Amazon or other map suppliers like Stanfords.co.uk. The maps average £6.50 (about A$11) with some suppliers including postage, others charging extra for postage while some will not post out of the UK.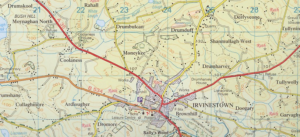 Bobbie Edes
RCB is the headquarters of the Church of Ireland
https://www.nidirect.gov.uk/information-and-services/public-record-office-northern-ireland-proni/your-visit
https://www.linenhall.com/pages/genealogy
http://journeyplanner.translink.co.uk/web/XSLT_TRIP_REQUEST2?language=en
https://www.nmni.com/our-museums/ulster-folk-and-transport-museum/Home.aspx
The Discoverer Series map scale is 1/50,000