In Search of My Queensland Ancestors
A few weeks ago, I attended a seminar at the Genealogical Society of Queensland (GSQ) (http://www.gsq.org.au) presented by Helen Smith. I was sitting there feeling a little bit like an imposter because I was not a Queenslander. I wasn't born in Queensland. I was born in New South Wales and still think of myself as a New South Welshman. But then I thought "Hey! Wait a Minute" this seminar is called "My Ancestor Was in Queensland", and that was why I was there. I have many ancestors who were in Queensland.
Although not yet fully researched, I have discovered that I have a very interesting family history reaching back into the days before Queensland became a colony in its own right. That time is known as the pre-separation period. The colony of Queensland was established on 01 June 1859. Prior to that date, what we now call Queensland was all part of the colony of New South Wales. I have discovered great-great-grandparents who came to Australia and settled in pre-separation Queensland and great-grandparents who were either born in Queensland or went there to settle. My maternal grandparents were born and lived all their lives in Queensland and my mother was born in Queensland and lived there until 1948 when she met and fell in love with a handsome New South Welshman who married her and carried her across the border. So even though I was born in New South Wales I think I have fairly strong credentials to say that a good percentage of my background is "Queenslander".    
My mother was born in Alpha in Western Queensland in 1925 and grew up in Tambo and Blackall. She would sometimes talk about her life growing up in Western Queensland and she would mention the "claypans". She said she would sometimes play on them. I did not know what they were but they sounded very dry and dusty and not a place that would be fun to play on. Such places seemed hardly possible to me, a child growing up in the lush greenery of Northern New South Wales, surfing and swimming at the beaches which were only a 30 or 40 minute drive away. I have since found out the definition of a clay pan. "Claypans are hard, bare, unproductive areas found throughout South West Queensland". This definition was obtained from an article by Kristie Williams and Andrew Biggs titled "Formation of clay pans in South West Queensland, Australia", written for the 2010 19th World Congress of Soil Science, Soil Solutions for a Changing World.  (http://iuss.org/19th%20WCSS/Symposium/pdf/0521.pdf). It seems that my idea of a clay pan was fairly accurate. However, my mother was a very creative and imaginative person and I am sure that she and her sister and brothers would have played some very interesting games out there on those clay pans.
My mother's parents were also born in Queensland. Her mother was born in Tambo and grew up and was married there. During her married life she lived in Tambo and Blackall until she and my grandfather moved to Coolangatta in the late 1940's. My mother's father was born in Taroom but moved further west to Mitchell at a very young age and lived in Mitchell, Tambo and Blackall until the move to Coolangatta. For many years his occupation was a rabbit overseer.
This is a picture of his home on the Alpha-Tambo road in 1926, published in The Capricornia on Saturday 27 March 1926. At this time my mother was one year old and had an older brother who was two.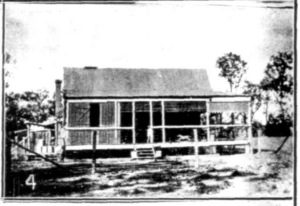 The earliest record I have discovered of my ancestors being in Queensland, is a permission to marry, in 1849, for Owen Connor and Ellen Smith. This permission to marry lists Owen age 30, as a convict, sentenced for life but granted a ticket of leave. It states that Ellen was age 17, and came free on the Roslin Castle. They were married in St. Mary's Catholic Church Ipswich on 23 April 1849. These were my paternal great-great-grandparents. They had 11 children and one of their daughters, Eliza, born in Ipswich in 1860 moved to New South Wales and married a policeman and became my great-grandmother. Owen died in the Dunwich Benevolent Asylum in 1890.
My maternal great-great-grandparents were also in Queensland in the pre-separation days. Richard Edwards and Rose Real (also known as Rosanna Rhaill) were married on 30th December 1850 at the Drayton Courthouse. Richard was a ticket of leave man who had arrived in Moreton Bay on the Bangalore on 30 April 1850 and Rose was an Irish Female Famine Orphan who arrived in Sydney on the Inchinnan on 20 February 1849 and was brought to Moreton Bay sometime between that date and the date of her marriage. By the time the colony of Queensland was established in 1859 they had 5 children and gave their address as Jondaryan and his occupation as "stockman". Jondaryan, situated between Toowoomba and Dalby, was a sheep and cattle pastoral run. It was first set up in 1841 but quickly became a vast pastoral empire. (https://www.jondaryanwoolshed.com.au). Richard and Rose went on to have a total of 11 children and eventually moved further west to Mitchell.
These few anecdotes are only the tip of the iceberg of what I hope to discover about my Queensland ancestors. I have not even begun to research my maternal great-grandfather who owned a large successful property at Tambo. I have not been able to find out when and how my great-grandmother Adelia Ward or my great-great-grandmother Elizabeth Ennis came to Australia from Ireland. I have not been able to establish the details of why my great-great grandmother Ellen Smith came free on the Roslin Castle, which was in fact a convict ship. I would love to discover more about my great-great-grandfather Owen Connor who came to Australia as a convict, was married in Queensland and the father of 11 children but died a pauper in the Dunwich Benevolent Asylum on Stradbroke Island in 1890.
The seminar I attended at GSQ was designed to give details of the many and varied avenues that are available to discover lost ancestors in Queensland. These resources are also invaluable in learning about the circumstances of our ancestors' daily lives, their successes and their failures and their joys and tragedies. I am sure that the handout we received, with an extensive list of the available resources, will help me discover some of these secrets. I am always on the lookout for seminars that will help me in my family research. GSQ holds a number of these each year on a varied range of topics. There is another seminar presented by GSQ coming up soon that I plan to attend. This time it is to be held at the Nundah Library on 13 May as part of their Family History Research in Action Programs.
My goal is to, one day, write a book about my family history. These seminars that are offered, together with all the other resources available, will I am sure help me to eventually fulfil my goal.