One hundred years ago World War I was in its third year. Thousands of Australian soldiers were fighting for Britain against Germany and the Austro-Hungarian empire. Newspapers published reports from the frontline and lists of casualties that told of the horrors of war. Recruiting posters encouraged men to enlist, to keep hope alive in the trenches and at home. A soldier blinded by a shell burst wrote a poem calling to 'the lads back home' to join the fight:-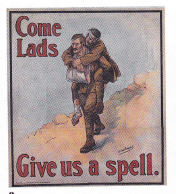 But if I do get shrapnelled,
Though I die without a groan,
Well, the one who's really killed me
Is me brother wot stayed at 'ome
Fred Rhodes (born 1877, Staffordshire UK)1 immigrated to Australia via New Zealand and became an expert mariner. Appointed Harbour Master at Cleveland Bay, Townsville in 1910, he acquired a unique skill set: handling large vessels in narrow waters, surveying vessels for safety, investigating accidents and casualties at sea, and inspecting and certififying explosives. Fred enlisted in the A.I.F. in February 1917 in hopes of returning to England to apply for a commission in the Royal Naval Reserve where he hoped that his maritime experience could assist the war effort.
Upon arrival in England Fred was assigned to an infrantry unit and spent the next seven months doing squad drills on Salisbury Plain. Months of furious correspondence from various marine authorities to the A.I.F. protested this waste of a master mariner's experience while troop ships and military convoys were attacked and sunk in the Atlantic (see Fred's NAA file2).
The administrative log-jam finally broke in October 1917 – Fred received his discharge from the A.I.F. and accepted a commission in the Royal Naval Reserve. He served on a British destroyer until 1919, and left the R.N.R. as Captain, a title he retained for the rest of his life.
Post-war, Fred enjoyed anonymity (but not obscurity) as a freelance writer. Under the pseudonyms 'Junius' and 'Historicus' he wrote regular columns for the Rockhampton Morning Bulletin' and the weekly Central Queensland Herald. His views on Australian maritime history and land management were sometimes controversial, but he was highly respected as a journalist, and missed pre-selection for a Senate vacancy by one vote in 1922.3  Despite his popularity as an authority on everything from shipwrecks and weather conditions at sea to cattle-breeding and cotton-farming, Fred eluded photographers and portrait artists… I found not a single picture of the man, but his view of history gives a glimpse of his character and erudition:
Nothing is so essential to the culture of a people as a clear knowledge of their past history, for history has a peculiar knack of repeating itself.
Geraldine Lee
Sources:
1 England & Wales, Civil Registration Birth Index 1837-1915
2 National Archives of Australia, Series B2455 SERN 6858
3 Lorna L. McDonald, 'Rhodes, Fred (1877–1964)', Australian Dictionary of Biography, National Centre of Biography, Australian National University, http://adb.anu.edu.au/biography/rhodes-fred-8188/text14321, published first in hardcopy 1988; accessed 11 March 2017.