A life on the ocean wave!
Two things prompted me to write about life on the ocean wave – in my family's case the merchant marine and the Royal Navy. The first was a book I bought at the Lifeline Bookfest and, serendipitously it seems, an article in the latest issue of Who Do You Think You Are? Magazine. 
The book is called Passage to America by Terry Coleman (1972, Pimlico Books, London). It tells the story of the, mainly Irish, emigrants 'shovelled out' from Britain to America in the 1850s.  The blurb on the back of the book states: 
In the middle years of the last century [19th] more than two million men, women and children abandoned the British Isles. The Irish were 'shovelled out' by absentee landlords and famine: the English went west to escape poverty and slums.
Seasick, homesick, herded like cattle, dying like flies, they poured across the Atlantic from Liverpool to New York. They were swindled, robbed, insulted and terrorised at every stage.
The author focusses on the period 1846-1855 and makes extensive use of diaries, letters,contemporary newspapers and prints. This is the period of sailing ships and the book paints, for the most part, a pretty awful picture of the emigration journey. Overcrowded, insanitary, often unseaworthy vessels, aboard which emigrants were regularly terrorised by the crew. Emigrants were relieved of their money and belongings by racketeers in Liverpool and then they lost whatever they had left by compatriot racketeers when they arrived in New York. 
Why did I find this so interesting? My mother comes from Liverpool and I have traced several generations of her family back to that great city. An excellent site Old Mersey Times (http://old-merseytimes.co.uk/) provides a wealth of material on the city. Martin Johansen my great grandfather was not born in Liverpool, however; he was born in Norway in 1852, married Elizabeth Power in Liverpool in 1881 and appeared to spend most of his working life on emigrant ships plying the routes to Montreal and New York from his main port of Liverpool.
Through various resources such as crew lists (www.crewlist.org.uk/ and www.Findmypast.com) and ship information, I can find him making many voyages across the Atlantic between 1876 and 1891. The Norwegian Heritage website (www.norwayheritage.com/) is an excellent site for researching passengers and ships carrying Norwegians and other Scandinavians to America by the way. Many of the ships from Scandinavia travelled via Liverpool and Ireland on the way to North America.
Martin and my great-grandmother Elizabeth lived in New York for some time between 1883 and 1891, where he worked as a clerk according to the Brooklyn Directory of New York in 1890/91 (Lain&Co1898NY).  

I've not been able to locate the immigration records for them into America nor their arrival back in England. Sadly the 1890 census for New York City was lost, so I haven't found details of Elizabeth or my grandfather a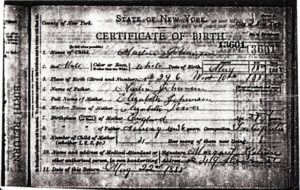 part from the latter's birth certificate on 18 May 1888. The address is the same as that in the directory entry.  
My earliest possible record of Martin as a seafarer is as an able seaman on the crew list for the Dundonald in 1876 although the entry indicates this sailor had previously sailed on a ship called  Arcturus, Maryport.  Maryport was a busy shipbuilding town in Cumbria in the 1800s. It is possible to search for details of individual ships through links from the CLIP website. Ships were often renamed, but they had a unique registration number and this is the main finding aid for records. Links on the CLIP website enable you to search by ship name, number or seaman. According to the website, "the database includes every British registered ship from 1855 to the early 1950s with official numbers 1 to 200000. It was last updated on 14 September 2014 and contains 677,170 entries." From this I found there were 12 ships named Arcturus. Many of the actual crew list agreements are lodged at the Maritime History Archive in Newfoundland, Canada (www.mun.ca/mha/index.php). Agreements for ships registered at Liverpool and a couple of other places, are online at Ancestry. Sadly for Martin (and me) his place of birth was transcribed as Norwich, so it took a while to find him. The original is clearly written as Norway so that's another lesson in always looking at originals of documents where possible!
A family story was that he spoke five languages and he's described as an interpreter on my grandparents' marriage certificate in 1915. On the crew lists he is either a steward or an interpreter. He often worked on ships belonging to the Inman Line, such as the City of Montreal, City of Paris; he may be listed as a passenger on the City of Chester but I'm not convinced that is him. Crew members were often employed for a specific voyage, rather than for a period of time. I found a fascinating record, including witness statements, of the burning of the City of Montreal mid-Atlantic in 1897 on the Old Mersey Times website.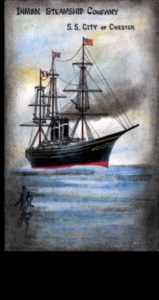 William Inman founded his shipping line in Liverpool in 1850. His ships were all named after various cities and were "iron-hulled screw ships". Coleman writes extensively about this shipping line and the subsequent improvements, such as voyage times and accommodation, due to the introduction of steamships; the migrant reception experience in America was also significantly better due to the opening of the immigrant centre at Castle Garden. Castle Garden immigration records can be found at (http://www.castlegarden.org/). Castle Garden was superceded by Ellis Island from 1891/1892. Employment of stewards and interpreters on board ships suggest significant improvements in the way shipping lines catered for their passengers.
I imagine that life as a seaman in the steam age would have been significantly better than during the age of sail. Travel times were significantly reduced, and it is assumed that health and safety had greater priority with a subsequent reduction in the number of deaths at sea and the disembarkation of seriously ill passengers. My recent experiences on cruise ships would be an 'out of the world' experience for crew and passengers on emigrant ships in the 1800s.
The final record I have of Martin is him signing on the Sarnia in July 1891 sailing for Montreal. He had made a trip to New York earlier in 1891 on board the Lake Huron. Of the 8 ships named Sarnia, I think the vessel built in Liverpool in 1882 is the one he most likely sailed on.  The following is a typical entry indicating where further information may be found.

Another useful site for researching ships and shipping lines is The Ships List. The Sarnia belonged to the Mississippi and Dominion Line. Typical of many shipping companies its name changed and was known also as the Dominion Line. Searching for the Sarnia on The Ships List I found it was sold to another company in 1896.


 (www.theshipslist.com/ships/lines/dominion.shtml). The site is also helpful in setting out the routes travelled by each shipping line. The Dominion Line was active on the following routes:

Of the routes that the Sarnia sailed in 1891, my great grandfather was last seen leaving Liverpool heading for Montreal via Ireland and Quebec in July 1891. What happened to him after that, I have no idea as I have no definite sighting of him. I've searched in the UK, USA and Canada but cannot yet pin him down. It appears unlikely that he returned to his wife and children in Liverpool since his two sons were placed in an orphanage after their mother died in 1897. Elizabeth died of typhus, which suggests she was living in poor circumstances; she was described by her mother who registered the death as "wife of …" rather than "widow", so presumably the family thought he was still alive but didn't know where he was. If anyone can locate my mystery man, I would be eternally grateful.  
I had intended to discuss the article in WDYTYA? Magazine about the life of a stoker in the merchant marine so I could talk about my grandfather, Walter Johansen, Martin's son. However, I fear this would result in an overlong blog post, so I'll save that until another time.
Just before I published this post, I came across an article in the February 2017 issue of WDYTYA? magazine about tracking down shipwrecked ancestors and I thought I would refer to this as a number of sources.are mentioned.
Until next time
Pauline