A Short History of Floods in my Family
Floods seem to be a recurring theme in the history of my father's side of my family right from the early days when my paternal ancestors first arrived in Australia.
 My paternal great-great grandparents and my great grandparents lived in the Richmond Valley near the town of Coraki, on the Richmond River, about 25 kilometres from Lismore. This is an extremely flood prone area. Both of these men took up land there when the land Selection Acts were passed during the 1860's. After many years of hard work, they both became very successful farmers. There were many big floods during their lifetimes which devastated the area: 1861, 1863, 1864, 1870, 1887, 1892 and 1893. There are no family records or diaries that I know of that give a firsthand account of the impact that these floods may have had on them. However, from the many accounts that have been written of floods in this area and how devastating they were to crops and cattle, one can be fairly certain that they would have been severely affected by at least some of these floods. In the newspaper, The Northern Star, there is an account of the 1892 April flood in Coraki. The article makes mention of the great loss to crops and cattle suffered by my great-great grandfather Patrick Smith. The Northern Star (Lismore NSW: 1876 – 1954) Sat 9 Apr 1892 p.2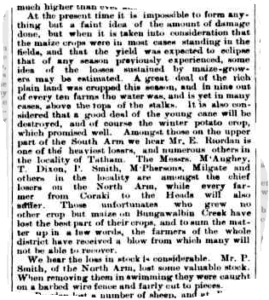 My great grandfather John Casey does not appear to have been deterred by any flood experiences he may have suffered in Coraki. When he retired from farming around 1916 he bought a house in Lismore directly across the road from the Richmond River. This is the very house that I would shelter in when I was a child and my family's house was inundated by flood waters.
From 1951 to 1958 I lived with my parents and brothers and sisters in a little cottage in a very flood prone area of the flood prone town of Lismore. During this time, my parents suffered through 6 moderate floods and 2 major floods and a number of other heavy rainfall events that must have caused them many anxious moments. http://australiasevereweather.com/floods/lismore_flood_pictures_reports.htm
 When there was a flood, my parents would pack up all our belongings and store them in the ceiling of our house. My father had devised a pulley system and pallets to pull furniture and boxes up through the manhole. He had modified the manhole to fit the size of the pallets. Some of the larger items of furniture were stored on the verandah of the house next door which was a high set house and flood waters did not usually enter the first floor. My parents had help from friends and dad's work mates who would all band together and pack up each other's houses. He worked at the telephone exchange which was situated directly across the road from the river so there was a lot of packing up to be done there as well. It was always an extremely worrying and hectic time.
 When flood threatened our house, we would all move in with my 2 great aunts and my great uncle. They too lived in a very flood prone area of town. Their house was in the main street directly across the road from the river but it was a two-storey house built on a steep rise so water did not come into the first floor although the ground floor would often be inundated. There was a lovely verandah at the front of the house where we could stand and watch the flood waters swirling by. It was always fascinating and exciting to us as children because there was so much to see and so much activity. We would see all sorts of interesting things floating by – furniture, huge trees and tree branches, animals and even snakes. There were lots of boats too, rescuing people from their flooded homes and taking food and medical supplies to stranded people. The road beside my aunt's house sloped steeply upwards so the flood waters did not advance very far up this street and it was used as a launching area for many of these boats. We would spend hours happily watching the endless comings and goings. This was one of the points where the Army launched its Army Ducks. They were used for search and rescue and delivery of food supplies and other emergency requirements. For years, I thought that "Army Duck" was a name that my family had invented for these vehicles. However, I have learned that the word Duck is a colloquialism given to the Army DUKW which is a six-wheel drive amphibious modification of a cargo truck used by the U.S military in WW11.  
The 1954 flood was one of the worst on record. My parents did not own a car at that time and I have a very vivid memory of walking to my aunt's house with my little sister and my mother carrying my 1 year old brother. The weather was wild with the rain lashing around us and the trees swaying violently. I remember being terribly frightened. I also remember the warm welcome we received from my aunts when we arrived and the great fuss that was made of us for being so brave. My father has told me that we did indeed walk through that terrible weather after he and my mother had packed up our house in preparation for the flood that was to come. He walked about halfway with us but then had to pedal off on his bike in another direction to help a friend pack up his house before the flood waters reached it. We only had about a mile or so to walk but the weather was indeed ferocious.  Now I know that there is an explanation for that weather. The 1954 flood was the result of cyclone "195303" crossing the coast at Tweed Heads. That was in the days before the naming system for cyclones was introduced.
As I have already mentioned, the 1954 flood was one of the worst on record and the level it reached took everyone by surprise, including my parents. The furniture they had stored on the neighbour's verandah was completely destroyed. They lost mattresses, beds, wardrobes and chests of drawers. My father says he was eligible for "flood relief" and thought he received about £100. Naturally, the newspapers of that time are full of reports of the flood and the "relief" given to victims.
Thankfully, for my parents, in 1958, they were able to buy a block of land and build a home well away from the danger of flood waters. We still lived in Lismore and there were many more floods to come, for Lismore, but my family did not suffer directly anymore.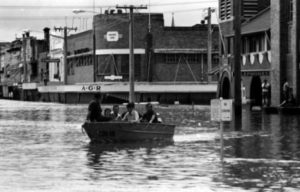 Boats navigate through the flood water near Magellan Street Post Office in Lismore during the 1954 flood. ( Richmond River Historical Society: Riley Studios Photography)
As destructive and distressing as the floods may have been for my ancestors in Coraki and for my parents in Lismore I have another ancestor whose life appears to have been even more devastated by floods. One may even say that his life was ruined. This person is also my great-great grandfather. His name was Owen Connor. He came to Australia in 1839 as a convict from Ireland, sentenced to life for stealing a cow. He was granted a ticket of leave in 1846 and settled in Ipswich. I have found references in Trove (www.trove.nla.gov.au) to him being affected by flooding as early as 1863 when houses he owned were "completely submerged" and again in 1864 when they were  "inundated" from all sides. However, it is not until the two floods in Ipswich in 1887 that he appears to have been completely ruined. By 1887 he was 65 years of age and had suffered many setbacks in his life including insolvency during the 1870's. Newspapers report that he suffered greatly in the January flood of 1887 and then again in the August flood of the same year. This is a report in the Queensland Times, Ipswich Herald and General Advertiser (Qld: 1867-1908) Tue 25 Jan 1887.

  Owen is mentioned a number of times in the newspapers over the next few weeks requesting flood relief funds to help him with the "necessities of life" because he had lost everything, including his work tools.
Months later in August of 1887 he is again living in Devil's Gully and flood waters enter his small cottage. This is also reported in the Queensland Times, Ipswich Herald and General Advertiser (Qld 1861-1908) on Tuesday 16 August 1887.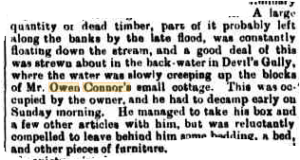 Owen was again forced to seek financial relief for his desperate situation and the Telegraph (Brisbane Qld: 1872-1947) 17 August 1887 reports this and also makes note that he is "remembered as a heavy loser" in the January flood.
Devil's Gully was an area in Ipswich on the banks of the Bremer river and appears to have been particularly flood prone. In one report of the January 1887 flood by the Queensland Times, Ipswich Herald and General Advertiser, it states that "Owen Connor's house was totally submerged by the backwater from the Brisbane river causing the Bremer river to rise a considerable height above its ordinary level."   
I do not have any evidence of what happened to Owen in the next few months but one can only imagine that his life was desperate because in February 1888 he is listed as being admitted to the Benevolent Asylum at Dunwich. The Colonial Secretary's Office in Brisbane provided a report each week of the status of inmates at the Asylum. In the return for the week ending 25th February 1888 it is reported that Owen Connor was one of the admissions during the week. The report describes him as age 70, bush-labourer, from Ipswich Hospital: unfit to work, through illness, for three years.  In the return of the week ending 14th April 1888 he is listed as being discharged. I feel that there is some contention about whether he was officially discharged or he may have discharged himself. I have discovered a report in The Brisbane Courier (Qld: 1864 – 1933) Thursday 17 May 1888, page 6 which gives details of the fortnightly meeting of the acting committee of the Ipswich Hospital in which Owen Connor is mentioned.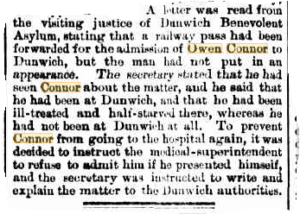 I have found no evidence of what Owen may have done in the next 2 years but then in February 1890 he was readmitted to the Benevolent Asylum and died there on 27th April that same year.  
The recent catastrophic floods along the east coast of Australia in Queensland and New South Wales have made me think about floods again and how much they have played a part in my family story. My father now lives in Murwillumbah, another extremely flood prone town, but thankfully he lives on a hill high above the flood area. Flood experiences are never forgotten and in the most recent flooding, a few weeks ago, he said, " I think of the horrible floods we endured in Lismore and I shudder".