Victorian curiosities emerge in data clean-up
I have recently purchased the upgrade of Legacy from v8 to v9, but haven't yet installed it, pending a clean-up of the data in Legacy 8. Cleaning up data involves refreshing my memory of what I've already got, whether it's been incorporated into Legacy and, more importantly, what does it all mean.
When I'm researching, I use A4 notebooks to make written notes, save images either directly to my computer or to a USB, depending upon where I am. In theory, I input everything I find while I'm out and about into Legacy when I get home. In practice, it can often be quite a while before this happens, which is where the value of the notebooks lies. I tick off items written in the notebooks when they are input into Legacy. As part of my clean-up therefore, I revisited the notebooks that I've used over the past few years. 
It's clear that on many occasions I have been seriously sidetracked. I've obviously become interested in a person who has married into the family, or in a name that has emerged as part of a census entry, or another one on the same page perhaps. Working on the principle that you can always learn something new, I've wandered down many side streets, or fallen into rabbit holes. I rediscovered one of these as I was checking a recent notebook.
The entries relate to Samuel Street, born just in time to be recorded in the 1841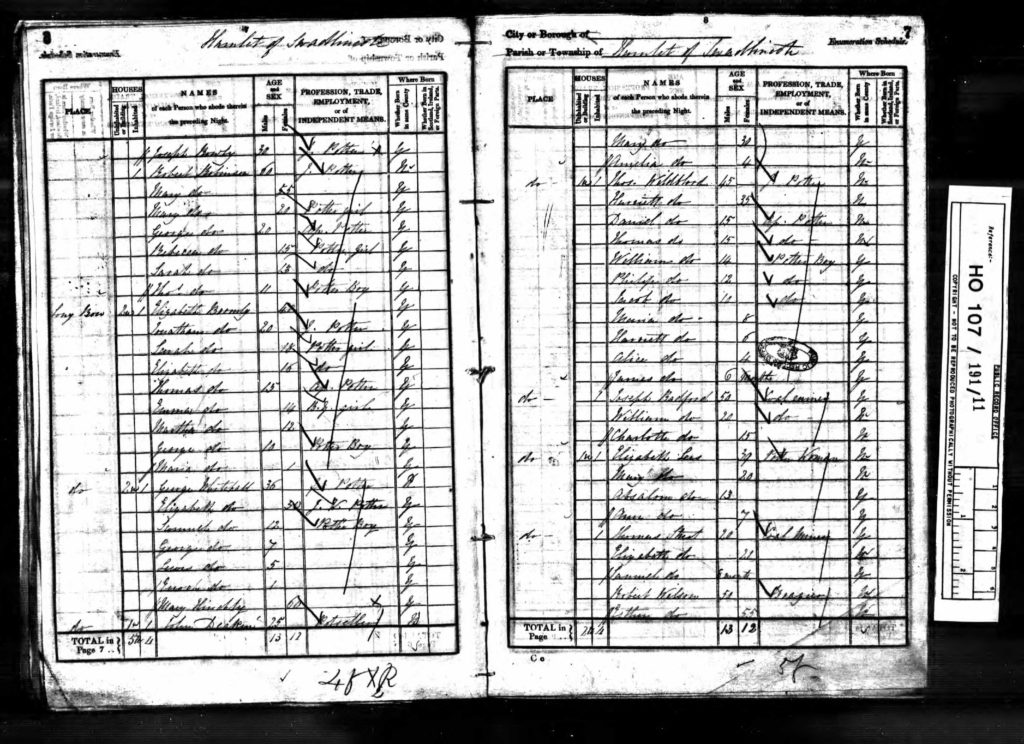 census which took place 8 months later on 6 June. Samuel is enumerated at Long Row, Church Gresley with Thomas Street, age 20, a coalminer born Derbyshire and Elizabeth, age 21, not born in Derbyshire, presumably Samuel's parents. Samuel himself was born in Derbyshire. Also in the household are Robert Wilson, age 50, a brazier, and Esther Wilson, age 55 – neither of these were born in Derbyshire. The 1841 census doesn't give relationships but it's possible that Robert and Esther Wilson are Elizabeth Street's parents. Well, you can't stop there can you? Of course you can't, so I keep going. I need to find out why I thought this was important information to record and whether and where Samuel fits into my wider family tree.
The 1851 census is more informative. Exact ages at the time of the census are shown as opposed to the rounding in the 1841 census. Also, more exact places of birth are recorded. Thomas and Elizabeth are now in Newhall, about 3 miles/5 km from Church Gresley. Age 32 (b.1819), Thomas is still a coalminer and was born in Newhall. Elizabeth is now 30 (b.1820) and was born in Sunderland, Co Durham. My initial thoughts that she came from one of the neighbouring counties to South Derbyshire such as Staffordshire or Leicestershire were blown out of the water! Thomas and Elizabeth have a daughter, Mary Turner, age 8, who was born in Birmingham, and a 3-year old son, James born in Newhall. There was also a widowed grandmother, Elizabeth Street, age 69, born in Bretby, which is close to Newhall. So some members of this family had done some extensive travelling. Sunderland in County Durham is a long way from Newhall.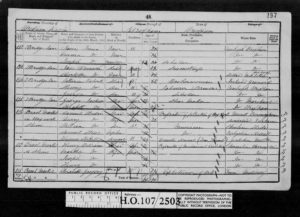 This census record raises several questions: Where is Samuel? The widowed Elizabeth Street is Thomas' grandmother, but we seem to have missed a generation – who were Thomas' parents? Who are the Robert and Esther Wilson recorded in the 1841 census and where were they in 1851? 
I searched the 1851 census for a 10-year old Samuel born in Newhall. I found Samuel Street, nephew, age 10 (b.1841), musician, born Newall, Derbyshire. He was at the Wax Work Show in the Beast Market, Wrexham Regis, Denbighshire, Wales, living with Samuel Hudson, proprietor of collection of waxwork, b. 1811 Birmingham and Mary Hudson, b. 1810 Sunderland, Co Durham. Their son William, a musician age 15 (b.1836) was born in Cheshire. Also in the household was Thomas Stokell, age 24, described as Domestic Servant (Tom Thumb).
As if to demonstrate my tendency to get sidetracked, I'll admit that I then felt a need to find the Hudson family in the 1841 census to see if I could work out the link between them and the Street family. Suffice to say, after quite a while I couldn't definitely pin them down. What I did find on FindmyPast, though, was the non-conformist baptism of a William Hudson in 1836 in Hyde, Cheshire. This was extremely enlightening in my quest to find a link between Hudson, Street and Wilson families.
       William, son of Saml Hudson of Hyde by Mary his wife dau of Robert and Esther Wilson born 17 Jany 1836 bapt Jany 27th 1836.
I now knew that Mary was not only the wife of Samuel Hudson, but also the daughter of Robert and Esther Wilson; a couple of the same name were living with Thomas and Elizabeth Street in the 1841 census; both Mary Hudson and Elizabeth Street were born in Sunderland; the odds are fairly strong therefore that these two were sisters. If so, this would confirm the relationship of Samuel Street to Samuel Hudson of 'nephew'.
All this is very interesting, but it doesn't get me any further in working out why I was researching Samuel in the first place and where Samuel and his wife fit in my broader family tree. All may become clear when I start to get my head around my paternal line which I've had on the backburner for quite a while. I feel a little sorry for Samuel Street. He had the potential to escape the life of a coalminer by his stint as a child musician in a wax work show, but by 1861 he was back in his birthplace with wife and child working as a coalminer. In 1871 he's in Nottinghamshire and gradually moves further and further north. In 1881 he's in Sheffield and finally in 1891 he's in Barnsley. I'm unable to definitely find anyone in the family after 1901, but I admit I've not looked too hard.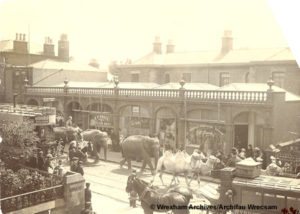 Why did I call this a blog post about Victorian curiosities? It has to do with Samuel Hudson and his wax work show in the Beast Market in Wrexham Regis. It appears that the Wrexham Regis Beast Market existed from the 15th century and was the site for regular cattle markets and the March Fair. The above image from Wrexham Archives shows elephants and camels walking down a Wrexham Street: a sight which must have intrigued the onlookers. The 1851 census was taken on 30 March, so it was a good time for the Hudsons to be in Wrexham. I looked at adjacent entries to Samuel's in the census and my apologies for the quality of the image above. 'Heads of household' were enumerated as Proprietor of Mechanical Exhibition; Exhibitioner of Arts; Proprietor of theatre of arts; Exhibitor of living curiosities. The Hudsons and their compatriots could all have been part of a travelling show visiting Wrexham for a short period of time. It could also explain why the members of Samuel's family came from quite different parts of the country.
The Victorians were vastly intrigued and entertained by all manner of curiosities and would flock to visit such shows. The University of Sheffield has a National Fairground and Circus Archive at www.sheffield.ac.uk/nfca/researchandarticles/showmenfamilies# . They say "The Victorian era was the golden age of the showmen who adapted and incorporated the latest novelties and attractions in an increasing array of venues to capture the attention of the show-going public." The site also points out: "Although shows could be found on the fairground arena, they could also operate within a travelling or fixed circus, in a show of optical and scientific wonder at permanent halls or on the high street. Everything and anything was exhibited under the banner of education and entertainment including, displays of the body beautiful or grotesque, painted panoramic scenes, fasting men and fat women and magic and illusion tricks."
If, as I suspect, that Samuel Hudson was part of a travelling circus, I can picture him requiring the services of his son William and nephew Samuel as musicians to make his show more attractive to the paying public. I haven't researched any of the other families either before or after the 1851 census to see whether I can find Samuel Hudson still in the business. Travelling people could easily have been missed from a census. One interesting member of the show group was recorded as John Murry, servant to Patrick Murphy. John was aged 27, his occupation was "servant without arms exhibited" and his birthplace was transcribed as Africa, Dristiandeacanke. The enumerator obviously had great difficulty understanding John's place of origin and I find it hard to work out where it was supposed to be. Tristan da Cunha, maybe, even though that's a long way from Africa or anywhere else? The Victorians would certainly have been fascinated by a person without arms, and how such an individual could function as a servant. 
As you can see, getting sidetracked can bring to light all sorts of curious things. Now, back to the real world – why did I research Samuel Street in the first place!
Until next time
Pauline