Violet Jane Stirling (1886 –1964) – A First World War Nurse
This is my first blog for GSQ and I thought I would share my passion for family history and combine it with my research on Queensland First World War nurse.  This is the story of Violet Stirling who joined the Australian Army Nursing Service (AANS) and was a nurse with the AIF
Violet Jane (Jean) Stirling was the eldest child of James Thomas Stirling and Annie Porter. She was born in North Branch on the Darling Downs on 24 June 1886.[1] Her father was a farmer born in Victoria and her mother born at North Branch was the daughter of Alexander Elgin Porter and Jane Auld Davidson of North Branch. Alexander's mother Annie Bland nee Laird, later Porter, delivered her great granddaughter.
In April 1912, at the age of almost twenty-six, Violet started her nursing training at the Toowoomba General Hospital.  For the next four years she worked hard in her training until April 1916 she completed her four-year training program.[2] On the 11 May that year, Violet registered her training with the Australasian Trained Nurses' Association's (ATNA) Queensland Branch. Violet was now one of only a few Queensland women at this time with a profession. 
When Violet completed her training, the First World War was raging on the Western Front and the Battle of the Somme with its hundred of thousands of casualties was to commence around six weeks later. On 22 May 1917, Violet was in the First Military District as a member of the AANS.[3] Violet's brother, William Lorne Stirling had enlisted in the Australian Infantry Forces in September 1915 and eight months later Violet joined her brother in the Australian military forces.[4] In joining the AANS and enlisting in overseas service Violet became one of less than 3,000 Australian women who served overseas with the Australian military forces in the First World War.[5] Violet was an unusual woman for her time as a military nurse.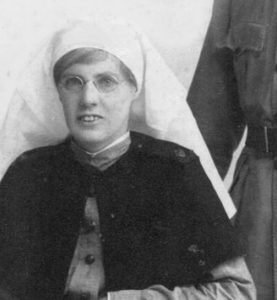 Violet embarked on RMS Mooltan from Sydney on 9 June 1917 and sailed to Suez where she then embarked for Salonika. At Salonika, Violet was appointed to No. 60 British General Hospital (BGH) in Hortiach. Many Australian nurses served in Salonika although there were no male members of the AIF on that battlefront. The conditions at Salonika were extreme.  Kirsty Harris says that Salonika was perhaps the most difficult theatre of war for the Australian nurses.[6] They nursed many ill patients as well as battle casualties and they suffered from illnesses such as malaria. The weather was atrocious, in winter it was cold with blizzards and in summer, it was hot. The Vardar winds also blew making conditions miserable.
No. 60 BGH moved to Lembet, Salonika after the summer at which time it was a prisoner of war hospital. Violet, in an interview after the war while waiting for transport home, is quoted as saying about the prisoner of war hospital "we nursed Bulgars, Turks, and Germans, and a few British.  They made very good patients, but had some very dirty habits. Some of them were very badly wounded. The conditions were very good on the whole, but we felt the cold very much, as there was so little fuel." [7] Violet sailed from Salonika to Southampton, England and served at the No. 3 Australian Auxiliary Hospital at Dartford and in July 1919 she was promoted to the rank of Sister.
Although the war was over, Violet did not sail home to Australia until October 1919 sailing on the HT Benalla as part of the nursing staff. She arrived in Sydney on 29 November 1919 and was discharged in Queensland on 2 January 1920. Violet was awarded the British War Medal and the Victory Medal which were generally available to Commonwealth service personnel. Violet was about to embark on a nursing career in peacetime.
On 21 July 1920, the Pittsworth Sentinel reported that Violet was appointed Matron of Wolfram Hospital in north Queensland sailing on Arawatta for Cairns.[8] The home town paper said that Pittsworth was 'losing a valuable asset'.[9] The position of matron was advertised in the Cairns Post in June 1920 saying that the applicant must be a member of the ATNA, able to dispense and the successful applicant would receive a salary of £170.[10]
On 14 June at St Andrew's Presbyterian Church, Violet married Alfred Harrison, a mine owner from Wolfram Camp.[11] Violet was 36 years old and Alfred 34 years.[12] The marriage was short as Alfred died on 4 September 1924 from nephritis. After just over 14 months after their marriage, Violet was a widow. Alfred was described as a highly respected and well-known identity of Wolfram.[13] Violet was again a single woman.
Violet returned home to the family property of Gunbower in Pittsworth and the Australian Electoral rolls from 1925 until 1937 record her occupation as home duties at Gunbower. It appears she did not return to nursing after she was widowed. Violet departed her home town of Pittsworth in 1940. On leaving Pittsworth for Toowoomba, Violet was given a farewell by the Pittsworth Returned Soldier's League (RSL). She was at that time the only returned sister in the Pittsworth sub-branch of the RSL.
Violet's home in Margaret Street, Toowoomba was named Hortiach after the city in Salonika where she served during the war. An article in the Pittsworth Sentinel shows Violet returning to Pittsworth with the Mr Rhymer of the Toowoomba Ambulance to examine member of the Voluntary Aid Detachment (VAD) in home nursing.[14] In being an examiner Violet was assisting on the homefront during the Second World War combining interest in her home town with her nursing experience. Later in the war, Violet was president of the Past Nurses of Toowoomba General Hospital.[15] The Past Nurses Association in 1945 donated over £240 to patriotic causes over the year.[16]
Violet died of pancreatic cancer on 20 April 1964 at the Oakdene Private Hospital in Toowoomba.[17] Her funeral was held St Stephen's Presbyterian Church, Toowoomba on 22 April 1964 and she was buried at Drayton and Toowoomba Cemetery with her grave commemorated with AIF Rising Sun to mark her service in the First World War.[18]  Her obituary in the Toowoomba Chronicle and Darling Downs Advertiser on the day of her funeral states she was one of the few remaining nursing sisters from the First World War.[19]
Violet Jane Stirling was an early professional woman in Queensland and as a nursing sister in the First World War was one of the few Australian women to serve her country in that war. Violet was buried in the Toowoomba and Drayton Cemetery and a similar story is included in the Toowoomba and Darling Downs Family History Society's recent publication of In Our Backyard, Volume 3.  This is available for purchase at http://tddfhs.org.au/.  
[1] Birth Certificate, Violet Jean Stirling, born 24 June 1886, North Branch, Queensland, 1886/002149.
[2] ATNA, Register of Members, 1920, Sydney, p. 196.
[3] AIF, First AIF Personnel Dossiers, 1914-1920, F, B2455, Stirling, Violet Jean, barcode 11614956, National Archives of Australia,  http://discoveringanzacs.naa.gov.au/browse/records/424668, accessed 9 October 2016.
[4] AIF, First AIF Personnel Dossiers, Stirling, William Lorne, barcode 8092288.
[5] Kirsty Harris, 'Rubbery figures: The puzzle of the number of AANS on active service in WW1',Sabretache, vol. XLIV, No. 1, p. 9.
[6] Kirsty Harris, More than Bombs and Bandages: Australian Army Nurses at Work in World War 1, Newport, NSW, Big Sky Publishing, 2011, p. 66.
[7] Adelaide Maud Kellett, 'Miss V. J. Stirling, AANS', Interviews containing accounts of nursing experiences in the AANS, AWM41/115, Butler Collection, Australian War Memorial.
[8]  'District News', Pittsworth Sentinel, 21 July 1920, p. 3, c. 2, http://nla.gov.au/nla.news-article198545316, accessed 9 October 2016.
[9]  Ibid.
[10] 'Wolfram District Hospital', Cairns Post, 21 July 1920, p. 4, col. 3, http://nla.gov.au/nla.news-article40343694, accessed 9 October 2016.
[11] Marriage Certificate, Alfred Harrison and Violet Jean Stirling, married 14 June 1923, Cairns, Queensland, 1923/001082.
[12] Ibid.
[13] 'Death of a well-known identity', Cairns Post, 5 September 1924, p. 4, c. 5, http://nla.gov.au/nla.news-article40493529, accessed 9 October 2016.
[14] 'Personal', Pittsworth Sentinel, 13 November 1943, p. 2, c. 4, http://nla.gov.au/nla.news-article199833558, accessed 15 December 2016.
[15] 'Nurses have a reunion', Queensland Country Life, 9 August 1945, p. 9, c. 6, http://nla.gov.au/nla.news-article97093328, accessed 15 December 2016.
[16] Ibid.
[17] Death Certificate, Violet Jean Harrison, died 20 April 1964, Toowoomba, Queensland, 1964/29350.
[18] 'World War I nursing sister dies', Toowoomba Chronicle and Darling Downs Advertiser, 22 April 1964, p. 2, c. 6, Toowoomba Darling Downs Family History Society, Toowoomba.
[19] Ibid.