What do they think we are?
by Bob McAllister
Have you fallen under the spell of the latest Australian series of Who do you think you are? [1] Have you been lured away from your own research to see what is being "discovered" by the celebrity of the week in the latest genea-porn episode?
Why call it genea-porn? Because it is a public visual representation of an activity in which many of us engage in the privacy of our own home, but which has crucial elements exaggerated to an extent that tends to excite envy (or bemused amusement) in the viewer. I am sure that there are ordinary family researchers able to marshal the time, the expert support, and the budget that underpins a single episode [2]; but I have yet to meet one.
I have vivid memories of the day on which I first realised that this very popular genre was as much fictionalised entertainment as education. Kerry O'Brien[3] was instructed that he would need to travel to Dunwich to learn whether the names of his ancestors were on a particular shipping list. At the time, he was standing in the QSA Reading Room where, clearly visible in the background of the shot, were the drawers holding the index cards that would have led to the answer he was seeking. Through the magic of a jump cut, Kerry was transported to the deck of a ferry crossing Moreton Bay under a cloudless sky to read the names from a memorial plaque bolted to a rock on a headland overlooking the waves.
The appeal to the WDYTYA crew of extended shots on boats (evoking memories of migration while highlighting "exotic" locations) is now such a staple element that I actually miss it when it cannot be used. So long as you understand what is being presented, an episode can be at worst a harmless diversion and may even contain an actual gem of useful information.
So I approached the Patti Newton (nee McGrath) episode [4] with (as recommended by Samuel Taylor Coleridge) "that willing suspension of disbelief for the moment, which constitutes poetic faith" [5]. I was prepared to accept an artfully-artificial reordering of document discovery to heighten dramatic tension, unnecessary changes of location to highlight interesting backdrops, perhaps even some selective editing to reduce uncertainty or complexity in the argument that could confuse a novice. I was not prepared for the manipulation of evidence to create an "alternative" description of an event that removed any reference to an uncomfortable element.
We are all familiar with the moment when a discovery prompts the thought "Oh dear, Great Aunt Maude is not going to like that!" All family history researchers are familiar with the range of strategies open to them at that point. [6] One might choose to document the circumstances fully (with appropriate citations for future researchers) but choose not to publish at this time. In some cases, it is possible and appropriate to share the finding with some family members while agreeing never to discuss it with individuals who will take offence. What is not an option is to make public a bowdlerised version of the story which cherry-picks the nice facts while ignoring the nasties. Yet, that is what WDYTYA chose to do.
Patti McGrath followed the standard formula of expressing her complete ignorance of, but deep passion to discover, the lives of her father's maternal ancestors. Basic examination of vital records revealed that in 1902 Eva Cripps had an ex nuptial child who would have been a half-sister to Patti's father (or in her words "my aunty") [7], who died aged 4 weeks. Even a cursory Trove search [8] reveals that this is the type of situation that WDYTYA producers dream of – A sad event – Sensational trial – Shocking revelations – Happy(sic) outcome. And the producers appeared to have wrung every drop from the tale of a grandmother who took responsibility for a babe when the mother was too ill to care for her, but then found herself on trial. The presentation culminated in reading an extract from one press report of a tearful statement from the dock that was said to have moved the jurors to tears. The acquittal of Thirza (or Theresa) Cripps was then conversationally attributed to the realisation by members of the jury that any one of them could have come to the same awful situation.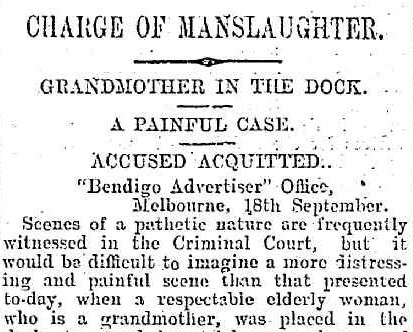 [9]
What was not explored was the potential impact on the decision by the jury of the defendant's plea in mitigation that "I have been 50 years in Victoria, and I am almost a widow, as my husband has been in a lunatic asylum for some years." [10] In fact, there were several references throughout the case to persons confined in an asylum as a result of mental illness. References that were completely ignored in the WDYTYA retelling.
I understand completely that someone who has been subjected to extensive press coverage of the antisocial behaviour of a living family member would not want to give publicity to even the suggestion that this could be a replay of similar actions in the life of an ancestor or that the coincidence could be explained by a genetic connection across the generations. Although the existence of just such a behavioural connection is a recurring theme in both WDYTYA episodes and the advertising by their principal sponsor, Ancestry.
The producers who uncovered this possibility were obliged to advise their celebrity subject of the possible implications and to offer her the option of withdrawing from the project which would be canned. Once she decided to continue, that obligation shifted to presenting a full and honest account of (all) the evidence uncovered. Anything less is an insult to the many family history researchers who make up their audience.
That is precisely what Episode 8 of Series 9 was – an insult to my intelligence. Did the writers and producers seriously think that their selective quoting from news reports of a trial conducted by a Kings Counsel before the Chief Justice would convince viewers that there was nothing more to see here. Or that by neglecting to mention the fact that William Cripps died as a controlled inmate of the Yarra Bend Asylum on 9 May 1904, the digital image of the report of the inquest available online from the PROV [11] would remain comfortably out of sight?
Healthy skepticism of any claim for which you do not have first-hand access to the evidence is a useful characteristic for any researcher. Perhaps the true value of an hour watching genea-porn is to have that important lesson reinforced.
In the meantime, if I see that the next series will include an episode Who do you think you are: Luke Skywalker, I will give it a miss. I shudder to think what they might do with a family history that really does have a dark side.
---
Endnotes
1.SBS Programs – Who do you think you are?
2. BBC tv blog (2011) Who Do You Think You Are: Researching celebrities' family histories
3. Kerry O'Brien episode of Who do you think you are?
4. Patti Newton episode of Who do you think you are?
5. Coleridge, Samuel Taylor (1817) Biographia Literaria Chapter XIV
6. Schoenberg, Nara (2011) Grappling with the shocking secrets about your nearest and dearest
7. Births, Deaths and Marriages Victoria 1902 Birth 17460 Cripps, Wfred
8. Trove List: Death of Winifred Cripps
9. "CHARGE OF MANSLAUGHTER." Bendigo Advertiser (Vic. : 1855 – 1918) 19 September 1902: p 3.
10. "NEWS OF THE DAY." The Age (Melbourne, Vic. : 1854 – 1954) 19 September 1902: p 4.
11. Victorian State Coroner's Office (1904) VPRS 24/P0 unit 776, item 1904/446