Tributes to two Townson brothers from Toowoomba
by Janice Cooper
Oh for the touch of a vanished hand
And the sound of a voice that is still.
On the 18th September 2018, 100 years after the death of Toowoomba born Private Stanley Joseph Townson on the Western Front, Paul Shepperd will fulfil a wish the soldier's father, William Townson had for his son's grave by placing two lines of poetry at his memorial in Bellicourt British Cemetery, Picardie, France. Paul, an Englishman and distant or honorary cousin to the Townsons, is travelling across the Channel to honour the war service of the younger of two Townson brothers, Stanley Joseph. He is doing this on behalf of Townson and related families in Australia, and for this we thank him.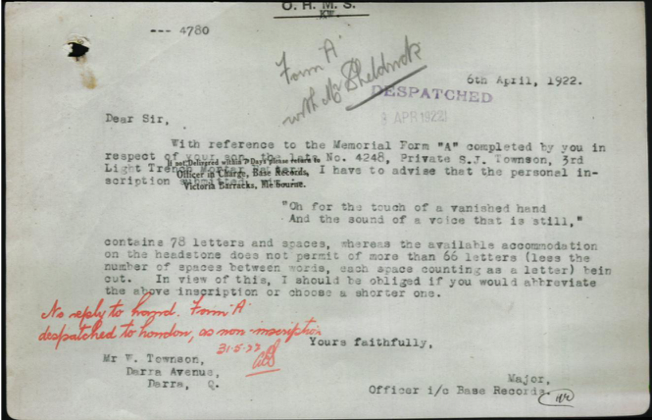 As this notice sent to William Townson at Darra on 6th April 1922 reveals, Stanley's father's request for these words to be added to his son's memorial was not accepted as it did not meet official requirements. [2] William, born in Salford, Lancashire was an avid letter writer and often included extracts from poetry in his correspondence. He selected these words from Alfred, Lord Tennyson's poem Break, Break, Break for the memorial to the second son he had lost in World War I.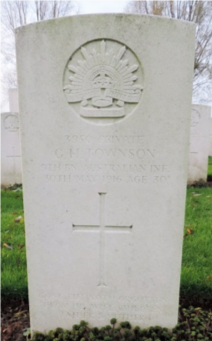 George Henry Townson (1886-1916)
Paul Shepperd and his wife travelled to France in May 2016 to visit the memorial for the older brother, Corporal George Townson who had been shot and died on 30 May 1916, just ten days after he joined AIF's 9th Battalion on the battlefield. Two disappointments accompanied this plan to honour George Henry Townson. The first was that the Shepperds were not able to reach George's grave in the Rue du Bois Military Cemetery on the centenary because union strikes rendered it difficult for tourists in France to buy petrol and roads were cut by burning tyres.
A second disappointment was that neither Paul nor family historians here in Queensland were able to make contact with any direct descendants of George Henry Townson who had married Emily May Goodwin (1893-1970) in 1911. They had two daughters – Mabel May (1912-2002) and Ethel Louisa (1915-1986). We had hoped that a direct descendant could become aware of efforts being made by the Shepperds to visit the grave of their ancestor 100 years after his death. While Ethel did not have any children, Mabel May Bonker's Death Notice in December 2002 [3] shows that she had great-great-grandchildren.
Stanley Joseph Townson (1895-1918)
Stanley Townson, who is being honoured this year, was also serving in the 9th Battalion and not far away when George was killed. In his letter home, Stanley related that he did not know of his brother's death until told about it and that he died from a shot in the head at about 10.30 at night. Mrs Townson also received a letter from Platoon Sergeant Williams who stated that, 'His death is an irreparable loss to his regiment, both as a soldier and as a man. He was well liked by his comrades, and those who came in contact with him were unanimous in singing his praise'. [4] Chaplain Captain Rev. Joseph Lundie of Toowoomba conducted a burial service for George.
Stanley continued to serve until he was wounded – with a gunshot wound to his left hand – in July 1916 and transferred to hospital in England. Over following months he served again in the 9th Battalion before being transferred to the 3rd Light Trench Mortar Battery in March 1917. He was wounded in March 1918, having been buried by an exploding shell. He quickly returned to the Battery but succumbed to influenza three months later. Following a month in hospital he returned to his unit and was killed in action on 18 September 1918.
Stanley Joseph Townson did not have any direct descendants. However, we still hope that someone among the many descendants of George Henry Townson will become aware of the tributes made to their ancestors as it would add to the significance of the Shepperds' trip to France in September this year.
UPDATE: I have just heard from our honorary cousin Paul that he has been advised by the Commonwealth War Graves Commission that the lines of verse will be inscribed on Stanley Townson's tombstone. Wonderful news!
---
Endnotes
[1] Darling Downs Gazette, 26 July 1916, p 4.
[2] Correspondence to Mr W Townson, Townson Stanley Joseph, B2455, p. 40 of 60, National Archives of Australia.
[3] The Courier Mail. 16 December 2002.
[4] Darling Downs Gazette, 25 Jul 1916, p 5.