Time is ever-present, but our perception of it seems to be elastic, changing with age, anticipation or dread, or memory.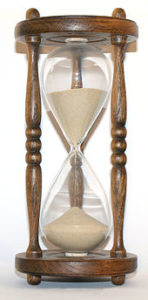 How often have you said "I can't believe that it's "…x or y… years" since that happened. As I get older, I use significant events that are etched in my memory as a way of putting a timeframe on other things that happened around that time either in my life or on a wider level. I've recently started to create a timeline as a way of framing different aspects of my life story. As well I'm using a journal which I was given for Christmas to record memories as I think of them. These help to link time, people, places and events to prevent them from being just lumped together. 
It's relatively easy to keep track of time nowadays as computers and smart phones have in-built digital clocks which are synced with official times. Digital time can be measured in smaller and smaller units; a friend of mine is a runner and he records the times, distances he has run, and is able to measure the number of steps per minute, etc to see if he's on pace. Using an online calendar I can receive reminders of events or things I need to do in whatever timeframe I choose; I can use the world clock to find out what time it is in England, so I don't wake up my mum with a call in the middle of the night. Something is happening in London at 11am GMT – what time's that in Queensland? Well it depends upon whether England is on summer time or not. As a child, it was always a big deal to make sure we got to school on time either by putting the clocks forward or back, depending upon 'daylight saving'. As Queensland has resisted the introduction of Summer Time, apart from a trial period, I can never remember which way is the 'right' way and why it's done – isn't it something to do with milking cows and stopping the curtains from fading?
In some ways our hyper-awareness of time may have negative as well as positive impacts on our lives. In comparison with our hectic lives where it's possible to measure each minute, our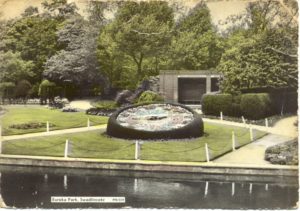 ancestors daily activities were measured by the seasons, by the sun rising and setting. There were times for sowing seeds and times for harvesting crops. Life must have been carried on at a pace more in line with our circadian rhythms. Timepieces such as sundials and hourglasses were 'technical' responses to the demand for better methods of measuring time but the former were fixed in one place and the latter only kept track of elapsed time. As a child I remember being fascinated by this ornate floral-decorated sundial which sits in the park in my home town, Swadlincote, South Derbyshire. It comes from an extensive set of community photos at the Magic Attic (http://www.magicattic.org.uk/), the local history archive. 
I'm a fan of Michael Portillo's Railway Journeys which are shown on SBS TV. He travels around Britain and Europe using various editions of Bradshaw's guides. I started to think about the concept of time while watching a recent re-run of one of his early episodes when it was pointed out that prior to the introduction of Bradshaw's guides, there was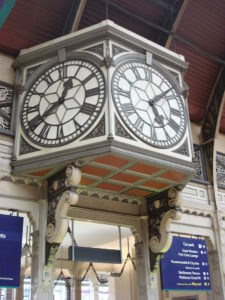 no single railway timetable for the whole of the UK, nor was there a unified agreement on time. There were many different railway companies criss-crossing the country and the answer to "What time is it" could vary from city to city and even within cities. By producing a guide that contained the timetables of all the railway companies, Bradshaw facilitated the adoption of 'Railway Time' throughout the country. Railway time had been first adopted by the Great Western Railway in 1840 and was fiercely resisted in many places. One argument was that the sun should determine time, not the railways! Some cities even refused to change the time on civic clocks that were accepted as showing the correct time for their city; as a result, clock times outside stations could differ from those inside stations or be like this clock at London Paddington Station, which shows two different times. Standardisation eventually won out and London time, or Greenwich Mean Time (GMT), i.e. the time set at Greenwich by the Royal Observatory gradually became the accepted standard.
George Bradshaw was born in Salford in Lancashire in 1800 and died of cholera in Oslo in Norway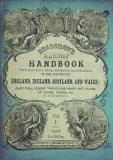 in 1853, where he is buried. He was a cartographer, printer and publisher. He expanded his early interests in canal schedules to include timetables for railways which were being built at an astonishing rate during the mid-1800s. His guides also contained a great deal of tourist information as evidenced from the Michael Portillo series. There are extensive entries for George and the Bradshaw's Guides on Wikipedia (en.wikipedia.org). Bradshaw's Guides and railways are well-represented in fiction, including Sherlock Holmes, The Hound of the Baskervilles. Access to railway timetables was essential to enable the eminent detective to reach the scene of the crime as quickly as possible. The timetable for 1850 covers York, Scarborough and Whitby. As part of the Bradshaw legacy, similar publications and standardisation of times were introduced in many countries around the world, including one in Victoria, which was published from 1856 to 1942.
Returning to my earlier comment about checking the world clock on my phone for time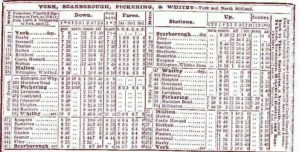 differences between countries, it's interesting to note that although countries such as the UK have a single time zone others, such as Australia or America, have several. One of the discoveries which aided the creation of time zones was an accurate way to measure longitude. This was critical for seafarers to work out where they were. For an interesting history of how longitude came to be accurately measured, see Dava Sobel, Longitude.The true story of a lone genius who solved the greatest scientific problem of his time, Fourth Estate, London, 1998.
Time is an integral element of many proverbs. One of these says, "Time and tide wait for no man", which seems to urge us to get on with the job at hand. So, I'll finish here, so I can get on and do something else.
Until next time
Pauline