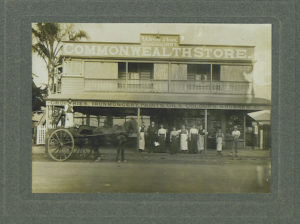 No review of the business and industrial activities of Wynnum and district would be complete which did not include Irvine's, with their large emporium on the corner of Bay Terrace and Charlotte Street. They have been active in Wynnum Central for over half a century, and indeed their name has become inseparable from that of the district. Their contribution to the growth and development of this centre can be gauged in some measure from their own extraordinary expansion and steady development over the years.[1]
Very few people now would remember the iconic department store of H.A. Irvine and Sons which stood on the corner of Bay Terrace and Charlotte Street, Wynnum from the turn of the century until it closed its doors in 1966 with final demolition in 1984, but in its time it was a landmark in the area and was a significant part of the early history of the Wynnum-Manly district.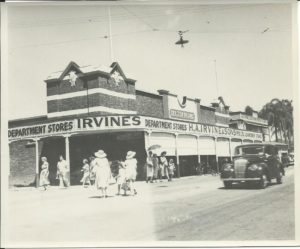 As I studied the yellowing old photograph of the original Commonwealth Store with owners and staff and that important delivery man and his horse and cart all positioned beneath the confident advertising of "Groceries, Ironmongery, Paints, Oils, Colours, Brushes &c" blazoned overhead, it occurred to me that something significant was missing from this story of H.A. Irvine and Sons as presented to the world.
As was usual for those times, the contribution made by women to family businesses was largely unacknowledged. The long hours spent in shop work on top of the running of the household; the anxiety over the finances of shop and family; the need in times of the illness or absence of the husband and shop owner to take full responsibility for the running of the establishment, all go uncredited.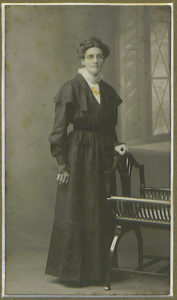 This is the story of one such woman, Amelia Irvine. Unacknowledged by outward sign, although certainly loved and appreciated by her family, she was nevertheless the real force behind the business of H. A. Irvine and Sons, Wynnum.
Born in 1868, Amelia Watt was just eighteen months old at the time her parents, John and Sarah Watt and their three children left Northern Ireland to set sail, steerage class, on the Maryborough from Gravesend to Queensland. The family went straight to Warwick where other family members were already established, and her father, John, took up dairy farming. By 1876 he had developed a stable income supplying milk and butter to various businesses including the Warwick Hospital and the Presbyterian Church in Warwick.[2] Amelia was eight years old by this time, and would have been expected to help with the many farm jobs including milking. All three children attended the Warwick Central State School as well as the Wesleyan Methodist Sunday School. Another six children were added to the Watt family after their arrival in Warwick.
When Amelia was old enough to leave school, probably in 1882 or 1883, she acquired a job with George Powell Barnes. Barnes had opened his business in Warwick in 1874 and in 1880 joined others in a produce firm, Barnes & Co. Ltd.[3] As well as businesses in Allora and Brisbane, they had two Warwick houses, the Emporium, built in 1883 on the corner of Palmerin and Albert streets, and the Exchange. [4]  
The Emporium, which was where Amelia was employed, had departments especially devoted to general drapery, millinery, dressmaking, groceries, crockery, and glassware, furniture, boots and shoes, ironmongery and farmers' produce. Amelia began work in the Drapery department and rose to the position of assistant draper. [5]
It is not known exactly how Amelia first met Hugh Irvine. Hugh had arrived from County Down in 1880 and after spending some time in Warwick, eventually opened the Bulimba Boot Warehouse in Oxford St Bulimba in 1887. The business was described as "the leading house of its kind in this suburb", and dealt in the making, repairing and selling of boots and shoes.[6] In 1885, Hugh married Mary Parkinson who was his brother-in-law's sister, and in 1886 their first child, Sarah was born. Twin boys, Samuel and William were born in May 1888, but sadly Mary died three weeks after the birth, and one of the twins, William, also died in September of that year. Hugh was left with a fledgling business and the care of his two remaining small children.
In 1890, Amelia was still working for what was now Barnes, Archibald and Co. By November 1891 Hugh and Amelia were corresponding and obviously had been doing so for some time as Amelia commences a letter to "My Dear Hugh" with the words "I received your letter on Tuesday morning as usual". She concludes with "kind love to you all, Dear ones especially to the two little ones and you my own Dear from Amelia J Watt".[7]
On the 26th February 1892, Amelia and Hugh were married at her father's house in Warwick with Hugh's brother and Amelia's sister as witnesses. Prior to her wedding, and presumably as she was about to leave the employ of Barnes Archibald and Co, there was a presentation at the Emporium on that Saturday evening, shortly before the hands knocked off. It was reported in the local paper that Miss Amelia Watt was made the recipient of two very elegant presents.[8] The presentation consisted of a cut-class silver-mounted biscuit barrel, massive silver butter cooler, and silver jam spoon.[9] We have these treasured items still.
Amelia and Hugh returned after the wedding to live above the Bulimba Boot Warehouse. Amelia's long experience of running a shop and buying and selling would have been of immense importance and help to Hugh. She also took on the task of bringing up his two children, Sarah who was now almost six years old, and Samuel who was nearly four. On 16 January the following year, 1893, Hugh Albert (Bert) Irvine was born. February 1893 was also the time of the most severe flooding Brisbane and its surrounding areas had ever experienced. Hugh's shop was close to the Brisbane River at Bulimba and apparently they suffered some losses from the floodwaters and it was this event that precipitated them into plans to move the business to Wynnum.
One can only imagine how chaotic life must have been for Amelia in those early years of marriage and what a change from her previously ordered existence. Hugh seems to have been unwell also, and frequently away on "rest cures" and consequently much more of the burden fell on Amelia's shoulders. In an 1894 letter to Hugh who had been away for two weeks in Warwick she speaks lovingly to him of their shared Christian faith but also in a very wifely way reminds him that his train ticket is good until the end of the month. She says "I am very glad that you are on the mend. You will surely have great patience with me when you come back even if I have things a bit topsy turvy now and then"[10]
The content of the letter reveals her trying to get the washing done in between heavy showers of rain with "some cloths in the boiler, some in the tubs and some on the floor", her sister Maria slipping on the wet stairs and bruising her leg and arm badly and twelve month old "Birty" falling and blackening his teeth. There had also been a bad scare on the previous rainy Saturday night when the oil lamp set in the shop window flared up and could not be turned down. They only just managed to get out of the shop and on to the footpath narrowly averting the risk of the shop catching fire. As well as that, business was slow, no doubt because of the weather, and Amelia reported only taking three pounds on the Saturday.
By1896, the Bulimba Boot Warehouse had been renamed "Hugh A. Irvine, boot importer and draper" and Amelia was obviously contributing her special skills to grow the business.[11] Hugh was actively participating in community affairs in Bulimba and at a meeting of parents attending the Bulimba State School, he was elected, together with his brother-in-law James Carothers as a member of the School committee.[12] The appointment was for three years, however after only 12 months on the committee Hugh resigned.[13] [14]  It is not clear why Hugh did not continue, but at this time he would have been busy organizing the purchase of land at Wynnum and the building of his new store.
As life moved on, Amelia's focus became the Wynnum store which was built over some months in 1900. On Friday 9 November 1900 they advertised in the Telegraph that their place in Oxford Street Bulimba with its eight rooms and shop with good boot trade connections was available for rental.[15] By the 31 December 1900, Amelia and Hugh were living at Bay Terrace Wynnum and Amelia was advertising for "a good general servant".[16] 
Sometime between these two dates, all their stock and belongings were floated down the Brisbane River and into Wynnum Creek to be transferred to the new store, which opened at the beginning of 1901 and was known initially as the "Commonwealth Store", in celebration of Federation.  An article in the Brisbane Courier in December 1901 describes Bay Terrace as the main road to Manly and eminently adapted for business sites. It goes on to state that "Mr. Irvine who built his Commonwealth Store quite recently, recognized that fact. It is by far the largest store in Wynnum and it speaks volumes for Mr. Irvine's faith in the district."[17]
No doubt the early years in the new shop were hard. They were in a new place, building up a new business. They started out with what they knew best, selling and mending boots and shoes, and with a drapery department which was Amelia's area of expertise. They worked long hours and on Saturdays remained open until nine o'clock at night.[18] As always, much of the burden fell on Amelia as she ran the household and looked after the children and helped Hugh with the books. At one stage in August 1901, when they must have been having some problems with cash flow, they advertised board and residence for Gentlemen.[19]
During the first decade of the twentieth century, however, Queensland's economic development was quite rapid despite several setbacks caused by financial and environmental crises, and the shop prospered.[20] In 1908 Amelia and Hugh were in a position to enlarge the shop and make additions to the already extensive premises. In addition to the boot importing and manufacturing business and general ware, they now added grocery. The dressmaking department was supervised by "Mrs Irvine and a competent staff".[21] One can see the influence of Amelia in the expansion of the business, and of her formative years at Barnes Archibald and Co.'s Emporium in Warwick. There is no doubt that her goal was to create a similar emporium on Bay Terrace.
The family were growing up and Sarah, now married, was working in the store helping her father and Amelia. In 1913, Hugh senior took Bert and Sam into equal partnership and both Wynnum and H.A. Irvine and Sons were prospering. Arthur Payne, Sarah's husband was employed as manager of the extensive grocery department and three young men and a messenger lad were employed there also. In the drapery, Sarah and Sam's cousins the Misses Parkinson and two other ladies were employed. Bert was the Book keeper and Cashier, and Sam was collecting orders, buying for the Boot department and mostly managing it.[22] The Council had also responded to a letter from H. A. Irvine promising that the work of metalling the roadway in front of his shop would commence as early as possible, improving both the appearance of and access to the store and at the same time cutting down the dust problem which added to the work of the employees and was most damaging to the Drapery. [23]
By 1914 were plans afoot to further extend the store with the building of a new up-to-date drapery department, but war was declared and the plans were placed on hold.[24] Amelia wrote of the "painful duty" of speaking to mothers in the shop of their sons who were overseas and of the stories from various warehouses of some of the finest young men gone to the front or missing in action.[25]
Although 1915 was a gloomy time because of the war and the loss of the young men of the district, the store prospered, as did Wynnum itself. Hugh had been in poor health which Amelia thought had been brought on by the strain of Sarah's weakened state after the birth of her baby. He had taken time off going to Cairns and Barron Falls for a couple of months and then another couple of months at Stanthorpe and Killarney.[26]  Amelia dutifully and apparently contentedly, remained at home looking after the boys and the business.
The following year, however, Amelia herself was unwell, and in February and March was having electric massage treatment at Warwick to help her sleep. She writes in a letter to Bert and Sam that she is now able to wash and dress herself and walk to the car, so that she must have been in some considerable state of physical collapse. [27] One can only assume that the responsibilities of managing such a large business alone as well as caring for the physical and spiritual wellbeing of her loved family had taken its toll. Subsequent letters talk of improvement in her physical state and her sleeping, but her anxieties were all for the welfare of her boys and how they were managing and for their health. She also shared her Christian faith with them as they did with her in their replies.
Amelia's health continued to deteriorate over subsequent years and she died at home above the shop she had helped build up into a Department Store on 24 May 1921. She did not live long enough to see the 1922 extensions to the Store nor to enjoy having it acknowledged as "recognizably the leading suburban store in this state".[28]  One of the causes of death listed on her death certificate was "exhaustion". She had given every ounce of her being to the building up of both the family and the business.
To the world at large Amelia's true role in the making of H.A.Irvine and Sons would go un-noticed and unrecorded, as she herself would have wanted. Her family however knew and appreciated all that she was and all that she achieved. Every year until Hugh's death in 1941, the family inserted an "In Memorium" notice in the Brisbane Courier. The verse in the 1930 paper sums up their feelings and shows the deep regard they all had for her:
Gone from amongst us, oh, how we miss her;
Loving her dearly, her memory will keep;
Never till life ends shall we forget her,
Dear to our hearts is the place where
She sleeps.[29]
Lyn Irvine
[1] "H.A. Irvine and Sons Pty. Ltd Department Stores" Waterloo Bay Leader Wynnum South Friday 18 July 1941
[2] "The Warwick Argus." Warwick Argus and Tenterfield Chronicle (Qld. : 1866 – 1879) 28 Dec 1876: 2. Web. 10
Oct 2015 <http://nla.gov.au/nla.news-article75830958>.
[3] B. J. Costar, 'Barnes, Walter Henry (1858–1933)', Australian Dictionary of Biography, National Centre of Biography, Australian National University, http://adb.anu.edu.au/biography/barnes-walter-henry-5603/text8593, published first in hardcopy 1979, accessed online 20 June 2016
[4] Messrs Barnes and Co's New Premesis- The Emporium. Warwick Examiner and Times(Qld: 1867-1919) Wednesday 5 December 1883,p.2
[5] "Southern District Court." Warwick Examiner and Times (Qld. : 1867 – 1919) 26 March 1890: 2. Web. 20 Jun 2016 <http://nla.gov.au/nla.news-article82207864>.
[6] The Aldine History of Queensland 1888 Volume 2.Brisbane
[7] Watt, Amelia Jane letter to Hugh Irvine 26 Nov. 1891
[8] "Presentation." Warwick Argus (Qld. : 1879 – 1901) 2 February 1892: 2. Web. 21 Jun 2016 <http://nla.gov.au/nla.news-article76639071>.
[9] "LOCAL AND GENERAL NEWS." Warwick Argus (Qld. : 1879 – 1901) 6 February 1892: 2. Web. 21 Jun 2016 <http://nla.gov.au/nla.news-article76639105>.
[10] Irvine, Amelia Jane letter to Hugh Irvine 7 January 1894
[11] Queensland Post Office Directories 1896-1897.
[12] "State School Committee." The Telegraph (Brisbane, Qld. : 1872 – 1947) 17 February 1896: 2. Web. 22 Jun 2016 <http://nla.gov.au/nla.news-article172426457>.
[13] "STATE SCHOOL COMMITTEES." The Brisbane Courier (Qld. : 1864 – 1933) 3 February 1896: 7. Web. 22 Jun 2016 <http://nla.gov.au/nla.news-article3618271>.
[14] "OFFICIAL NOTIFICATIONS." The Brisbane Courier (Qld. : 1864 – 1933) 8 February 1897: 3. Web. 22 Jun 2016 <http://nla.gov.au/nla.news-article3645070>.
[15] Telegraph (Brisbane, Qld: 1872-1947) Friday 9 November 1900 page 8
[16] "Advertising" The Telegraph (Brisbane, Qld. : 1872 – 1947) 31 December 1900: 6. Web. 22 Jun 2016 <http://nla.gov.au/nla.news-article172974850>.
[17] "WYNNUM AND MANLY." The Brisbane Courier (Qld. : 1864 – 1933) 18 December 1901: 7. Web. 26 Jun 2016 <http://nla.gov.au/nla.news-article19137003
[18] "Advertising" The Telegraph (Brisbane, Qld. : 1872 – 1947) 19 October 1901: 13 (SECOND EDITION). Web. 22 Jun 2016 <http://nla.gov.au/nla.news-article174968563>.
[19] "Advertising" The Telegraph (Brisbane, Qld. : 1872 – 1947) 21 August 1901: 6 (SECOND EDITION). Web. 22 Jun 2016 <http://nla.gov.au/nla.news-article184152774>.
[20] Political Economics: The State and Economic Growth in Queensland, 1900-1913 Chapter 2 p.97 https://espace.library.uq.edu.au/view/UQ:157921/n04chapter2.pdf
[21] "Orange Blossoms." Queensland Figaro (Brisbane, Qld. : 1901 – 1936) 22 October 1908: 12. Web. 22 Jun 2016 <http://nla.gov.au/nla.news-article84140359
[22] Irvine, Amelia. Letter to Cousin Mary (? Watt)1915, p. 11
[23] "LOCAL GOVERNMENT" The Brisbane Courier (Qld. : 1864 – 1933) 10 April 1913: 4. Web. 26 Jun 2016 <http://nla.gov.au/nla.news-article19884376
[24] Irvine, Amelia. Letter to Cousin Mary (? Watt)1915, p. 12
[25] Irvine, Amelia. Letter to Cousin Mary (? Watt)1915, p. 12
[26] Irvine, Amelia. Letter to Cousin Mary (? Watt)1915, p. 8
[27] Irvine, Amelia Letter to Bert and Sam Irvine Warwick 28 Feb. 1916
[28] "It's The End of an Era". Wynnum Redlands Herald 29 August 1984
[29] "Family Notices" The Brisbane Courier (Qld. : 1864 – 1933) 24 May 1930: 14. Web. 10 Jul 2016 <http://nla.gov.au/nla.news-article21551749>.