Can you offer a clue about a Ryan mystery?
By Brendan Ryan
45 years together on the Condamine: Stephen & Margaret Ryan

In 2018, we held a family reunion for the 150th anniversary of the marriage of Stephen Ryan and Margaret Carmody in the Presbytery of the Catholic Church in Warwick in September 1868 – a convenient excuse for a gathering. I collected numerous stories for the family celebration.

At age 86, this will be my last book of family history, BUT it contained a mystery that perhaps you may be able to help solve.

Before Stephen married Margaret Carmody, he attended the Government Land Auction at Warwick on 29 January 1867. Stephen joined with John Kennedy to purchase Lot 48 Portion 55 of 44 acres with a river frontage to the Condamine River at Darkey Flat (later Pratten). The purchase price of £44 was fully paid on 25th January in accordance with the auction terms.

Stephen subsequently purchased John Kennedy's share. We have no knowledge of John Kennedy's connection to Stephen Ryan. Both surnames are common in County Tipperary. Were they cousins? Their investment together must surely indicate more than a chance acquaintance!

Can you offer a clue?

You can contact me, Brendan Ryan, by email – brookfieldryans@gmail.com
More on the story of Stephen and Margaret Ryan
Stephen Ryan and Margaret Carmody arrived separately in Warwick just a few years after the new colony of Queensland was proclaimed in 1859. Stephen had arrived in 1864, two years earlier than Margaret. He was born in the townland of Borrisoleigh, County Tipperary, the fourth of eight children. His brother Jeremiah and his sister Johanna followed him to Warwick. Margaret Carmody came from the townland of Kilfinny in County Limerick, the third of eight children. Her elder brother Patrick was the first to migrate and he probably sponsored his sisters, Margaret and Mary, who travelled together on the Wansfell.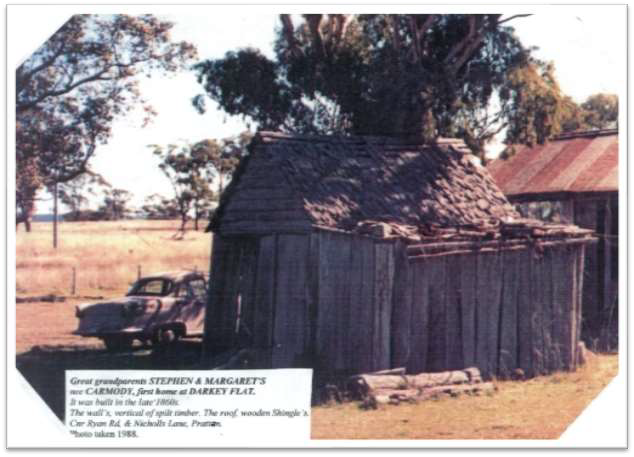 Early in 1874 Stephen and Margaret were able to leave their slab hut and move into their new weatherboard home. Margaret especially would have been overjoyed. Finally, they had bedrooms for themselves and their children. For the first time they had a kitchen and bathroom. A tank provided running water collected from the corrugated iron roof. The never-ending task of carrying heavy buckets of water from the river was over!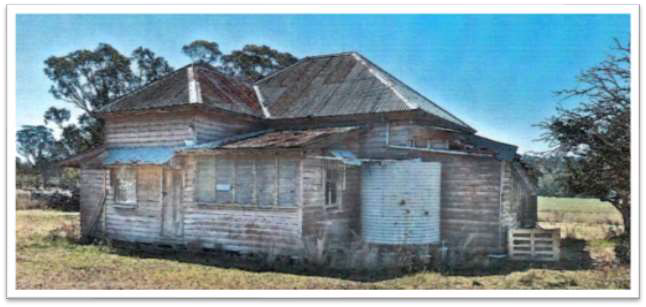 Stephen and Margaret Ryan lived their forty-five years of married life on one property on the banks of the Condamine. Over those years, Stephen built up a prosperous grain growing, sheep, cattle grazing and dairy enterprise. Stephen's active working life continued until around his seventieth birthday. At that time his doctor told him he was no longer to ride his horse because of his dizzy spells. Stephen was very depressed. However, from then on his youngest son Stephen (Long Steve) took over the day-to-day running of the business. Their youngest daughter Margaret put aside her thoughts of marriage in those last years to be at home and care for her parents, especially her mother.
Margaret Ryan was in ill health during the last six years of her life. She died aged seventy on 17th May 1913. Stephen followed his wife just five months later on 20th October 1913. Family memory says that Stephen fell and died just as he reached his house gate after a walk around his property.
You can find out more about the Ryan family by contacting Brendan and perhaps help solve his mystery.