DNA Institutes in Salt Lake City
There are many ways of gaining further education from watching webinars such as the GSQ webinar series or the LegacyFamily Tree webinar series to reading to attending formal classes whether at a society, university or institute. I am a strong advocate of continual education and for having an education plan.
Part of my plan this year was to attend a DNA institute. An institute is a week long course on a topic. We don't see these in Australia but a number of these occur in the USA. I attended one on US research in 2017 and this year went to Salt Lake City (the home of the Family History Library which is always another great incentive) to attend two courses each five days long both on DNA. These were run by the Salt Lake Institute of Genealogy (SLIG).
The courses were held at the Hilton Hotel and many of the students also stayed at the Hilton, while others were in other local hotels and others were in BnB accommodation.
The first week there were fourteen other week long courses being run on a wide variety of topics from Methodology, Native American research, Reading Fraktur Writing, 1619-2019: Four Hundred Years of African American Genealogy and others.
There were around 430 people spread over the 14 courses from 48 US states and one person each from Romania and Australia.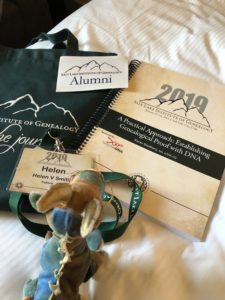 The first course I did was Course 11: A Practical Approach: Establishing Genealogical Proof with DNA which was an intermediate to advanced course (There was also offered An Introduction to Genetic Genealogy Course).
The course covered Y-DNA, mitochondrial DNA, and autosomal DNA testing, analysis, correlation and interpretation. Examples incorporated the three major testing companies and many tools available for analysis and correlation. Hands-on exercises and case studies were used to demonstrate how DNA analysis can confirm and expand a pedigree. The emphasis was on the use of DNA test results to solve genealogical brick wall problems using the Genealogical Proof Standard.
There were around 30 of us in the class starting at 8.30 and finishing at 5pm each day. We had a number of different lecturers giving on average 75 minute lectures and practical classes with a good ratio of help for each student. We were also able to work on our own family history DNA problems. There was plenty of time to have lunch (with many local venues and much socialising was done over lunch).There were a number of social occasions in the evening or you had the option of going to research in the Family History Library which was open until 9pm each evening. After five days of study we received our certificate.
This year for the first time there was a second week of five classes designed for the professional genealogist. These ranged from "The Art of Writing Client Reports" to  Building and Nurturing a Successful Genealogy Business to the one I did DNA and the 21st Century Professional.
Again, we had around 30 students all but two were from the US and then there was Mia from England and myself the Australian. Classes were from 8.30-4.30 and again we had a number of different lecturers, again with lots of case studies and working with DNA and the issues involved as a professional. There was plenty of opportunity for class interaction which always adds positively to a course. It was also an excellent course.
An institute allows more in depth coverage of one topic and provides more intensive learning. Each course was around US$495 and provided good value. I like the full immersion into one topic and the working in class with others as well as the option of going to the Family History Library in the off time and on the Saturday (FHL is now open to 9pm on Saturdays as well now).
Salt Lake City in January can be chilly with snow. Temperatures ranged from minus 8-zero but with appropriate clothing is quite comfortable. All the buildings were warm.
The Institute is also offering online Virtual Institutes which are run over a number of weeks rather than just the one week of the in-person classes. One of these this year is planned on being a DNA class.
There are many opportunities to enhance your genealogical knowledge from conferences, to institutes to seminar days such as the DNA Discovery Day this month. Why not work on your educational plan for 2019?