My Webster ancestors: Part one
Tales of a Pagan Den, stone carvings and an ancient Druid's Well were told to me when I first visited the area that our Webster family from Fife, Scotland came from. My husband and I were staying in nearby Crail township and while chatting to the host, I told him about my purpose in visiting Dunino, the birthplace of my Webster ancestors. He relayed the local folklore, and as my visit was in 2008, it was many years prior to the mysterious happenings in the popular 'Outlander' series, with ruggedly handsome Sam Heughan starring as Jamie Fraser and his onscreen wife, Caitriona Balfe.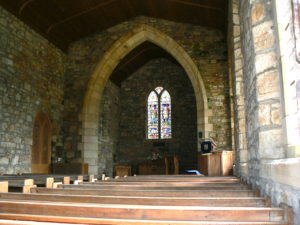 I visited the parish church at Dunino the following day and was lucky enough to find it open so able to explore inside and see the font where many Websters were christened throughout the 1700s and 1800s.
Having been told that the Pagan Den and Druid's Well was situated amongst a thick forest behind the church, I ventured into the field leading down to it. Sadly, it had been raining a lot prior to my visit and the field was simply too boggy and wet to go far, so I never got to see the magical spot. However, this link will take you to a helpful article about that historic site.
William Webster and his first wife, Agnes Tosh, married in Dunino parish church on 22 December 1752. The children of William and Agnes were all born in Dunino:- Jean baptised 7 Sept 1753, Peter baptised 27 July 1755, Elizabeth baptised 2 April 1758, Robert baptised 7 Sept 1760, Jannet baptised 7 Nov 1762, William and his twin Isabel baptised 19 May 1765 and lastly Agnes baptised 1 Nov 1767. Agnes bore him eight children in the next fourteen years before passing away on 7 January 1771. At this stage William and Agnes' youngest child was just over three years old.
Like many others with young children, William remarried six months later to Alison Frazer on 6 July 1771 at Dunino church. By this stage he was about 40 years old with six children surviving infancy, ranging in age from three-year-old Agnes to 15 year old Peter. Quite a brood, so we quickly begin to realise why these widowers married more than once.
William had another five children with Alison all born and baptised in Dunino. They were John baptised 12 June 1772, James baptised 23 Mar 1774, Janet baptised 4 March 1776, David baptised 8 Oct 1779 and Alexander baptised 12 July 1783. William is described as a Collier of Kingsmuir, a district within Dunino parish, on many of his children's baptism records. Kingsmuir is located south of Beleybridge where one of his children was living in 1851.[1]
Cabbagehall was another Webster family residency in later years and is located in the locality of Kingsmuir. William was buried aged 80 years in Dunino church cemetery in February 1800, and if this age is accurate, it puts his birth year at about 1720.[2] William's burial notice is one of several on the page noted by the Parish Clerk 'The dates and ages of the interments marked thus X are but nearly right' His burial was preceded a month before by his grand-daughter, Janet's burial and followed two weeks later by his grandson, William's burial.
Our next common generation descends from James Webster, son of William & Alison, who was born on 23 March 1774 and baptised four days later. When looking through the parish registers, I noticed that frequently the baptism took place within a matter of days of a child's birth. This is probably due to the high percentage of infant mortality. At various times James was described also as a land labourer and a forester.[3] James married Margaret Hain on 21 Nov 1795 and together the couple had 13 children all baptised in Dunino Parish.[4]
They were Margaret bapt 27 Dec 1796, William bapt 13 July 1798, Robert bapt 4 Feb 1800, Janet bapt 14 Jan 1802, James bapt 18 Jan 1804, Agnes bapt 27 Oct 1805, John bapt 15 Feb 1808, David bapt 18 Mar 1810, George bapt 5 Jan 1812, Alexander bapt 2 Jan 181e, Elizabeth bapt 14 Oct 1817, Cathrine bapt 19 July 1819, William bapt 8 Aug 1822. William, the youngest of the siblings who was born in 1822 emigrated to Melbourne with his wife Mary in 1854 onboard the vessel 'Stamboul'.[5] That couple, William and Mary, had nine children, two born in Dundee and the other seven in Victoria.
The Scottish held education in high regard and schools were located throughout the parish from earlier years than the rest of the UK. The school-master was certainly a busy man, as he additionally acted as the session-clerk, collected fees for banns of marriage, granted certificates of character to those leaving the parish and kept the register of birth. This was in addition to his teaching commitments and collecting the fees from the pupils who attended. Locally in 1865, all children above seven could read and most adults could also write.[6]
Our next generation common ancestor was David Webster born 13 March 1810, he was James and Margaret's eighth child. Usually, by about 11 or 12 years of age, the children found work and like his father before him, James became a farm labourer. When just 19 years old, David Webster married Euphemia (Euphan) Brown who was ten years his senior and pregnant with their first child. The ceremony was held at Euphemia's parish church of Kilrenny and eldest child James was born two months later.[7]
Brisbane author, Caylie Jeffery has recently published her book titled 'Under the Lino'. Deservedly so, her book has been receiving great reviews. One of the central characters, Arthur Joseph William Webster and I share a common ancestor – David Webster and his wife Euphemia Brown, talked about above. This was Arthur's great grandparents and my 3 x great grandparents.
David Webster and his wife Euphemia Brown had a slightly smaller family than his father. Also unlike his father and grandfather, David moved around locally to wherever he could find work. Their eight children were:- James bapt 13 Sep 1829 in St Andrews & St Leonards Fife (d1906 NSW Aust – my ancestor), William bapt 9 May 1831 in Carnbee Fife (d1872 Vic Aust), John bapt 6 Jun 1833 in Crail (d1901 Qld Aust – Arthur's ancestor), Janet bapt 21 Feb 1835 in Crail (d1873 Crail), David bapt 17 Aug 1837 in Crail (d 1843 Fife), George bapt 1 July 1839 in Crail (d1923 Crail), Margaret bapt 30 Dec 1841 in Carnbee (d1928 NSW Aust) and David bapt 1 June 1845 in Carnbee (d1918 Cupar Fife). James is my great great grandfather. David and Euphemia had four children who emigrated to Australia.
The Websters in 'Oz – Sibling John Webster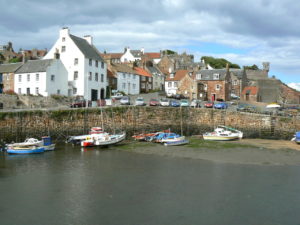 One of David & Euphemia Webster's siblings who emigrated to Australia was the patriarch of the Queensland Webster's, John who was born in 1833.[8] John is the grandfather of Under the Lino home owner, Arthur Joseph William Webster. John, age 21 was working as a farm servant in Cabbagehall in Kingsmuir when he married Margaret Ramsay, aged 25 on 6 April 1855. This district was where his Webster ancestors had lived for the past century. His bride-to-be, Margaret lived in Nethergate in Crail, which was where they married according to the rites of the Presbyterian Church.[9] Both Margaret's parents, George (a fisherman) and Janet Ramsay (nee Pettie) were deceased at the time.
Nethergate still maintains its original looks and is within the fishing village of Crail, the most easterly town on the northern shore of the Firth of Forth. It was in this historic street that I stayed during my visit in 2008, and wandered down to the stone-built harbour which had shielded the local fishing boats for centuries.
On 26 April 1857, the couple sailed from Liverpool to Brisbane on the ship Mary Pleasants as assisted immigrants. Exactly a month after setting sail, their only child David, died and was buried at sea.[10] The couple arrived in Brisbane on 9 August 1957 and initially lived on Tarampa Station near Gatton.[11] They had seven children with three dying in infancy, including their only daughter, Jessie born in 1868 at One Mile Bridge, Ipswich. The surviving sons were John (b1859 West Moreton Dist Qld), George (b1861 Woodend Pocket, Ipswich Qld), David (b1864 Ipswich) and Thomas (b1865 Ipswich).
John purchased 18 acres of land for £18 in 1866 in the Parish of Yeerongpilly in Brisbane, although he appears to have been working as a farmer in the Grandchester district near Laidley at that time. By 1884 he had moved to South Brisbane near to where his son David had set up the Webster Biscuits factory. He was residing in nearby Walton Street, Dutton Park by 1888. John's wife Margaret Ramsay died in 1893, and John passed away 8 years later in 1901.[12]
John's son, David Webster was a shrewd businessman and having set up a biscuit factory, imported machinery from America for his production line. As this business grew, he then branched into catering and established several tea-rooms and cafes. The two most prominent of these were Hadden Hall in Queen Street and Shingle Inn in Edward Street.[13]  Those of my era residing in SE Queensland will no doubt remember Webster Biscuits who continued trading until the mid 1960s from their factory in Dutton Park. The Under the Lino website contains some lovely historic photos as well as the full story.
The home owner and character in Caylie's book is Arthur William Joseph Webster who was the grandson of John and Margaret Webster (ms Ramsay) and son of John Webster junior born in Queensland in 1859.[14] John Webster junior had married Sarah Jane Waters in 1882 and Arthur born in 1890 was their fifth child.[15] & [16]. He and his wife, Eleanor Murphy, had two sons, one of whom died as a baby and their other son was Morgan Webster born in 1914 who passed away without issue.[17]
As it happens, Caylie has agreed to be the guest spreaker at our next GSQ Writers Group meeting, so I'm looking forward to hearing her account of how Under the Lino evolved.
The Websters in 'Oz: Part two – Siblings James, William and Margaret Webster. To be continued in my next blog on 11 March 2019.
---
References
[1] Source: Ancestry 1851 census. Ref: ED 1 Page: 6 Household schedule number: 20 . LINE: 5. Bely Bridge, Dunino, Fife.
[2] Webster, William Age: 80 yrs Male Date of Death: Abt 20/02/1800. Buried at Dunino Parish, Fife. ScotlandsPeople (July 2018) Reg Re: 425/20 161 Reg at: Dunino, Fife.
[3] Webster, James (b1804) second marriage entry to Agness Dalrymple on 1 May 1869 in St Andrews, Fife.
[4] 'November 21st 1795 On this day James Webster in this Parish and Margaret Hean in the Parish of Cameron gave up their names to be proclaimed previously to their being married.' Familysearch film Batch M114254 (1690-1855) Source Call No. 1040108 Film Printout Call No 6900769. ScotlandsPeople. Marriage Ref: Fife. Dunino. Ref 425/20-65. Margaret's maiden name spelt in various ways throughout all records.
[5]Series: VPRS 14; Series Title: Register of Assisted Immigrants from the United Kindom (refer to microform copy, VPRS 3502) Source Information Ancestry.com. Victoria, Australia, Assisted and Unassisted Passenger Lists, 1839-1923 [database on-line]. Provo, UT, USA: Ancestry.com Operations Inc., 2009.
[6] 1865 book (Dunino). The New Statistical Account of Scotland. Out of copyright. 1865 https://books.google.com.au/books?id=R6ICAAAAMAAJ&vq=contents&pg=PA372&redir_esc=y#v=onepage&q=contents&f=false
[7] Born 13 Sept 1829 Christened 18 Oct 1829 WEBSTER, James. Father: David. Mother: Euphemia. Baptised at St.Leonards Parish at St Andrews, Fife Scotland
[8] Source: Crail Parish Register. Scotland Church Records and Kirk Session Records (1658-1919). Records of Church of Scotland synods, presbyteries and kirk sessions. John Webster Born 6 June 1833 Bapt 14 June 1833 in Crail, Fife Scotland. Father: Ploughman.
[9] FHL Film Number: 6035516 Source Information Ancestry.com. Scotland, Select Marriages, 1561-1910
[10] QLD BMD DEATHS Ref: 1857/M2. David Webster. Father: John Webster. Mother: Margaret Ramsay
[11] Advised by Darcelle Hegerty (nee Webster) 'Some of the land that the station covered is now part of the Gatton College, University of Queensland.'
[12] QLD BMD Ref: 1901/B1795. Name: John Webster Father: David Webster Mother: Euphemia Brown
[13] Story by Mervyn James Webster, son of Cyril Webster and grandson of David Webster and Clara Amy Porter.
[14] QLD BMD Ref: 1859-C1504. Unnamed (Male). Father: John Webster. Mother: Margaret Ramsey
[15] QLD BMD Marriages: 1882-C1101. Sarah Jane Waters married John Webster
[16] QLD BMD Ref: 1890-C10166. Name: Arthur William Joseph Webster. Father: John Mother: Sarah Jane Waters
[17] QLD BMD Ref: 1914-C6839. Name: Morgan Webster. Father: Arthur William Joseph Webster. Mother: Eleanor Murphy