It made my (Viking) blood boil
by Bob McAllister
So, I had agreed to take a Christmas break from my single-minded focus on family history. (Don't you think that single-minded is a much nicer word than obsessive.) Apparently, most "normal" people devote time in mid-summer to watching television and browsing magazine articles, so that what was what I would do.
Unfortunately, our friends at Ancestry DNA see seasonal holidays as an ideal time to advertise their wares on TV, so I could not fail to notice the gentleman who used his autosomal test results to explain the passion for surfing that he shared with his sons [1]. It was all due to their deep Viking ancestry; perhaps with an added contribution from the fact that an ancestor came to Australia in the eighteenth century by ship!
His succinct statement that "now I know why I am like I am" cut through centuries of fruitless debate over nature v nurture, and swept aside any consideration of the impact on our behaviour of environment, culture, learning or even epigenetics. It seems that even his beach-side home was "in his DNA".
Just stop shouting at the screen. Top up your drink and do some quiet reading.
I blame the fact that my tablet recommends "relevant" articles on the basis of my previous reading choices and deny absolutely that I sought out the piece Why Are We So Obsessed With Our Ancestry? [2]. Apparently it was originally posted in July 2018 but there are many excellent articles recycled during the media silly season for those who may not have been paying attention at other times of the year.
The discussion began very positively with the obligatory reference to the fact that family history sites rank second only to pornography in generating internet traffic. Which is why I regularly run a Google search for <"great grandmother" AND "naughty french postcard"> to challenge the algorithm that apparently sorts all queries into discrete categories.
This was balanced by a brief (that is superficial) reference to the role of the GEDmatch database in narrowing the search for a plausible suspect for the crimes of the Golden State Killer. All fairly predictable stuff so far.
The meat of the article posed the suggestion that there is an inherent human need for narrative in providing a sense of our past. Once, that need was met for most people by the rituals of organised religion, but that is no longer always the case. For many people, the resulting (and increasing) gap is being filled by the search for their ancestry. The notion was certainly attractive but I had the sense that the term "ancestry" as used by the author did not necessarily match the way in which I used it.
The give-away was the appearance of the portmanteau term "ancestry test" from the twelfth paragraph! Of course, this author was referring to the recent fascination with using the analysis of autosomal DNA to identify IAGO (Inferred Ancient Geographic Origins).
Since the term, IAGO, is rather too technical for mass marketing purposes, the vendors usually refer to this as "ethnicity" or "deep ancestry" in their promotional material.
Now I know very well that the testing laboratory does not have a DNA sample from my Norse ancestor who stood shoulder to shoulder with Somerled (Lord of the Isles) in 1153 (or from the Gael who shared a bed with his trusted lieutenant). Their database contains a virtual proxy derived from a limited subset of the DNA of a number of current (that is living) residents who can document a multi-generational link to a "relevant" location on the west coast of Scotland. It is most unlikely that any one of those people can be identified as my "cousin" in a genealogical sense but they (collectively) are assumed to represent our (that is, both their and my) common ancestors.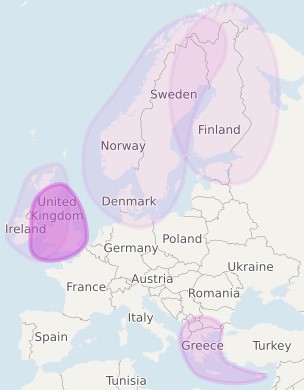 How many of the target audience for that article (and by extension, possible clients for testing companies) would be aware of this subtle but very important distinction? Does it matter that the peddling of snake oil is being touted as being at the cutting edge of family history research? How is it possible that the desire to take a break has made me so angry about the commercial side of modern (so-called) genealogy?
My enforced sabbatical from direct family history research is almost at an end, and shortly I will no longer rail against misattributed characteristics, invalid connections and unwarranted conclusions. Not because there will not be any, but because in the world of real documentary research those errors are entirely my own fault, not foisted upon me by slick marketers and their media acolytes.

Disclosure:
The label Inferred Ancient Geographical Origin (IAGO) is entirely my invention. Should any subscription service provider wish to license its use on commercial terms, I would be happy to enter discussions. However, prospective users should note that the similarity of this acronym and the name of a character (widely interpreted as being deceitful and self-serving) in Shakespeare's Othello may not be entirely coincidental.
Iago: I told him what I thought, and told no more
Than what he found himself was apt and true.

Othello Act V, Scene 2, Line 3513
---
References
[1] You can view the full YouTube video from which the AncestryDNA advertisement featuring James Cheal (of Chilli Surfboards) was cut at https://www.youtube.com/watch?v=kfYDVMfcE_o
[2] https://tendaily.com.au/views/a180716rfv/why-are-we-so-obsessed-with-our-ancestry-20181225
[3] Now My Heritage has refined my own ancient origins (again), I know why I did my secondary schooling at Brisbane State High!