Echoes of our Past: NZ Society of Genealogists 2018 Conference
The New Zealand Society of Genealogists annual conference has just been held in Christchurch. Christchurch is a beautiful city that has been through some very hard times and the scars are still visible. Sadly, many of their historic buildings were lost. Much reconstruction work has and is being done. Many families are only now getting back into their homes.
I was privileged to be a speaker and attendee. While the weather was not the kindest, being cold and wet, this did not affect the learning being done in the pre-conference writing workshops run by Janet Few, the two and half days of conference and the half day post conference DNA workshop run by Dr Maurice Gleeson. I did not attend the writing events run by Janet Few as they were sold out very quickly, but I heard fantastic feedback about them and the attendees were heard planning their future writing projects.
The conference kicked off with the "Meet and Greet" at the historic Riccarton House which was established by the Deans family. It was very interesting to hear the history of the Deans settling the area and touring the homestead. There were lots of happy greetings among the attendees who spent the evening catching up on the news and genealogical discoveries since the last conference.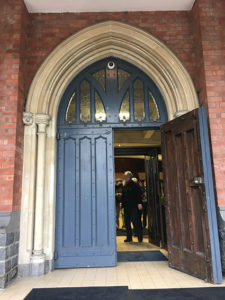 Saturday morning, just over three hundred eager family historians gathered at the Christchurch Boys High School ready for the learning ahead (don't you love that great blue entry door?). One attendee Kathy Hill even came in traditional Welsh dress. The beautiful historic main building thankfully escaped the ravages of the earthquake while the large hall was rebuilt with a new extension. This allowed the three stream program to be held: 1. Social History, 2. Research and 3. DNA/Technical. The wide variety of topics meant there was some earnest discussions around which talks to attend as often you wanted to be split into two or three! Luckily the conference proceedings look to be quite comprehensive (there is a copy in the GSQ Library).
Louise Deans, a descendant, gave a short introduction to the Deans family at the opening before Janet Few gave an excellent plenary presentation on the sources and techniques used for uncovering the story of Isabella, a distant relation of the Quaker chocolate making, prison reforming Fry family. I like this type of presentation which follow a research trail showing the wide variety of sources used to determine the information.
Then, I had to miss Michelle Patient speaking on DNA as I was very keen to attend Dr Geoffrey Rice's presentation on Impact of the 1918 Influenza Pandemic on New Zealand Families. New Zealand was hit badly in this flu epidemic and cases occurred during 1918 unlike Australia who due to the effective quarantine (after notifications about illness in NZ) did not see cases on shore until 1919 and in Queensland not until May 1919. Dr Rice presented on what happened to the children when the parent died of influenza. In the majority of cases, only one parent died (only six cases of both parents dying) but this was still enough to break up families. In general, the children were taken in by the extended family so only small numbers ended up in the orphanages, but many families did lose touch and in one case the brother advertised in the papers 50 years later to find out what happened to his sisters (a major family reunion then occurred).
Then off to hear Maurice Gleeson speak on Beginners Guide to DNA followed by the second plenary which was Maurice talking on Identifying the Missing Soldiers of WWI – What Role Does DNA Play? This was a very interesting presentation and the world of DNA testing intermingled with archaeology has definitely been advancing in technique. Part of the talk was on the Fromelles work which has been familiar to many Australians over the last few years and this year some more remains were identified and were able to be reburied with a named headstone rather than the "Known Only to God".
Dr Gleeson also announced the start of a new project Community for the Missing to help commemorate those who served in WWI and are missing.
In the afternoon I went off and gave my two hour workshop on Dating Historical Photographs which was well received. Then off to the conference dinner which was a well laden buffet (and great deserts!). The large group was well entertained with Swords and Spindles which was Master Christopher, a barber surgeon of the 1700s demonstrating health care of that time. A great time was had by all viewing but maybe not so much by the "patients".
Sunday commenced with Dr Janet Few talking The Life of the 17th Century Ancestors followed by a very informative talk by Eileen Kennedy on BDM and Adoptions in NZ. Then I had to miss the session on Mining for Genealogical Gold in the Yukon as I attended the Advanced Surname Project Management Using DNA with Maurice Gleeson and then finished the day with another informative session on Using Papers Past the NZ equivalent of Trove. All of the work done on that site is by just a few people, so the site is a real credit to them and there are some interesting things to come. See the Proceedings for some search clues.
Monday, hard to believe the last day already! I started with Maurice speaking on Ireland & the Trans-Atlantic Slave Trade. The Irish were not slaves although some were indentured servants. There is a very large difference between slaves and indentured servants. The indentured servant had a set time to serve, they had legal rights, their children were not automatically indentured servants. This compares very differently to the African slaves who were chattels and had no legal identity and no legal rights and there was generational slavery with their children sadly automatically a slave. The Irish were involved in all aspects of the slave trade as ship owners, traders etc.
Then I gave my presentation on GedMatch Explained which is a fantastic tool for genetic genealogists. Then suddenly it is the last presentation of the conference with Janet Few talking on Remember Then: memories of 1946-1969 and how to record your own. This was recording the memories of women on a variety of topics during that time period. It was a great topic to finish the conference (apart from the various thanks to all the wonderful volunteers that make a conference!) as we all left on a high working out how to record our own memories.
Then Tuesday morning I attended Dr Gleeson's special half day DNA workshop along with 150 or so other attendees. It was a great conference full of content and it was wonderful to catch up with so many genies. There were a number of Queensland attendees. The site of next year's NZ conference has not been announced as yet (waiting for a volunteer society) but if you can ever attend one I heartily recommend it (this was my sixth) and then take some time to have a holiday in beautiful New Zealand.