'Delightful float bowl In black and biscuit, bearing a native design'[1]
For some reason I often noticed a particular black and biscuit coloured jug on display at my grandmother's place. Perhaps it was because I was studying ancient Greek pottery at university at the time and it reminded me of the black figure pots which were made around the 6th century BC. But the figures on this jug were not Greek gods but Australian animals such as the pelican, swan and koala. Little did I know that I would eventually own this beautiful jug when I inherited it, and a number of other pieces of beautiful Queensland pottery, from my mother Jean Bell. She had inherited them from her mother, Eva McGill.
I became aware of how lucky I was to have these pieces when I was asked recently to lend four of them for an exhibition, Of Heart and Hand: art pottery from 1900 to 1950, currently being shown at the Queensland College of Art, Griffith University.
My grandmother was Eva Minnie Grace McGill (née Hardwicke). She was born on 10 June 1886 at Dotswood, Smith Street, Summer Hill (now Ashfield) in Sydney.[2] Her father Harry Weedon Hardwicke had been born in Tasmania but had moved to Townsville, Queensland where he met his future wife Louise Christina Schattling whose family had immigrated from Germany. Harry managed Dotswood and Rockwood Stations, near Hughenden, around 1875 and was the first hotel keeper and storekeeper in Hughenden and the proprietor of the Queen's Hotel, Townsville.[3] By the time my grandmother, Eva, was born the family were living a comfortable life in Sydney.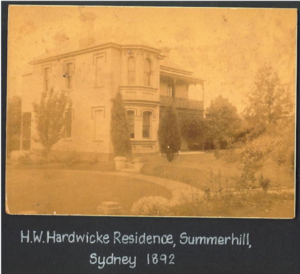 The Hardwickes moved back to Queensland a few years years after Eva's birth. Things did not go well here for the family during the 1890s as Harry Hardwicke had gone into partnership to set up a tourist venture, the Queensport Aquarium, on the Brisbane River behind Gibson Island and when it was very badly damaged during the 1893 flood, Harry was eventually declared insolvent.[4]
It appears that the Hardwicke family, Louisa and Harry and their daughters Florence, Ruby, Ada, Queenie, Elsie, Gladys and my grandmother Eva lived at Mount Walker, near Ipswich, and Newtown, a suburb of Ipswich, after they moved from Sydney. Their son, Rawnsley Francis, lived there as well until he died at Richmond in 1902 aged 23 and their other son William Rawnsley had died in 1878 aged one year old.
My grandmother always told us she was engaged to her prospective husband, Alec Douglas McGill, for ten years! He came from Ipswich and qualified in Sydney to be a barrister and then set himself up in business in Brisbane. In 1902 my grandmother enrolled at the Ipswich Technical College to study freehand drawing[5]. Later she became a governess and is listed on the electoral rolls for 1908 and 1909 as performing 'home duties' at a property near Surat called Weribone which was owned by Goldsborough Mort & Co but managed by Henry Wade. Presumably she taught the children of Henry and his wife Linda. By the 1912 to 1914 electoral rolls, she has moved to Graceville in Brisbane where her parents had moved when they sold their property at Mount Walker.[6] On 26 September 1914, Eva married Alec McGill.[7]
The four pieces of pottery that are in the exhibition were made by a woman called Bessie Devereux. Bessie was born in England but moved to Melbourne when her husband Walter Pane Devereux was transferred to the Melbourne office of the Australian Mercantile, Land & Finance Company in 1908. He became the Brisbane manager of the company in 1913 and the family lived there until 1926 when he took over the Sydney office of the company as manager.[8]
Bessie had some training in pottery before she arrived in Australia but once in Brisbane she became one of LJ Harvey's first pottery students. LJ Harvey taught modelling, wood-carving and pottery at the Brisbane Technical College from 1916 to 1937.[9] Bessie exhibited pottery until she left Brisbane in 1926 and she also taught pottery including wheel throwing, at the Anzac Hostel at Kangaroo Point.
Mrs. Devereux is an expert in design, and is clever with the potter's wheel, a difficult thing to manage unless turned by machinery. She has an advantage over most of our other potters in Brisbane, as she has had a good training in design and craft work, in England, which helps her much in turning out interesting work. Her pottery Is delightful. There was a beautiful large, wide bowl on exhibit at the last craft show, in dark biscuit colour, with blue pansies thereon. The person who bought it was fortunate, as it was in great demand.[10]
I wonder whether my grandmother bought her pieces at the various exhibitions in Brisbane or through the Austral Book Club through which Bessie Devereux sold some of her works. Or she may have seen Bessie's work at the Brisbane Technical College because my grandmother did some beautiful wood carving and may have studied this at the LJ Harvey School although it does not appear to be the style that was being produced at that School. One thing we do know is that my grandmother loved Bessie's pottery as she owned four pieces which date from about 1921 to 1926.
The Devereux family left Brisbane for Sydney in 1926 but not before Bessie had exhibited in that year's annual exhibition of the Arts and Crafts Society. I like to think that the piece which is described below was very similar to my jug with its black and biscuit colourings and native designs.
The pottery includes some finely finished work by Mrs. W. P. Devereux, among It a delightful float bowl In black and biscuit, bearing a native design.[11]
---
References
[1]The Telegraph, 3 November 1926, p.14, Col. 5, National Library of Australia, Trove, http://nla.gov.au/nla.news-article179582076. Accessed 6 September 2018.
[2] Eva Minnie Grace Hardwicke (1886). Certified copy of birth certificate for Eva Hardwicke, 28 July 1886. Registration No. 5947/1886.
[3] National Library of Australia, Trove, https://trove.nla.gov.au/version/167815586. Accessed 6 September 2018.
[4] Queensland Times, 17 October 1901, p.12, Col. 2. http://nla.gov.au/nla.news-article122957672 Accessed 6 September 2018.
[5] Queensland State Archives, Series 7785, Student Register, Ipswich Technical College, 1896-1913, Item ID, 275875
[6] Australia Electoral Rolls, 1903-1980, https://search.ancestry.com.au/search/db.aspx?dbid=1207
Accessed 8 September 2018.
[7] The Brisbane Courier, 23 October 1914, p. 6. Col. 3. National Library of Australia, Trove, http://nla.gov.au/nla.news-article19991446 Accessed 6 September 2018.
[8] Queensland Country Life, 2 March 1944, p. 8. Col. 3. National Library of Australia, Trove, https://trove.nla.gov.au/newspaper/article/97081829? Accessed 6 September 2018.
[9] http://adb.anu.edu.au/biography/harvey-lewis-jarvis-6595 Accessed 6 September 2018.
[10] The Daily Mail, 26 January 1924, p,14, Col, 5. National Library of Australia, Trove, http://nla.gov.au/nla.news-article217633648 Accessed 6 September 2018.
[11] The Telegraph, 3 November 1926, p. 14, Col. 5. National Library of Australia, Trove, http://nla.gov.au/nla.news-article179582076 Accessed 6 September 2018.