Belfast & tracing Irish ancestors
This blog post is being written from Belfast as I am here for the Tracing Your Irish Ancestors Conference run by the Ulster Historical Foundation.
Prior to the start of the week long conference, I attended a 3 day Irish Genealogy Essentials course. There were about 40 attendees at this workshop/seminar, 5 of whom were Australians and the rest were a mix of Canadians and Americans. There were quite a few in the group who had taken the same course in recent years.
I would consider myself to be an experienced family history researcher but have to say that I learnt much, much more than what I had expected. This was a very full on course, jam packed with information, examples and tips on how to find information about the Irish using sources which are still available to the researcher, that is, they were not destroyed in the Four Courts fire in Dublin in 1922.
Presentations across the 3 days were done by Fintan Mullan, Gillian Hunt and Dr William Roulston.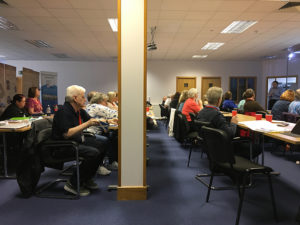 There were 17 sessions in all covering topics which included land divisions, Griffiths valuation and the valuation revision books, occupation and business records, census returns and census substitutes, especially prior to 1800, church and civil records, gravestones, school records, wills, landed estates, title applotments, workhouse and government records and the key archives and libraries of Ireland.
While this was a course with a particular focus on the province of Ulster, the records and the information provided were applicable to other provinces as well.
The sessions on land divisions, Griffiths Valuation and the Valuation revision books and their relevance and usage in the historical records were the most relevant for me. While these sessions included information with which I was familiar, there were still aspects I had not ever considered. However, I also have to say that I think the presentations done by Bobbie Edes for GSQ on this topic are equally as informative and more comprehensive, especially her attendee handouts.
Local knowledge was also incredibly helpful when looking for townlands and parishes, especially for the Ulster tithe applotments. William Roulston was able to find one of my elusive ancestors in a townland very close to where my great great grandmother was supposedly born about 1810. This find helped me to then locate her and other siblings in various church records (but still no luck with a baptism or marriage for her).
Following the 3 day course the main conference started the next day. This has 74 delegates and is 6 days long so this post is being written in the middle of it. There are 10 Australians, with 6 from QLD, 2 New Zealanders and the rest an equal mix of Americans and Canadians with 2 from the UK. The conference is structured in such a way that you can either research at PRONI or one of the other libraries or you can take a tour. Many of the partners who are not researching have chosen to take the tours which cover most of the important sites in a day trip from Belfast, with a tour to Dublin on one of the days. The Dublin trip will enable delegates to research for a day in the National Archives of Ireland, the National Library of Ireland or the Registry of Deeds, or tour Kilmainham Jail and Trinity College to see the Book of Kells.
One day tour for example was to the Garvagh Museum, then to Aghadowey and the Bann valley, up to Portrush and the Giant's Causeway, back through the Glens of Antrim, an evening meal at Carnlough and then back to Belfast – a very full day as you can see.
To this point, I would have to say that the pre conference workshop and the conference itself has been worth every cent. It is not a cheap conference, costing about $500 for the genealogy essentials course and an additional charge of about $1900 for the main conference (per person). All meals, except on free days, are provided as is transport to and from PRONI. While researching at PRONI, there are UHF researchers on hand all day to help with your research or any enquiries you may have (this is in addition to the PRONI staff). This alone is almost worth the cost because, using their local knowledge, you can focus on records which are more likely to be applicable and, knowing the limited time we have in Belfast, they will also do research for you when they can.
Some links
Studying place names for Northern Ireland
Registry of deeds at FamilySearch