Finally finding a black sheep!
I have several ancestors in my family who could be considered troublemakers or ne'er-do wells; the problem is deciding who would be the one to write about for this blog post. It must be William Nelson McCann, aka William McCann Neilson, he is fascinating, but I need to sort through the pile of newspaper clippings I have on William to write coherently.
William Nelson McCann (my 2nd great-granduncle) was born on 27 September 1837 in Launceston, Tasmania, the son of Nicholas McCann and Catherine Nelson. The family moved to Geelong, Victoria by 1840 and established a quarry, stonemason and cement business. William married Lois Louisa Jenner on 25 April 1861 at the home of Louisa's brother, John Adolphus Jenner, in Ballarat, Victoria (The Star (Ballarat) 26 April 1861, page 2).
At the time of his marriage, William was a town Councillor in Geelong, Victoria and the co-owner of the Geelong Advertiser newspaper. In 1864 William was elected as a Member of Parliament (MLA) in Victoria for the electorate of South Grant (an area near Geelong). Life seemed to be progressing well for the young couple, until…
The Illustrated Sydney News, Monday 16 September 1867, page 6 noted:

At the late Criminal Sessions at Geelong, William N. McCann, M.L.A. was charged with having forged the signature of Thomas Sunderland, deputy registrar-general, to a receipt for a stock mortgage. The receipt was in the following words : Received into the office of the Registrar-General of Victoria, at Melbourne, at twelve o'clock noon, on the twenty-fourth day of April, in year of our Lord, one thousand eight hundred and sixty-seven, a memorial of the within written deed, duly verified by William Nelson McCann, of Geelong, No. 1,210, book 127. THOS. SUTHERLAND, pro-Registrar-General. On this mortgage, McCann contrived to obtain advances both from Mr Gillespie, the manager of the National Bank, Geelong, and Captain McMahon, the leader of the Opposition. The jury found the prisoner guilty, and a sentence of 7 years' imprisonment was pronounced on the ex-legislator.
Isn't Trove wonderful? So, here is William in 1867, son of a prominent Geelong family, sentenced to seven years imprisonment. You might think that is the end of the story. I thought so for many years as William seemed to have disappeared.
Earlier last year, around January, I decided to have another look in Trove for William and had a Eureka moment. It an article I found, it appeared that William was a resident in San Francisco, California and not only that but with a different name, William McCann Neilson. Again, thank you Trove.
So armed with this new clue I started digging. Questions that I needed to answer were: Why the change of name? When did he go to San Francisco?
There he was in the Sacramento Daily Union, dated August 1870, as an Englishman from Australia, one of the local reporters on the Alta (another San Francisco newspaper). He is listed in the 1870 and 1880 United States Federal Census along with his wife, Louisa Neilson. Louisa does not appear in the 1890 Census, and I have not been able to track her after that date in the United States. Did she return to England perhaps? This raised more questions than answers. Wait a minute, 1870? He was sentenced to 7 years prison in 1867 in Victoria, wasn't he? When did he enter the US?
I knew he had been sentenced to seven-year imprisonment in Victoria in 1867, so how was he in San Francisco in 1870? Searching the voter's register in California, I found he had first entered the United States in 1868 – wait a minute – 1868?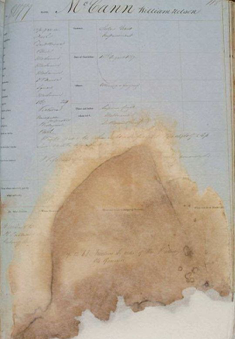 So, a search the Public Records Office of Victoria Register of Male Prisoners finds a gem. William Nelson McCann, prisoner 8077, has a notation – Freedom by order of His Excellency the Governor 7 December 1868. Of course, as you see on the right his page has a water stain or some such – would be on that page, wouldn't it?
A further search of the Victorian Parliament revealed: borrowed money to finance a grazing run and convicted of forgery Aug 1867; released after serving a short part of a seven years' sentence and went abroad. So I guess being part of a prominent Victorian family and an MLA meant that the government and his family wanted him out of the state and out of the country.
William appears in the Daily Alta, California on 18 February 1871 refuting claims of imprisonment with a lengthy discourse on three trials and no conviction. He talks of a severe head injury, a lengthy time bedridden and advice to take a long sea voyage for his health.
William next appears in the California papers of note on 2 February 1874 in the Daily Alta answering the claim of being "convicted in Melbourne of forgery, and sent to the hulks, and afterwards being released on the premise of leaving the country."
His explanation is amazing and shows how this man had a flair for writing fiction. There is much more about William and his wife to come – we now know his explanation in San Francisco for leaving Australia and establish him in the United States as a journalist and editor.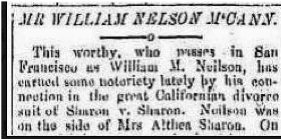 In 1885 William became a sometime lawyer when he defended Mrs Sarah Althea Sharon against Senator Sharon in messy divorce litigation, Sharon v Sharon (The McIvor Times and Rodney Advertiser, Friday 24 April 1885, page 2).
Why exactly Mrs Sharon engaged William as her lawyer and protagonist are unclear, but it seems William certainly had the 'gift of the gab'. William as a side issue sued Senator Sharon for slander to the tune of $120,000 (South Australian Register, Friday 28 December 1883, page 6).
In 1894 William married Nancy (Nan) McFarland, Nancy was born in 1856 in Indiana County, Pennsylvania, United States, the daughter of Irwin McFarland, a steel mill entrepreneur. They married on 4th December 1894 in San Francisco, California. The following appeared in The San Fransisco Star of Dec 8:
Wm M Neilson, the well-known journalist was married on Wednesday last to Miss Nan McFarland, daughter of Major McFarland a Pennsylvania iron manufacturer. They will continue to reside in Vacaville, where they own a splendid and valuable ranch. They cannot live longer, more prosperously or more happily than their many friends wish.
By 1896, they were separated. On the 15th September 1896, Nancy files a petition in insolvency stating that she owes $2372 and that she has no available assets.
It was a difficult marriage as Nancy had him arrested for insanity on the 19th March 1897 and taken to the Receiving Hospital in San Francisco.
San Francisco Chronicle, Saturday, March 20, 1897 notes:

… Neilsen, once rich, a newspaper man of high standing and lawyer with a lucrative practice, is for the second time since Sharon's death, a patient at the Receiving Hospital. In February 1894 he was taken there sick, penniless and without a friend. In December of the same year, he married Miss Nan McFarland, and for a time there was for him a return of prosperity. Of late, however, his family life has been full of dissensions, and yesterday the climax was reached, when, a hopeless lunatic, he was taken to the receiving hospital where he is now an inmate of the insane ward.
William appeared before a judge three days later and was declared sane.
San Francisco Chronicle, Tuesday, March 23, 1897 notes:

… Judge Belcher said he did not doubt Neilson's mental soundness. I have not been personally acquainted with him, said the Judge, but I have known him for years as a writer for the press and a man of strong intellect. When he came before me charged with insanity, I gave him a most thorough personal examination but found not the slightest trace of mania, hallucination or delusion. He seemed natural and sound, coherent and sensible …
On the 11th July 1897 William, as assignee of the estate of Nancy Neilson, an insolvent debtor, brings suit against Nan Neilson, Clara McFarland & Agnes Ellen Brock that Nancy Neilson with intent to defraud her creditors executed a deed for land in Solano, California.
Nancy was granted a divorce from William on the 6th January 1898 and was allowed $50 per month alimony. Nancy seems to disappear after 1898.
William is listed in the 1900 United States Federal Census, the San Francisco, California, City Directory, 1901 and the 1902 California, Voter Registrations 1900-1968, and then disappears.
As another interesting side issue, I was contacted by a fellow family historian from Victoria asking for information about a possible child of William. This lady was helping a friend's cousin with his family history and had come across a possible link to William. The man concerned descended from a Henry (Harry) Hall born in Melbourne in 1868 to Josiah and Elizabeth Hall. Henry's mother Elizabeth passed away in 1876 and Josiah Hall placed Henry as a state ward. The records show that his father is William Nelson McCann. Another interesting side of William, perhaps? The man concerned has since done a DNA test, autosomal and Y-DNA, and matches to the McCann family in Victoria. Something else to follow up about William.
Recently more records have been added to Ancestry and there finally in the California, County Birth, Marriage, and Death Records, 1849-1980 is the death of William at the City and County Hospital in San Francisco on the 24th March 1903, aged 68 years, cause of death Lobar Pneumonia. William is buried at Laurel Hill Cemetery, San Francisco, the cemetery is now defunct, and the last remains were moved to Colma in 1939.
There is still much more to discover about William Nelson McCann AKA William McCann Neilson but now at least I have found his death, and perhaps finally he may rest in peace – a very interesting black sheep indeed.