MyHeritage Live conference round-up
Thursday 5 September saw me crossing the tarmac at Exeter to step into the DHC8-400 Series De Havilland plane with propellers and yes, it's a rather small twin-engine job. However, I did enjoy the flight with a youngish pilot who flew a course smack bang across the middle of London, just south of the River Thames. It was a perfectly clear day and I could make out lots of landmark buildings, then crossing the channel, see lots of wind farms and the occasional oil/gas rig. I was on my way to Amsterdam to attend the MyHeritage Live 2019 conference at last.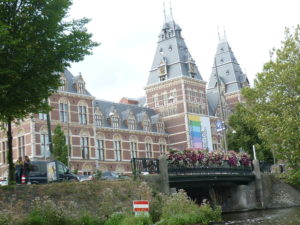 I'd decided to book my accommodation at the same hotel as the conference which was being held in the Amsterdam Hilton. Registration for the event began at noon on Friday 6 September and I was in the queue a few minutes prior to then along with fellow GSQ members Marg & Geoff Doherty. There was a canal cruise on offer to be booked at registration, and we managed to get on the 1pm departure after a quick lunch. I'd done an Amsterdam canal cruise previously but this one was to a totally different area and the commentary was really interesting although hard to hear at times sitting up the rear of the boat. Huge baskets of hanging petunias adorned each bridge making it a pretty journey.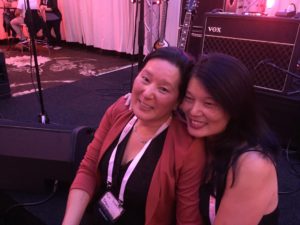 A drinks reception was that afternoon and after a quick 'Nanna Nap' I finally managed to catch one of my US mates briefly. That evening MyHeritage presented a film 'The Missing Piece' a story of two South Korean sisters abandoned by their mother two weeks apart. It focussed on their journey to finding out their birth stories. Through MyHeritage DNA they had been able to find each other, one had been adopted by a Netherlands family and the other by a USA family. They met up shortly afterwards in South Korea and both have been constantly travelling to see each-other since. It was a heart-wrenching story made all the more poignant by discovering the girls were sitting in the audience. The girls continue their plight of searching for their birth parents. https://tinyurl.com/y5fbwlyg
Later that day I also worked out what sessions I'd like to attend during the following two days of talks which was a bit ambitious, as it turned out. I had hoped to make Gilad Japhet, 'Keynote speaker's Introduction' followed by 'What's New at MyHeritage' with Maya Lerner. I missed both as I was catching up over breakfast with my friend Cyndi Ingle of Cyndi's List. This is a 'one-woman' site linking to all things genealogy – if you haven't already ventured into it, then you should be pleasantly surprised by unknown links to your area of interest. https://www.cyndislist.com/uk (for UK records).
My first attended session was Diahan Southard 'Science for the Non-Scientist: How Does MyHeritage Produce their DNA Results?'. As always, Diahan's talk was easy to understand, even for those a little slow off the mark like me! Lunch followed and it was really yummy with lots of alternatives for any diet and the deserts were A1!!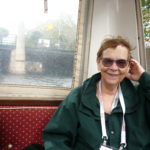 I then tackled two back-to-back talks. Firstly 'Searching and Browsing on MyHeritage to Get the Most Out of Your Research' with Cyndi. Oh, my goodness, I'm not sure how she packed so much information into her short time but it was chock-a-block with instructions on finding you way around the different features offered and hints with zooming in to what you want. A very popular talk with lots of great content.
The following talk was Blaine Bettinger's 'Mapping Your DNA Matches on MyHeritage' using the MyHeritage chromosome browser and shared matches. Another interesting learning session. After a 30-minute tea and coffee break I attended Yvette Hoitink's talk on 'Using MyHeritage to Find Ancestors from the Netherlands'. Yvette is a great speaker, and a native of The Netherlands as well as a brilliant genealogist. The Netherlands is certainly blessed with their detailed records – sigh, why can't Ireland and England have been like that? I've used Yvette in a professional capacity and can thoroughly recommend her.
This was followed by a panel talk 'The Future of DNA Testing' with Roberta Estes, Blaine Bettinger and Dr Yaniv Erlich. Some hard-hitting questions were put to the panel and it proved to be an interesting session that finished at 5:30pm.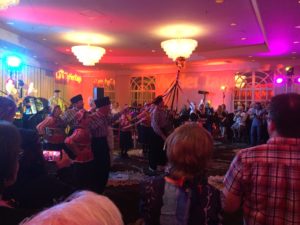 At 8:00pm the party began, I had previously heard that the MyHeritage Parties were THE BEST and can now vouch for this. The evening featured Oriënt, an energetic local group of senior Dutch dancers and musicians which I felt went on for just a little too long. Not to worry, the main act followed soon after – the UK band Beatlemania. As someone who attended the original Beatles 1964 concerts twice in Brisbane, I can vouch that these guys were tops. With 60s props out for all to use, we all joined the Flower Power people and had one fabulous evening. There was also a Dutch photo-booth with costumes available and more laughs were had by my four friends and myself doing this activity.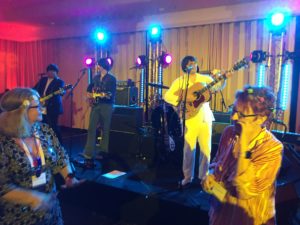 The party ended sometime just before mid-night and with my group of friends we retired to the Hilton bar and chatted on there for some time. I was a bit of a late starter yet again on Sunday, so missed Blaine's 'Formulating a DNA Testing Plan'. Thankfully Helen Smith, our DNA SIG convenor had covered this in one of our Wishart meetings. Chatting with friends prior to and over morning tea, I then attended 'Why You Should Complement Your DNA Data with Genealogy Research' with Diahan Southard. This is something we've always re-iterated at our meetings, one complements the other and you shouldn't rely on DNA Data alone.
Lunch on Sunday was as good as on Saturday with different choices for those with differing needs. Sitting space was at a premium but thankfully I found a seat with my table of friends. This brings me to the thing I enjoyed the most at the MyHeritage Live conference – networking! I made lots of new friends, met a lot of very knowledgeable folk and caught up with some speakers that I'd heard in the past.
I'm excited that it's less than two weeks until the Unlock the Past cruise to the Med sails from Southampton. I've got a group of friends from both GSQ and outside sailing with me on this one, including Mia Bennett one of the featured speakers along with Paul Milner. Following that at the end of October I'm attending RootsTech London 2019 where once again GSQ has a number of folk and Cathie Sherwood is presenting on 'Finding British Ancestors in India'. This promises to be another jam-packed conference, so hopefully I'll make more of my planned sessions there and meet even more Genie mates.