What's in my genealogy library?
Talk to any family historian and they will list the must-haves books in their genealogy library. Some have over 10000 books sitting on shelves while others may have a smaller collection which is regularly culled! Favourite reads nominated by genealogists will be many and varied but it is highly likely that there will also be some overlap.
I don't have thousands of books but I do have a collection which has been accumulated over many years. Some are books which help me research ancestors, especially those elusive ones, others belonged to my parents and relate to the local history of the area in which I grew up; there are books I collected when I was renovating old Queensland houses – on house histories, colour schemes, styles etc. As well as print books, I have digital only books, PDFs, maps and other ephemera on a whole host of topics. However, the subject of this blog post are my five favourite books, at this time, the ones I use on a regular basis and find to be invaluable in my research. As my research interests and focus change over time then so do my top five.
In no particular order, my favourite five (at this time) are: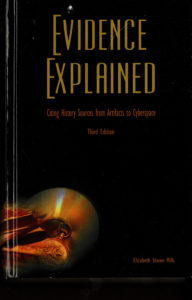 Evidence Explained by Elizabeth Shown Mills
3rd Edition 2015, Genealogical Publishing Co, Inc, Baltimore
This is an exceptionally weighty book which is often referred to as the definitive guide to the citation and analysis of historical sources. At almost 900 pages, it is not for the faint-hearted and is really designed as a reference rather than a book to be taken to bed to read. It is an excellent resource, one to which I refer on a regular basis, especially as I am in the throes of writing a thesis for the Society of Australian Genealogist's (SAG) Diploma in Family Historical Studies. SAG requires the thesis citations/references to follow the Chicago Manual of Style (Notes and Bibliography) but there are instances where the Chicago style doesn't take into account genealogical requirements. I have found myself needing to refer to Evidence Explained so often in order to determine the appropriate format for a citation that it has now come off the bookshelf and sits beside me on my computer desk. This is a book that would be on my top five list all of the time.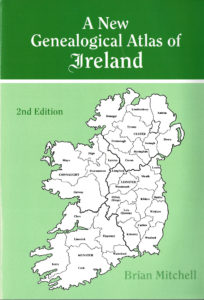 A New Genealogical Atlas of Ireland by Brian Mitchell
2nd edition 2002, Genealogical Publishing Co, Inc, Baltimore
Most of my family history research is focused on Ireland, both in the Republic of Ireland and Northern Ireland and is probably the most definitive guide you can get on the organisation of the three major religious denominations in Ireland. When I first purchased this book some years ago, I had only made a couple of trips to Ireland and these were mainly as a tourist. Over the last few years, all of my visits have been to archives and family locations so it has been essential that I know where to look for the civil parish or the Catholic, Church of Ireland or Presbyterian parish. As well as the religious parishes, the book includes all counties of Ireland, dioceses, probate districts, the baronies of each county and poor law unions.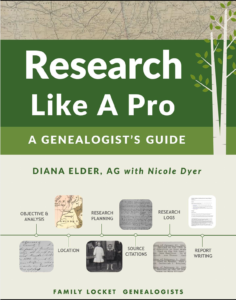 Research Like a Pro by Diane Elder with Nicole Dyer
eBook edition 2, 2018 (Kindle version), Family Locket Genealogists, Highland, Utah
This book is designed for the intermediate family history researcher but includes great tips for beginners as well as those who are more advanced. It covers research logs and source citations, two areas often overlooked by beginners, but it also outlines how to frame your research objectives and write reports. The book includes a number of templates, for example a locality guide template and there are work samples which illustrate how you could structure your own research logs, chronology and evidence analysis. The web site associated with the authors has excellent resources, the best of which are the podcasts on aspects of the book. The Kindle version is great because you can highlight sections, write your own notes and create flashcards.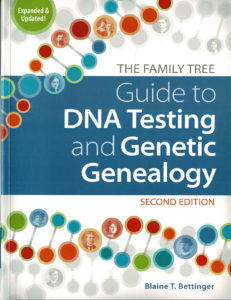 The Family Tree Guide to DNA Testing and Genetic Genealogy by Blaine T Bettinger
2nd edition 2019, Family Tree Books, Cincinnati, Ohio
I have both editions of this book and purchased the first edition about two years ago, reading it from cover to cover, not once, but numerous times. It hasn't made me a DNA expert (I live in hope) but I am more knowledgeable about the part that DNA testing can play in my family history research. The book is easy to read but is not simple – it covers some quite advanced aspects of DNA, for example, Y-DNA testing and X-Chromosomal matching. For me, the chapter that has helped the most is the one on Analyzing Complex Questions with DNA as it explains about segment triangulation and the third-party tools which can assist in identifying groups. Adoptees and those with brick walls are provided with possible ways of using DNA to find relatives and there is some crystal ball gazing on what genetic genealogy might look like in the future.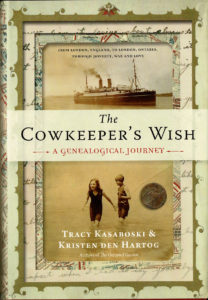 The Cowkeeper's Wish: A Genealogical Journey by Tracy Kasaboski & Kristen Den Hartog
1st edition 2018, Douglas and McIntyre, Madeira Park, British Columbia
This book was recommended on a web site and the title intrigued me so I ordered a copy and have not been disappointed. It isn't a reference book like the others in this post but it is a compelling tale of one family's journey from Wales to London, England and later to London, Canada. The story is about a young cowkeeper from Wales who, in the 1840s, walked to south London with his soon-to-be wife and their cattle. They had hoped to escape poverty but instead were plunged deeper into it. It took another two generations before times changed for the better.
The book was written by two sisters who delved into their family's past with little more than a collection of yellowed photographs and a basic family tree – much like what the rest of us have when we begin our genealogical journey. The book is exceptionally well referenced and this is what helps make it a very good read. It is set within the social context of the time, for example, Charles Booth's poverty maps show the areas where the family lived and the impact of the Industrial Revolution is discussed.
---
That's my five favourite books at this time. So – what's in your genealogy library?