Occupations and recipes – family traditions
Following on from a successful February Writing Group meeting when we wrote short narratives inspired by a photo from our collection, in April we wrote about a family member who interested us in some way. As is often the case, the stories were wide ranging both in their content and style. Combining the outcome of this session with the research for my presentation for GSQ on occupations reminded me once again that it takes all sorts to create a family and that, sometimes, occupations and other traditions can run in families and help us to distinguish one family member from another with the same name.
I have recently renewed my interest in my maternal Hall family, which had lain dormant for some time. This family originated in the Griffydam/Worthington area in Leicestershire and men and women were mostly employed in the textile industry as framework knitters, an occupation that predominated in this area. The patriarch was Joseph Hall, born about 1815 who made cotton hose. However, as work dried up in the local area, he and his wife Hannah née Radford moved about in search of work, taking four of their five children with them.
The family first moved just across the Leicestershire county border to Nottinghamshire, where another three children were born; they then proceeded further north in Derbyshire, the birthplace of three more children. Most of the family eventually wound up in the cotton mill town of Weir, near Bacup in Lancashire and everyone seemed to find some type of work in the cotton mills. George, my 2 x great-grandfather, was their 4th son, born in Osgathorpe in Leicestershire; he didn't follow the family to the cotton mills and subsequently became a builder living in Liverpool and Cheshire. His sister Hannah, my 2 x great-aunt, was born in 1857 in Milford, Derbyshire; she was the eleventh and last child, and only daughter, of Joseph and Hannah. She was named after her mother and grandmother and it has been difficult at times to separate one from the other.
I imagine Joseph and Hannah must have been incredibly surprised when their 11th child was a daughter – the previous 10 children, born over a period of 20 years, were all sons. All the sons went their separate ways over time, some stayed in Leicestershire, others moved north, living in Lancashire and Yorkshire. Hannah (née Radford) and daughter Hannah, however, appeared to stay together throughout their lives until Hannah senior died in Great Harwood in Lancashire in 1896, aged 78. Hannah junior never married, so it was perhaps a comfort that she had a number of younger family members living close by. When tracing the ancestry of my grandmother, Elizabeth Paddock, eldest grand-daughter of the George mentioned earlier, it came as a revelation to find that she had also lived for a time in Great Harwood. My grandmother had always insisted that she was born in Liverpool, had lived her whole life there and would die there, so this was obviously a blip in her life!
In the 1911 UK census Elizabeth and her sister Mary were living with Hannah Hall junior, their great-aunt at 6 Water Street, Great Harwood. Hannah was a baker and confectioner, and 15 year old Mary was her apprentice. In contrast, 16 year old Elizabeth was a calico weaver; I don't think she did this for too long, however, as she was back in Liverpool by 1915 where she married my grandfather. Mary, on the other hand, stayed in Great Harwood, eventually marrying a widowed local GP. They had one daughter and, sadly, Mary died when she was only 36 years old in 1932.
I found Hannah Hall interesting because as a baker and confectioner, she had broken the mould of the thousands of women in Lancashire who worked in the cotton mills; many of these women descended from families who had migrated to Lancashire from all over the country in search of work. As the only daughter in a family of framework knitters in Leicestershire, I had anticipated that Hannah would follow in this industry; maybe this was also the expectation within the family. Certainly by the time she was 14 years old, Hannah was already working as a cotton weaver and she did this for over 10 years according to the decennial censuses.
When, how and why did Hannah become a baker? I imagine she would have developed her baking skills by helping her mother in the kitchen from an early age, especially with at least six older brothers still at home. It is possible that the opportunity for a change of lifestyle came when Joseph died in 1884. The two Hannahs moved to Great Harwood, where Hannah junior was established as a confectioner by the time of the 1891 census. It is most likely that she was working for someone rather than independently, although she is recorded as 'neither employer nor employed' in the census. 
In researching the Hall family further, I discovered that Hannah was not the only member of the family to be involved in baking and confectionery and this trend started mostly in the 1880s. One brother, Richard was recorded as a confectioner in the 1881 census in Rochdale, also in Lancashire. He then had a thriving 'refreshment' house in Great Harwood, before selling up in 1903 and retiring to the coast in Morecambe. Another brother, Feargus O'Connor (named after the Irish Chartist) worked as a baker and confectioner over the county border in Skipton, Yorkshire; he subsequently moved back across the Lancashire border to the much larger town of Burnley. A third brother, Benjamin, had also worked as a baker in Burnley in 1891, but by 1901 he had settled in Great Harwood close to his sister Hannah and was working as a cotton weaver. It would appear from these meanderings that Hannah was perhaps the mainstay and support for the family especially after their mother died. 
Like most Lancashire towns, Great Harwood and Bacup, were heavily dependent upon the cotton industry which provided the main source of employment. Although it was a fairly small town, and only 20km away from their previous home, Great Harwood's population rapidly expanded in the late 1800s as more mills were opened up. The Hannahs may have considered there were greater opportunities to do something different in a larger town than one on the edge of the moors.
For my Writing Group story, I researched the types of goods that Hannah and her brothers might have been baking for sale to the general public; the goods that were available more broadly in the Yorkshire/Lancashire border region.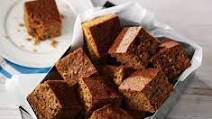 I first found recipes for Parkin, a traditional northern England gingerbread cake of oatmeal, golden syrup and soft brown sugar. Baked to a hard cake, when rested it becomes moist and sometimes sticky. The recipe differs depending on the place of origin. Another Lancashire/Yorkshire delicacy is the Eccles cake. The cake is not really a cake; it is a small round pie made of flaky pastry, filled with currants, candied peel and spices; often topped with demerara sugar. Again recipes do vary.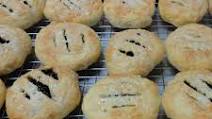 I can imagine the smells wafting out from Hannah and Richard's various premises as they baked bread and cakes to satisfy the hunger of Great Harwood's cotton mill workers. Life as a baker was demanding. It was essential to ensure the premises were clean before starting work, which was usually the night before. Time was required to make the dough and allow sufficient time for it to rise. Preparing rolls and loaves was physically strenuous as the dough had to be kneaded manually; it would have been extremely hot as the bread and other goods were baked in the ovens. In some cases, individual homes did not have a stove or oven, so women would prepare their food and then take it to the baker to cook. I found one site which said London bakers in Victorian times rarely lived past the age of forty-two – this may have been due to the flour dust clogging their lungs.
Little did I think when I was preparing my presentation on occupations that I would find bakers in my family tree, apart from an aunt who married a Robert Baker and their children, and that this would lead to an interesting discussion at the Writing Group on recipes passed down through the family. I have recently transcribed my grandmother's notebook which contains lots of recipes among other things. One of these is a recipe for Eccles cakes: here it is in my grandmother's own words, with a couple of explanatory notes. 
Eccles Cakes
4oz currents, 1oz candied peel, 1oz butter or marg, 1oz brown sugar, nutmeg & spice. Heat ([filling ingredients] for few minutes in pan, then cool in basin, roll pastry 1/4 thick; put 1 tablespoon on each round; damp edges; roll up & make a ball, then turn upside down & flatten into round, cut across & brush with milk & bake for 15-20 minutes until brown. [pastry is not defined, but probably something sweet and flaky].
You never know where family history research can take you.  
Pauline