On why you should read carefully and often
by Bob McAllister
There are a few fundamental rules for handling a document that may contain evidence of the lives of our ancestors.
Always seek out the original record,
(you cannot rely on indexes or transcripts).
Read every word carefully,
(especially the ones that don't seem relevant).
(and seek explanations for all inconsistencies).
Check that you have seen the complete document,
(look for another page).
I know the rules well. I explain them to others. I understand the risks of not following them. So why do I so easily succumb to the temptation to move onto the next document before I should. (Damn those bright shiny objects that catch the eye.)
Consider the record in the 1911 UK Census for Frederick Clarence Thorpe and his family. The summary of the transcription prompted a slew of questions when read against the 1901 document.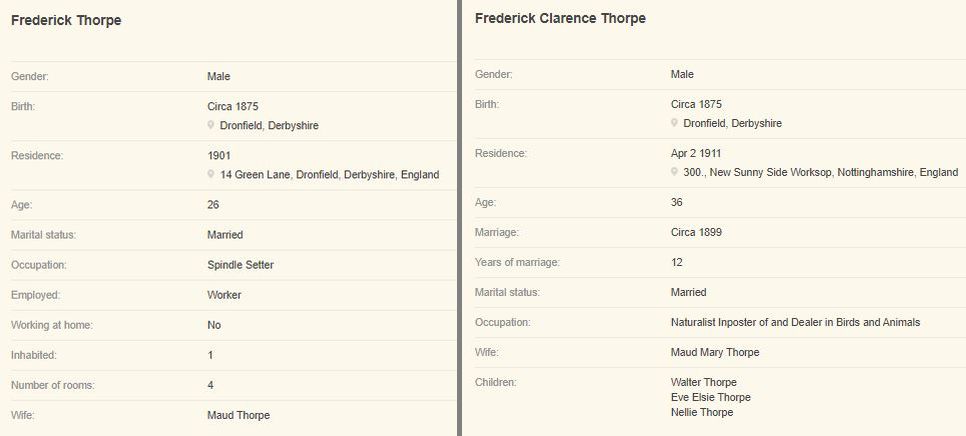 When had Fred and Maude moved from Derbyshire to Nottinghamshire?
Did it have to do with his change of occupation from Spindle Setter in a Cotton Mill (1901)?
What on earth was a "Naturalist Inposter"?
I felt very satisfied when I made a close examination of the scrawl on the original return to find that, in fact, Fred claimed to be a Naturalist, Importer of, and Dealer in, Birds and Animals and hence was now self-employed. It seemed reasonable that he would move to a larger property to indulge what must have been his passion. I may have wondered just how long the streets were in Worksop that they lived at 300 New Sunny Side; but I now had three births to locate. File the record and press on.
It was some time before I recognised that while we all view the individual household forms completed in 1911 (complete with an actual ancestor's signature), there are also enumerator's summary sheets available that provide some of the additional information about neighbours that we can see immediately for 1841-1901.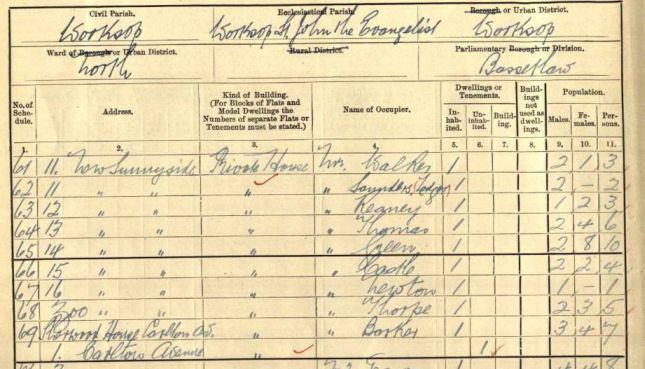 And the summary that listed just seven private dwellings on New Sunny Side (11-16 and 300) gave me grave cause for concern. Clearly, there was something anomalous about number 300. So finally, I launched the detailed examination of the household record that I had failed to undertake earlier.

It revealed that Fred had a distinctive and consistent way of writing the numeral 3 and had not followed it in representing the address. He had not described his residence with a number but a name. He called the property the "Zoo". There was a hook on which to hang a discussion of their ancestors with the grandchildren!
For a time, I looked forward to the release of the 1921 Census to continue the tale until I realised that the Thorpe family had (most inconveniently) come to Queensland in 1919 and took up a small crops holding on the Sunshine Coast. Perhaps we had priority over the Irwins in the local zoo business!
I had the opportunity to speak with a great-granddaughter of Fred Thorpe who remembered visiting him in his little cottage at Maleny while very young. First hand evidence! At pains to avoid leading the witness, I asked about anything in the house that might indicate his interests or hobbies. "Oh, like things hanging on the wall." Yes indeed, I responded hoping desperately for stories of (at least images of) exotic birds and other creatures. "I do remember that he had violins".
At best, we can only ever assemble fragments of the lives of our ancestors. Unless we adopt a systematic approach to handling the documents that we do locate (and following it rigorously) we risk missing details that we should have. Remember "Do as I say, not as I shamefacedly admit to doing."
Postscript:
One of the key advantages of offering to contribute a blog is the obligation to look anew at issues that you had thought closed. As I proofread this confession of my (past) short-comings as a researcher, a nagging doubt arose – Had I ever seriously searched for evidence of Fred as a naturalist in Australia? Surely I could not be guilty of stopping short twice?
On 3 May 1940, The Telegraph reported that a rare bird had apparently been killed by a cat at Bli Bli and taken home to its owners. The Director of the Queensland Museum acknowledged the role of Mr F C Thorpe in recognising the significance of locating a Spotless Crake in the area and forwarding the remains to Bowen Hills where they were added to the reference collection!
But the violins must be a red herring!
It seems that there is another fundamental rule more honour'd in the breach than the observance.
Always revisit your "finished" work.
(there is almost certainly more to find).
---
References:
Frederick Clarence Thorpe Year: 1911; Series: RG14; Piece: 20224; Enum. District: 3; Page: 135; Line: 1