The places where we live usually impact on our lives
Over the years, I have been gathering photos of places where I have lived as a means of documenting significant periods in my life. I can record changes in my life experiences as I've moved from my parents' home to student accommodation to the rental market to private home ownership. I have also adopted this strategy in relation to as many of my ancestors as possible. Since the majority of these lived in England, I have relied greatly on online photos, maps and books. Mapping addresses given on census records or documents such as certificates is sometimes difficult since many inner-city properties have been demolished as part of urban renewal projects, whole streets have been renumbered or renamed, new freeways or buildings cover huge areas. Specific houses or streets are often not named in small villages. In such cases it's helpful to chart the path that the census enumerator took around the area which can be found on the first page of the district. By tracing this route on old maps it's possible to get a fairly good idea of where, and how, ancestors lived. Census records can also reveal the number of rooms in a property, the number of families living in that property, etc. Recorded occupations of inhabitants give insight to the status of the area. Finding images of long-gone individual homes or streets can also be a challenge, but books containing old postcards or images posted online can help to give a feel for the environment in which our forebears lived.
My paternal ancestors mostly lived in the East Midlands –South Derbyshire, Nottinghamshire and Leicestershire. More recent maternal ancestors, on the other hand, lived in Liverpool, although these were a peripatetic lot and I've traced family lines to North Wales, Gloucestershire, Leicestershire among other places; there's also a Norwegian and an Irish connection but I've not firmly established those yet. I know that maps are available on a variety of online sites, but I have recently been using the 1939 Register which provides a direct link between the location recorded on this 'census' record and its position on a map. The Ordnance Survey maps on the site date from 1888-1913, 1937-1961 and a current map. Many ancestors born in the mid-1800s were still alive in 1939 and these maps can illustrate quite different environments over an extended period. Even greater changes occurred, especially in major urban areas, as a result of bombing in WW2. 
My paternal grandparents, lived in Coronation Street, Swadlincote in South Derbyshire. Swadlincote was a semi-rural area dominated by coalmines. Many of the houses in this street and elsewhere were propped up as a result of subsidence from the coalmines that ran underneath. Apparently too much coal had been taken from seams relatively close to the surface. I found an interesting Pathé News Video called Swadlincote mining subsidence 1954 (https://www.youtube.com/watch?v=-0-nsgp-GHU) on YouTube which showed the extent of the damage and the council's strategies to overcome the problem. In the 1970s the council refurbished all these houses and later, in the 1990s, they were all demolished and the site sold for private development. Somewhere I have a photo of our abandoned house prior to its demolition. From the maps offered with the 1939 Register I can see Coronation Street clearly from 1937 – a street that juts out into farmland. There's no sign of the street when you switch to the 1888-1913 map, however. This enables me to put an estimated timeframe on when their house was built.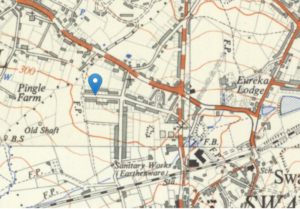 Even though my coalmining ancestors who lived in this area in the mid to late 1800s would have had pretty awful working and living conditions, they were at least surrounded by open space; of necessity, they walked everywhere and may have had an excellent knowledge of local flora and fauna. Fresh air from the late 1880s onwards could have been problematic though due to pollution from the coalmines, and the extensive use of coal fires in homes. The gradual urbanisation of an area such as Swadlincote is relatively easy to track by comparing maps from 1880-1913, 1937-1961 and a current map.
Compare this environment with that of my maternal ancestors, the Paddock family. They lived in overcrowded inner city Liverpool.The Courts provided accommodation for numerous families: facilities were extremely limited as these photos, and many others that can be found online will attest. These contrasted sharply with the wealthy Georgian terraces that lined streets running parallel to the courts. My great-grandfather was a bootmaker/repairer and had his business in Roscoe Street. Early 20th century newspapers feature many advertisements and notices for businesses and families indicating that Roscoe Street and adjoining Roscoe Lane were busy streets. My grandmother had two corner stores – one in each street. My mother tells stories of the lives of the poor who were crammed into the Victorian houses. Basement accommodation with no light and minimal amenities would not have been pleasant.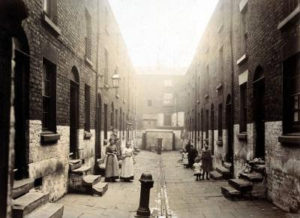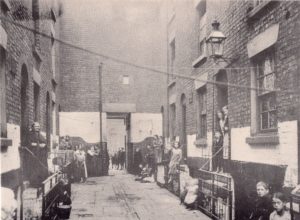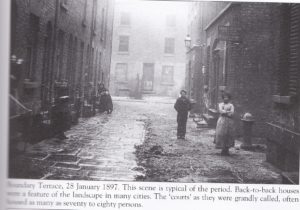 The area was dominated by Victorian edifices such as Lime Street Station (the main Liverpool station), the Union Workhouse on Brownlow Hill and St Luke's Church. Slum clearance programs in the early 1930s impacted on my grandparents, even though they lived in reasonable circumstances. Houses were demolished and residents moved out into newly developed suburbs. The Workhouse itself, which provided primary health care for many of the local residents, was demolished in 1931. It took many years until the Liverpool Catholic Metropolitan Cathedral was built on the site.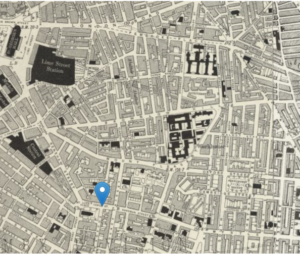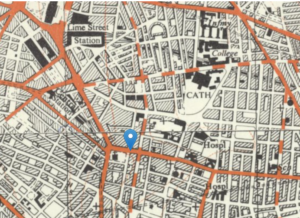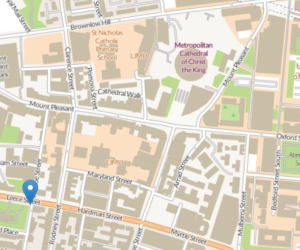 The centre of Liverpool was further devastated by heavy bombing during WW2. Although Roscoe Street and Roscoe Lane still exist, they are nothing like they were when my great-grandparents lived there. Educational institutions, such as the University of Liverpool, have taken over many of the surrounding streets, making the area a much more pleasant one in which to live.
Using the places where you have lived, whether this is a specific house or town, can be an excellent prompt to map the fortunes of your ancestors. Do their houses/locations show them going up in the world, or are they in reduced living circumstances? Charles Booth's poverty maps, https://booth.lse.ac.uk/ , provide a graphic view of the status of individual streets in London. The quality of the residents of the streets is colour-coded and ranges from the vicious lower-class (black), to the wealthy upper and upper-middle classes (beige). These maps are well-worth checking out if you have London ancestors as is the London Lives website at https://www.londonlives.org/. 
It's also worth looking at Vision of Britain through Time, (http://www.visionofbritain.org.uk/place/21550) which provides links to a raft of interesting data about the places where our ancestors lived and the life experiences they may have had.
Until next time
Pauline    
References: All Ordnance Survey maps courtesy of the 1939 Register on FindmyPast.co.uk. 
Photos of Liverpool Court dwellings from David Paul, Images of England: Central Liverpool, Tempus, Stroud, 2003