Following on from my previous blogs on "Thinking outside the box", and the "Value of letters", their use became invaluable, when I had to write a story about my father, Edgar Raymond Perrett.
My father was on the hospital ship, "Centaur", when it was torpedoed off the coast of Caloundra on the 14th May 1943. I was 21 months old so I never knew anything about my father.
In 1995, I was asked to write a story about my father for the publication, "Cooloola Remembers". Great!… Well what did I know about my father? On questioning my mother, her only answer was, "We didn't have any money so Edgar had to go to war." The only other information was that he smoked.
Looking back, I realise I should have asked more direct questions, like, "Where did you meet my Dad?"
Now I was faced with a problem. Well, I can't write about the above! What do I know? I knew that my father went to Gatton Agricultural College and so I wrote to them. They kindly sent me photos out of the year books. So I had great photos of him in the football team and the cricket team. He was also in the 1st Mobile Veterinary Section, CMF. So I assumed that when enlistment notices were posted, he was keen to enlist with his background knowledge gleaned from the CMF.
I also found amongst some letters my Grandma gave me, a letter from Gatton Agricultural College recommending he continue his study after Junior, and that he had been recommended for an extension scholarship. The letter also mentioned that he would make a good Diploma Student. So my Dad went on to complete his Diploma in Dairying. What an achievement for a person in 1930 who grew up on a farm! So I was beginning to think my Dad must have been quite clever! Or just a good student!
I also had glimpses into his character from a letter my mother received from Lt. L. Outridge. Dr. Outridge was also on the "Centaur", but he was one of the survivors. Dr. Outridge would read the soldiers' mail and veto them, so he got to know all the soldiers on board.
In his letter to my Mother, three months later, he states, "Edgar came as a reinforcement to the 2/11th. at Darwin and we soon realised his quiet worth. I was proud to make him one of my orderlies, but you know as well as I, that he had the ability to succeed in anything he made up his mind to do. He had applied for an engineering job as well as a wireless job. I recommended him very highly. He was very anxious always, to be doing something really worth while."
So from the little information I had been able to collect, I was able to conjure up an overall picture of my Dad, and with the help of some photos, my contribution to the book was now appropriate.
So from my experience, if you are in the same boat as I was in, I would suggest starting with school records. Then see if anyone has some letters written by your relative. Letters often can give you a picture of how the writer feels and what they are doing.
I am lucky to have been able to collect the information I have from only two sources! I might be biased, but don't you think my Dad was a bloke to be remembered!
CMF at Gatton Agricultural College circa 1930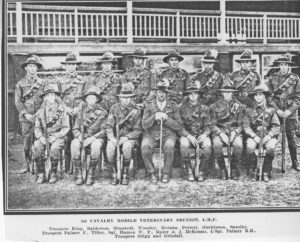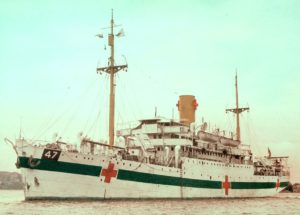 Hospital ship, "Centaur"