Publishing a family history book – learning from experience
At its June meeting, the GSQ Writing Group discussed the positives and pitfalls of publishing a family history book. Group member Anne had circulated a long list of things she had learnt from experience and demonstrated the various points with books she had published on members of her own family. Other group members had also published books and they contributed their ideas. The following combines the details in Anne's list with points raised during the discussion.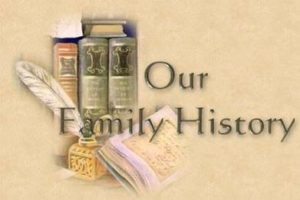 Before reaching the stage when you're ready to publish, it is well worth determining the likely audience for your book. This will then help you with other decisions, such as binding, cover, size, number of copies, whether to self-publish or employ a commercial company, whether to employ specialists, such as an editor or graphic designer, as these will ultimately impact on the cost of an individual copy of the book. Having pre-orders helps to reduce the anxiety of whether you will sell all the copies you have printed. If publishing primarily for the family you may wish to rely on the skills of family and friends instead of employing specialists. Whether you are publishing for the family or, hopefully, a broader market, then an attractive presentation goes a long way towards establishing a positive mindset before a reader goes into the actual text.
Let's look at some of the issues raised above.
Binding and paper: If, like Anne, you have done many decades of research and you want it to last, a hardback bound book is the preferred option. Sewn is the longest lasting of the different types of binding, but is much more expensive; also the pages are printed in multiples of 16 and folded. Round-backed fan glued hardback binding, is still not cheap but it enables the book to lie flat. Square-backed is cheaper still but the book will not stay open. If you decide on a hardback, you may want a dust cover. Good quality paper lasts longer, is less likely to tear, it won't yellow so quickly and gives better reproduction of photos.
As far as photos of people are concerned, it is preferable to make these as big as possible, so readers can see what the person actually looked like.
Printing options: Colour costs 4 times as much as black and white. Be mindful to use 'theme black' rather than 'auto-black'. 'Auto-black' is actually made up of colours, and so the whole page will be printed in colour. (The printer may have different terms for the two types of black.)
Page size: A4 is a good size for a family history book as it allows sufficient space to include photos, maps, or documents such as certificates so they are readable. 'American letter' is a slightly different size and this may impact on size of margins for example. Your word-processsing program may default to US settings, so it is worth watching out for this. The inside margins have to be wider than the outside margins to allow for binding.
Layout: Put page numbers in the centre at bottom to avoid any layout problems, especially if you wish to include a header which runs through the book or a particular chapter. The right hand side of an open spread always has odd numbers. It is where your text begins, and is also the side people look at first, handy to know when placing images.
It can be extremely helpful to make a plan for the first few pages, to ensure correct placement of additional material such as Table of Contents, Introduction, printing and publishing information. The number of extra pages required will vary depending upon what is included. Here is Anne's example:
| | |
| --- | --- |
| LEFT SIDE (even page numbers) | RIGHT SIDE (odd page numbers) |
| blank page | half title page |
| blank page | full title page |
| publication details | Table of Contents |
| Contents continued | Introduction / Author's Note |
| pedigree chart | story starts on a right-side page |
| story | image |
An important addition at the end of the book is an index. Again there are specialists who will undertake this task, but you may prefer to do this yourself to reduce the overall cost. Anne also added several blank pages at the back in a different type of paper to provide space for readers to add extra information, corrections, even material about the other sides of their family.
A significant amount of research has been published about the most effective fonts for reading material. A font with serifs, such as Times New Roman is easier to read. Also 1.5 spacing, size 12 type, clear black (not pale black) ink also enhances the reading experience, especially if readers are likely to be older.
Legal essentials: To fulfil legal deposit requirements authors must donate a copy to the National Library of Australia (NLA), and Queenslanders also give one to State Library of Queensland (SLQ) and another one to Qld Parliamentary library. These requirements may change from time to time so it's worth checking the current situation. Email Thorpe Bowker for an ISBN. A barcode is useful, especially if your book will be on the market.
Copyright: The issue of copyright has been discussed previously on this blog. Suffice to say that care must be taken with reproducing material which may be subject to copyright. Seek appropriate approvals prior to publication. Your transcriptions of information, rather than the documents themselves, generally do not require approval.
Proofreading, editing, typesetting and more: We have discussed editing and proofreading within the Writing Group. Creating a Style Sheet helps a writer to avoid formatting variations. Errors creep into the majority of written materials. It is almost inevitable that, even if you have been through a document multiple times, a mistake will appear when the book is published. Your eyes will often see what you expect to see rather than what's there, so it's worth going through your proof copy carefully when you get it back from the printer.
Costs: Set-up costs are part of the printing costs, so consider how many copies to get printed. Under-ordering results in paying the set-up costs again if you require more copies; over-ordering can lead to left-over copies sitting in a garage. It is likely to be a cheaper option in the first situation to get a few extra copies printed first time and only pay to get the required number bound; the extras could be bound later if needed. As mentioned earlier, having pre-ordered copies helps to avoid under- or over-ordering. Printing costs depend on the total number of pages, how many pages have colour, the type of paper used, and the number of copies printed. In general, the larger the order, the cheaper the book.
Ask questions: It is important to shop around, and ask questions to ensure that you understand exactly what services printers and/or publishers are offering, and what these will cost. Also ask for definitions of technical terms to avoid any unmet expectations. Personal recommendations go a long way towards choosing a company that will deliver what you want.
Last, but not least: If you are producing the book for a family reunion, or significant anniversary, develop a plan for the time required for each stages of producing the book, working back from your deadline. This will help you achieve your end result within desired timeframes.
Good luck with your writing and publishing endeavours!