My dad, Joe, was born in September 1921 in South Derbyshire in England and would have been 96 years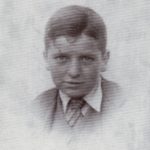 old this month. The only son of Arthur Stirland and Lizzie Kinston he had an older sister as well as a younger sister. His death in 1987 was what prompted me to start researching my family history. I became aware at his funeral that all the relatives I remembered from my childhood had passed away. Who were they? I started to research the Stirland family and fairly soon realised that as children we had associated more with my grandmother's family, the Kinstons, than we had with the Stirlands.
The Stirland and Kinston men were primarily coalminers. The Stirlands had moved into the Church Gresley/Swadlincote area in South Derbyshire from Cotmanhay and Ilkeston, which lie about 40 km away on the border of Derbyshire and Nottinghamshire. The earliest Kinstons/Kinsons I've found were living in South Derbyshire and neighbouring Burton-on-Trent in Staffordshire from the middle of the 1700s.
Prior to the establishment of the National Coal Board after World War II, coalmines were owned by individual landowners or companies. It was quite common for miners to move around as new pits were opened presumably in search of better working conditions and better pay. Apart from coalmining the other main industry in the area was pottery, specialising in sanitary pottery and pipes rather than crockery. Throughout the census records, occupations recorded against the men in the family varied little. Perhaps it was accepted that sons automatically became miners. My dad initially tried to buck the family tradition; he didn't succeed, but he was the last miner in the family. My mother has told me that my dad was quite bright as a boy and won a scholarship to stay on at school.
Sadly, the family couldn't afford the fees, so he had to go out to work. His first jobs were in the breweries in Burton-on-Trent, which was an established centre for the brewing industry.  Although he was training to become a cooper, his occupation on the 1939 register is shown as Brewer's labourer. In the 1930s wooden barrels were still in demand.    
When war broke out in 1939 he enlisted in the Royal Navy. He always said that he didn't want to be conscripted to the army as he had flat feet! He undertook his naval training at Chatham in Kent. I think I've mentioned before that this is how he met my mother: her brother enlisted in Derby at the same time as my dad. I think he looks really handsome in his navy uniform so I'm pleased he made that choice.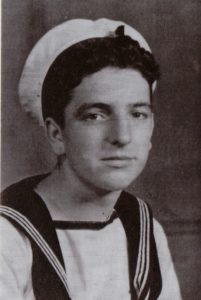 It must have been quite a culture shock for someone who had rarely ventured far from home in a semi-rural area in the middle of England to travel to the Mediterranean, where it appears he spent most of the war serving on minesweepers. When I asked him why he didn't want to go overseas on holiday, he used to say that he'd been in Benghazi (Libya) and that was enough for him!  I have several photos of him with friends that are labelled Alexandria in 1942 and even one in Durban, South Africa. He did say that he went through the Suez Canal.  As he was leaving HMS Nile, the base station in Alexandria, he found an album containing many photos of ships in battle. He never did find the person who owned the album so it became our family photo album. As far as medals were concerned, dad was awarded the 1939-45 Star, Burma Star, Africa Star, Italy Star, France and Germany Star, Defence Medal: 1939 to 1945, War Medal 1939 to 1945.
He and my mum married in 1946. Initially returning to work at the brewery, he soon realised that he wasn't earning enough to support a growing family. He first obtained work at the pipe works, but by the mid-1950s he had become a coalminer.
Although the coalmines in South Derbyshire were much cleaner than those in South Wales for instance, coalmining was a dirty and dangerous occupation. Dad had several serious accidents while he worked at the coalface, one of which ruined his health completely and left him in permanent pain. He had kept racing pigeons with my granddad when he was young and he took this up again. Dad's dog, Lucky, was never far from his side. After spending years underground, many miners revelled in the opportunity to be out in the fresh air. There was also an incredible camaraderie among his fellow miners and pigeon fanciers.
Throughout his life he didn't complain about the cards that life had dealt him. He was a pragmatic person not prone to expressing his emotions or his pain. For me living on the other side of the world, the end came unexpectedly. I was able to reach England in time to see Dad before he died so I could say my farewells. He was only 65 years old.
So in this month of his birth and of Father's Day, I'd like to pay tribute to my dad.
Until next time
Pauline