Stay interested and persevere
by Meg Carney
It has been quite a while since I have written a blog for the Genealogical Society of Queensland (GSQ). During that time my family history research has had to be put on hold on many occasions to make way for work, family issues, holidays, time with friends and all the other things that make up life in this busy world we live in. Nevertheless, at various times my interest and passion for family research has made its way to the fore and I have been able to spend some enjoyable and fruitful hours at seminars and engaging in research in libraries and on the world wide web.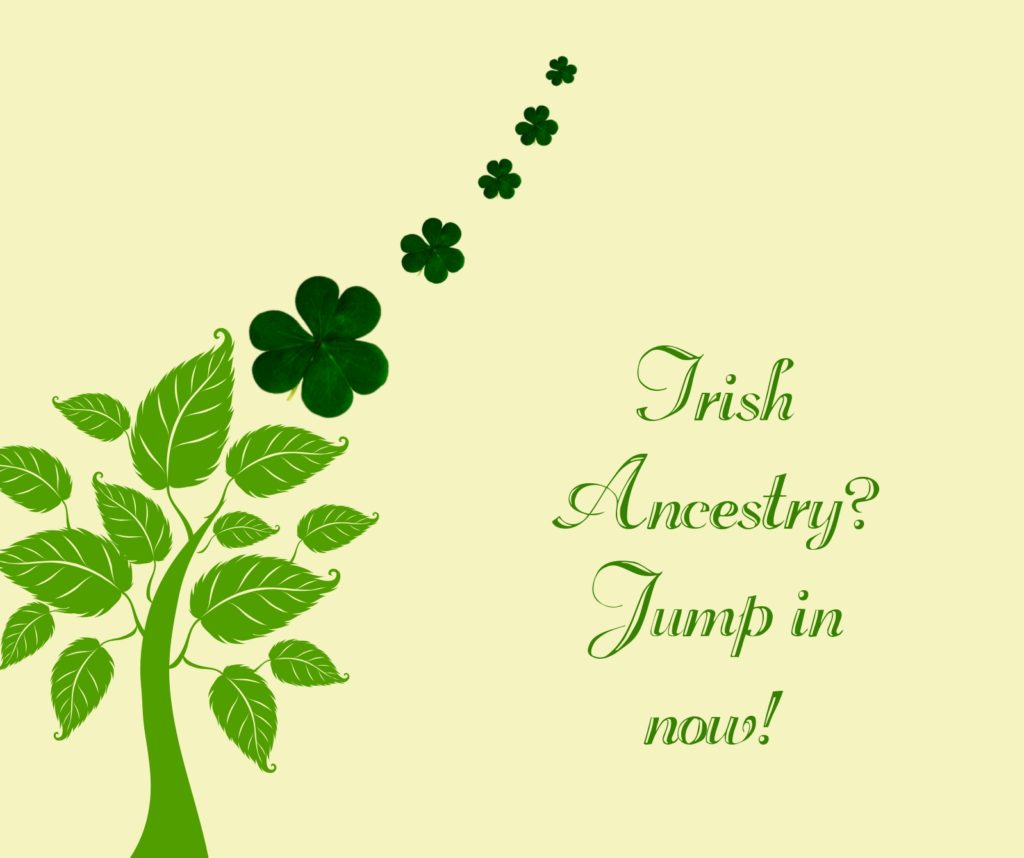 One of the most rewarding things I did was to attend a seminar at GSQ called Irish Ancestry? Jump In Now! It was presented by Bobbie Edes. Bobbie provided details of the ins and outs and pitfalls of researching Irish records and gave us hope that it is not as fruitless as we might have been led to believe. Indeed, I had often been told at seminars and in conversations with other researchers that it can be almost impossible to find your Irish ancestors prior to the mid 1800s. I had even experienced this frustration myself. Bobbie's talk gave inspiration and lots of practical help. After the session, there was a chance to use the computers at GSQ for a few hours to test our newly learned skills. From the information learned at this seminar and the extensive list of websites provided I have been able to locate birth records and marriage records for two of my illusive ancestors. A warning though – parish records were written in Latin. However, it is still possible to decipher the information you require.
Another very successful undertaking was to write to local family history societies in the areas where some of my ancestors had lived at various times in their lives. By doing this, I was able to find little gems of information that I otherwise may not have come across. In my experience, local family history societies are very willing to carry out research for you. There is usually a fee but this has always been very reasonable. From one local history society, I was able to discover where my paternal great grandmother was working and living prior to her marriage in Glen Innes in 1886. From this same society, I was able to gain another clue to the maiden surname of my paternal great great grandmother. This particular piece of information has remained extremely troublesome to verify. Various documents have listed at least 4 surnames for her, prior to her marriage. These surnames have brought me up against brick walls, but now, armed with yet another possible surname for her I may be on the right track. Another local history society was able to research a particular house for me and provide the details of when it was built and the date that it was purchased by my great grandfather. They also provided me with the interesting fact that this house is now heritage listed because it has been assessed as "aesthetically rare, locally" and "historically rare, locally".
I also spent a considerable amount of time researching the service history of two of my father's uncles who had served in World War 1. My father was contacted by a local history society which was compiling a history of the service records of all the men who served in World War 1 who had been born in that particular town. I may not have undertaken that research if the society had not requested that information from my father. However, it was very rewarding to learn about their experiences during the Great War. Both of them survived and made their way home to Australia although one was injured and the other contracted TB. I also learned a lot more about the history of World War 1 than I otherwise might have done without the personal stories of my ancestors.
I have also been engaging in some studies in the family history field. The University of Tasmania offers a Diploma of Family History. This is a fully online course and the subjects can be done at your own pace. To obtain the Diploma you must complete 8 subjects, 4 at Foundation Level and 4 at 100 (Introductory) Level. The subjects can be done at your own pace but not all are offered every year. There are even HECS scholarships offered to eligible students and free access to Ancestry.com Library whilst you are studying. I have only completed 2 subjects to date, "Introduction to Family History" and "Writing Family History", but I have found them extremely informative and very enjoyable. I would recommend having a look at their website to see what is on offer.
When I was asked to write a blog this year, I chose a date at the end of October because I fully intended to write about a family history trip that my father and sister and I had planned to do in September this year. We had planned to travel around far northern New South Wales to the towns and villages where our ancestors had lived since the time of their arrival in Australia. Most of them had selected land in the northern rivers area and became successful farmers but one had become a policeman and served in many small towns in that area. Alas, the tour did not eventuate due to unforeseen pressing family events. However, it is still planned and I may write and tell you all about it when it does happen. So, I was a little perplexed as to what I would write about because I felt that my family research had been more or less on hold for some. But as I began to reflect over the last 12 or 18 months I realised that, albeit spasmodically, I had indeed continued to chip away at my family history, discovering new information along the way and spending many enjoyable hours.
So, my message is that you will always make progress if you keep up your interest and persevere and listen to your ancestors asking you to tell their stories.
Until next time,
Happy researching.