When Walter met Elizabeth
From time to time I have wondered how my ancestors met one another – this is an intriguing issue when they come from distant parts of the country and/or different backgrounds. To keep GSQ Writing Group members in writing mode during the summer break, I suggested they might like to consider how their grandparents met and write a short story on this topic. Several took up this suggestion and our grandparents' romances (as we see it) were shared at our February Writing Group meeting. As is usually the case, the short stories varied widely – with tales from England, Hungary, Australia, on board ship. I shared my paternal grandparents' story at the meeting, so decided to share my maternal grandparents' story with you here.
Elizabeth Paddock and Walter Johansen, my maternal grandparents, married on 7 November 1915 at St Mary's Parish Church, Kirkdale in Liverpool, England. At the time Walter was a stoker in the Royal Navy; I'm not sure what type of work Elizabeth was doing. Information on their marriage certificate gave a clue as to how they met: Walter was living at 28 Lancaster Street and Elizabeth was living at 19 Lancaster Street. Maybe Elizabeth liked the look of the sailor in his Royal Navy uniform strolling down the street, although he wouldn't have been the only sailor in town! Maybe Walter liked the look of the young lady who lived only a few doors away from him. Elizabeth always had the stronger personality of the two and I like to think that she took the initiative and engaged Walter in conversation as he was quite shy.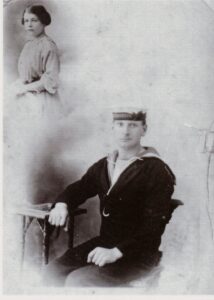 Walter had spent much of his time at sea since he'd enlisted on a Special Service Engagement in 1908. He served 5 years with the fleet and then 7 years with the Royal Fleet Reserve (RFR), when he was liable for recall at any time – this happened in WW1.  His service in the Royal Navy enabled him to travel the world; he may have weaved stories of his travels to the Far East as he courted Elizabeth. During his service he was regularly attached to Devonport shore establishments ('stone ships') for training and also spent time at two other 'stone ships', HMS Egmont at Fort Saint Angelo at Birgu, Malta, the RN Mediterranean base; and HMS Tamar, the Hong Kong RN base.
Elizabeth may not have had too many travel stories to tell as she'd only had a short stint away from Liverpool, living with her great-aunt and sister in Great Harwood in Lancashire, but she would have had many family stories to draw upon. Why was Walter in Liverpool when he was based in Devonport in Plymouth on the shores of the English Channel? Maybe visiting his only brother Martin, before Martin was shipped off to fight in France in World War I, never to return, dying lost and unrecognised in the mud on the Somme in July 1916. Their initial meeting could have been fairly fleeting – maybe it was love at first sight. They may have married soon after meeting to make the most of their time together in war-torn England.
It's difficult to get a sense of much of the centre of Liverpool at the time they met and married as the city was heavily bombed in World War II and subsequently redeveloped. I imagine Lancaster Street was typical of many streets which housed working families – full of short-term tenants. At No 19 where Elizabeth was living at the time of their marriage, 3 families lived in the one house in 1911. It doesn't seem like the best place to be living, but perhaps it was better than a crowded family home housing many young siblings. 28 Lancaster Street was a single family residence in 1911, but two boarders lived with the family and Walter may have found lodgings there. 
Elizabeth probably moved back to Roscoe Street where the rest of the family was based when Walter went back to sea. She had two corner stores in the 1920s, one in Roscoe Street and the other in adjoining Roscoe Lane. Her parents and several of her siblings also lived in the same street. She and Walter didn't start a family until after WW1 and they had two surviving children: Walter born in 1920 and Mary, my mother, in 1925. Another son, William died in 1923 when he was not quite 2 years old, and their fourth child, Alan, died in 1930, when he was not quite 1 year old.
After leaving the Navy in 1921, Walter worked as a grain porter near the Alexandra Dock in Liverpool. Maybe in response to the difficult economic times in the 1920s, Walter went to sea in 1928, this time in the merchant navy, working again as a fireman and stoker. He appears to have been at sea several times between then and his final voyage in 1930. It's hard to imagine how difficult it would be working in the engine room of a merchant navy ship, but Walter was never one to complain.  
The area where Elizabeth and other members of the Paddock family lived, was redeveloped in the early 1930s. Many of the buildings were demolished and residents moved out to the suburbs. Walter and Elizabeth, together with Walter jnr and Mary, moved to Walton and set up home in Studland Road, which was to be their family home until Elizabeth died in 1972. 
Elizabeth and Walter enjoyed their retirement together, regularly travelling to places such as Llandudno and Rhyl in North Wales for holidays. They loved Wales, but Elizabeth remained ever suspicious of Welsh ladies in their iconic black hats speaking Welsh! Elizabeth maintained regular contact with her siblings and their children as well as her own. Walter and Mary each had three children. Everyone lived in Liverpool apart from Mary and her family in South Derbyshire and as children we made an annual trip to Liverpool, and they visited us. Elizabeth was a Liverpudlian through and through and never liked to be away from her beloved city for too long.
Elizabeth and her family provided Walter with a stability that had been missing for most of his early life as he and his brother were placed in an orphanage at an early age. She was the mainstay of the whole family, especially after both her parents died in the early 1930s. Their marriage was a devoted and loving relationship which lasted until Elizabeth's death. Walter seemed somewhat lost without her and moved out of the house to stay in turns with his son and daughter for extended periods. He passed away in 1977.
I may have worked out when Elizabeth and Walter met and embarked on life together, but we can never really know the motivations and emotions behind our grandparents' relationships.  I feel fortunate that I knew all my grandparents and only regret that I didn't ask them any questions when they were still alive.