Recently I have been conducting some research to help a friend out. She had been researching for a while and had come across some brick walls. One of these walls was the search for the parents of her great grandfather, Edmund Meagher.
Edmund Meagher married Harriet Beecher Stowe Alexander in Melbourne in 1875 and died in Adelaide in 1935. No parents were listed on his death certificate, so, I decided to attack the problem from another angle – by researching his wife, Harriet. I hoped that this would give me a fresh lead.
Harriet was born in Melbourne in 1854 and died in Ballarat on 28th January 1897. She was the daughter of Andrew Alexander (1822–1897) and Mary Mathieson/Matheson (1818–1892); both of whom are buried in Ballarat Cemetery.
Andrew and Mary married on 6th April 1840 in Glasgow, Scotland and had three daughters; Isabella Mathieson born 2 February 1841; Catherine Adam born 31 October 1846; and Jemina born 7 July 1848; all born in Glasgow. The 1841 census showed Andrew, Mary and Isabella living at Campbell Street, Barony, Lanarkshire with one servant and Andrew's occupation is a wright. The 1851 census showed Andrew, Margaret (aka Mary), Elizabeth, Mary, Catherine, Jammima and Andrew plus two servants. The family was living at 38 West Campbell Street, Barony, Lanarkshire. Andrew's occupation recorded as a timber merchant.
Obviously, Andrew and Mary had more children. However, I found no more baptisms. Although, I did find a marriage notice in the 'Ballarat Courier' 1871 for Mary Mathieson, daughter of A. Alexander formerly a timber merchant of Glasgow Scotland.
Also buried with Andrew and Mary is a Johanna Mathieson Alexander, aged seven years, who died 27 June 1859. I could not find a baptism for her in Scotland. Therefore I presumed that she was born in Australia.
I now had a small window to look for the Alexander family migrating to Australia 1851-1852.
So, I started with the most obvious place – the Public Records Office of Victoria – beginning with the records of the Assisted Immigration 1839-1871 and the Unassisted Immigration 1852-1923. I searched for all members of the family but drew a blank. I then moved on to Ancestry, Victorian Assisted and Unassisted passenger lists 1839-1923; once again all members were searched, but no sign of the family was found. Find My Past was my next port of call. I searched the Victoria Inward Passenger Lists 1839-1923 but once again found nothing.
I was beginning to think that they were another family which had 'swum' to Australia. My final port of call was Family Search. Here I searched the Victoria Inward Passenger Lists 1839-1923 and finally there were eight matches for Andrew Alexander.
I worked my way through the matches and finally on the third entry from the top, there was my Alexander family, comprising of Mr Alexander – 50; Mrs Alexander – 45; Elizabeth – 9; Mary – 7; Catherine – 5; Jemina – 3; Andrew 6 months; and Janet Ball – 13, servant. They all arrived on the Montgomery which left Glasgow on the 17th June 1852 and arrived in Melbourne in October 1852.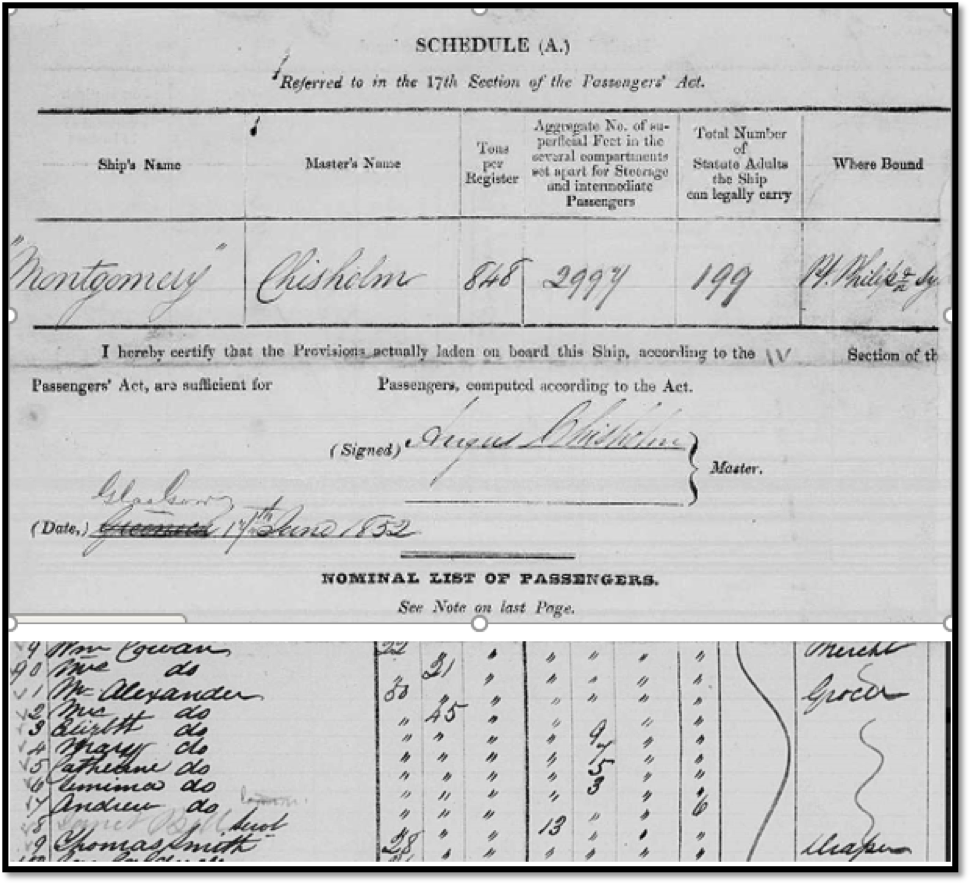 I was intrigued. Why had I not found the family in the databases of Ancestry, Find my Past and the Victorian Public Records Office?
I went back and checked all the databases – this time armed with the name of the ship, but once again the Alexander family failed to appear.
So, I went back to Family Search to check that I had the information correct and decided to look for another family from the same page as the Alexander family.
I chose the Archibald Anderson family which was two families above the Alexander family, on the same page. I began with a fresh search of the Victorian Public Records Office, and sure enough, the Anderson family was there.
Next was Ancestry and the Anderson family, and of course, they were there as well, only this time I had an original image to look at – and it was plain to see.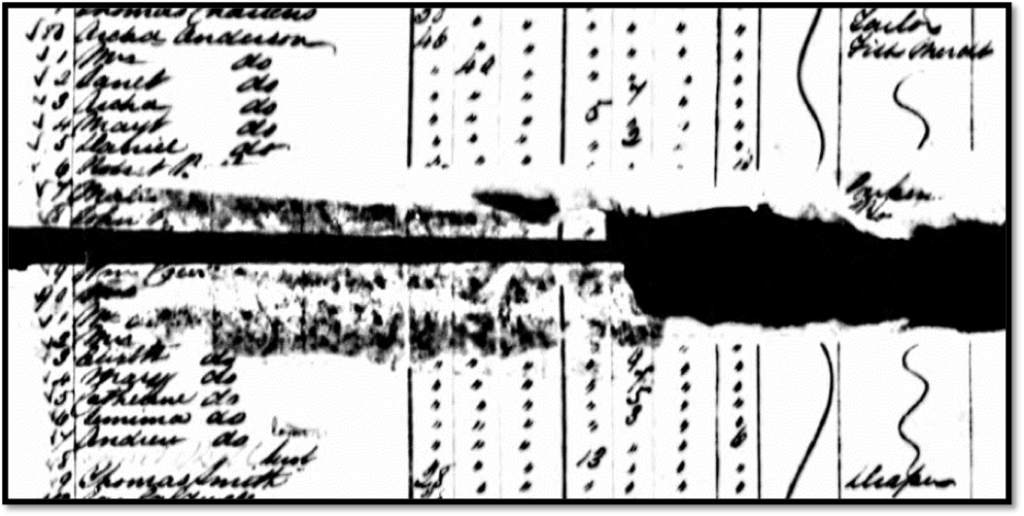 The page filmed in the Ancestry database had been damaged right where the surname of my Alexander family should have appeared. Therefore, they were never indexed. However, Family Search must have filmed another version, and the surname was visible.
So, there were two different indexes from two different versions of the film.
The moral of the story is: If you are looking but have not found something, check another database and see what turns up.
As for the search for Edmund – that is another story to be continued.
---
Sources
Ancestry.com. Victoria, Australia, Assisted and Unassisted Passenger Lists, 1839-1923 [database on-line]. Provo, UT, USA: Ancestry.com Operations Inc., 2009.
Inward Overseas Passenger Lists (British Ports). Microfiche VPRS 7666, copy of VRPS 947. Public Record Office Victoria, North Melbourne, Victoria.
Inward Overseas Passenger Lists (Foreign Ports). Microfiche VPRS 7667, copy of VRPS 947. Public Record Office Victoria, North Melbourne, Victoria.
Inward Overseas Passenger Lists (New Zealand Ports). Microfiche VPRS 13439, copy of VRPS 947. Public Record Office Victoria, North Melbourne, Victoria.
Register of Assisted Immigrants from the United Kingdom. Microfiche VPRS 14. Public Record Office Victoria, North Melbourne, Victoria.
Family Search, Australia, Victoria, Inward Passenger Lists, 1839-1923