Bridging the Past & Future Congress, Sydney March 2018
Congress was held at the International Convention Centre, Darling Harbour in Sydney over four days from 9 March to 12 March 2018. There were over 600 attendees plus exhibitors and it was wonderful to catch up with friends from all over Australia and to make new friends. Given the numbers, it was hard to locate people that you did want to chat to.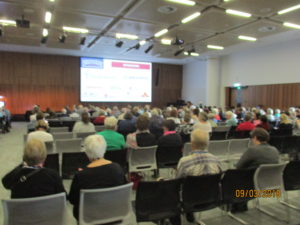 There were numerous plenary sessions, and a choice between four talks at other times and even a couple of sponsor presentations. Keynote speakers included Lisa Louise Cooke, Paul Blake, Paul Milner, Thom Reed and Judy G. Russell and all gave wonderful presentations. Handouts of all the talks were provided as a downloadable PDF to attendees so we can read about the sessions we missed. Sometimes it was a very tough choice as to which session to attend.
The exhibitors were spread out around the main lecture rooms and it was a bit of a walk to see them all. As well as commercial companies, it was good to see the Australian War Memorial, the National Library of Australia, State Archives and Records NSW, State Library of NSW and the National Archives of Australia present. Their staff were kept very busy answering lots of questions during the breaks and at lunch time when we had the most time to visit the displays.
Morning tea was the only catering, but the Convention Centre is surrounded by restaurants, cafes and food courts and it was easy to go out during the lunch and afternoon tea breaks. The Centre also has its own café, but the queues were a bit long at times as other functions were being held at the same time.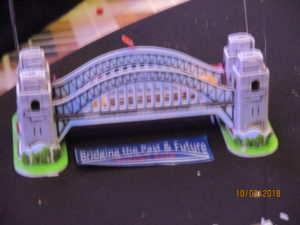 The Welcome Function and Opening Ceremony was an additional cost so not everyone attended. I went, and it was a wonderful High Tea with some of the most delicious little cakes and savouries. There was plenty of food with tea, coffee, juice and water. The Conference Dinner (another additional cost) was at Rydges World Square and each table was given a Sydney Harbour Bridge kit to construct. The after dinner speaker was Mark Tedeschi QC a passionate speaker who spoke on the Myall Creek massacre, the subject of his latest book Murder at Myall Creek: the trial that defined a nation.
The four days went very quick and then it was the closing ceremony, thanks to the sponsors, exhibitors, speakers, attendees and the organising committee. I have been to quite a few Congresses and this was one of the best. Everyone had a wonderful time.
Congress 2018 was probably the largest Congress ever held in Australia and it went smoothly. There were no technology hiccups at any of the sessions I attended. Morning teas were easy to access and plenty of tempting food. The venue was good, acoustics in all the rooms good and possibly my only gripe is that it was hard to spot friends in the crowd.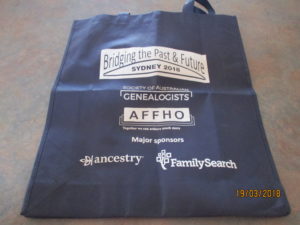 The conference organisers and the Society of Australian Genealogists are to be congratulated on a wonderful Congress which gave so many people good memories and lots of motivation and inspiration to carry on with their family history research. Every attendee went home and is now sharing their new knowledge and experiences with others. There were lots of bloggers in attendance and GeniAus (Jill Ball) has collated blog posts from those who attended and the list can be found under For Those Who Missed the Show.
Congress is usually held every three years but at the time of writing this blog post, no society has come forward to host 2021. AFFHO (Australasian Federation of Family History Organisations) held the first Congress in 1977 in Melbourne and it has been held in every capital city (some more than once) since. If Sydney is the last Congress then it has ended on a high, but I certainly hope it is not the last as Congress is such a wonderful opportunity to gather together to celebrate our passion for genealogy and family history. Although we must also acknowledge all the hard work and planning over several years that the wonderful society volunteers do to bring us these events.
Thank you everyone.