Evidence and citation: proving your research
Attendees at GSQs mini-seminar on 1 July 2017 enjoyed two presentations on the broad topic of proving your research.
Dr Jennifer Harrison, GSQs patron, took us through the Sherlock Holmes method of sleuthing. She used a wide range of quotes from Sherlock Holmes' stories to illustrate her points: it's essential to research in depth, document what you find, and analyse the results. She emphasised that it was vital "never to assume", but to search for evidence. Keen observation can reveal many details that a casual perusal will miss.
As a fan of Sherlock Holmes, I must admit that I'd never thought of his exploits and skills previously in the context of family history research but as Jennifer demonstrated, Holmes' stories are full of relevance, as seen in the following few quotes:  
… when you have eliminated the impossible, whatever remains, however improbable, must be the truth? The Sign of the Four
'There is nothing like first-hand evidence.' – A Study in Scarlet
'…the curious incident of the dog in the night-time…'
"Is there any point to which you would wish to draw my attention?"
     "To the curious incident of the dog in the night-time."
     "The dog did nothing in the night-time."
     "That was the curious incident," remarked Sherlock Holmes.
     The Memoirs of Sherlock Holmes (1893)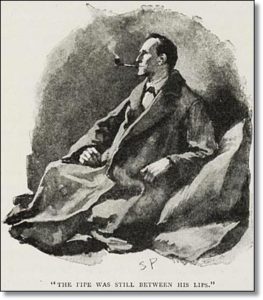 Sherlock Holmes described some problems as "3-pipe problems", which I'm sure is how many of us would describe our brickwalls!
Janice Cooper and I gave the second talk, Establishing proof and documenting evidence. As well as developing the presentation together, we took it in turns to speak to the various parts of the talk. I think we confused everyone at the beginning, but it worked for us. We were pleased that many points we made confirmed what Jennifer had said. 
The elements of the research process that we outlined were clarified with examples from a case study of Dr Lilian Violet Cooper. Janice adapted the research process from Elizabeth Shown Mills' iconic work Evidence explained. Janice's graphic illustration demonstrates that we need information from sources in order to extract the evidence necessary to answer whatever our query is. It is through analysis of all these elements that we obtain the required proof. Underpinning this research process is accurate citation of the sources that have been used.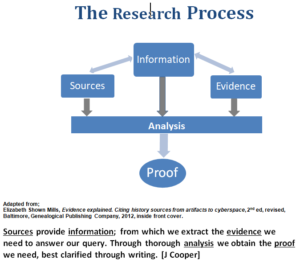 Examples of sources and suggested citations ranged from records of church and civil registration, immigration, professional registration, wills and probate. We considered the reliability of primary and secondary information, from original sources as well as from derivative sources such as indexes, transcriptions and authored works.
Dr Lilian Violet Cooper was chosen as our case study since one of the new Queensland State electorates has been named after her. Dr Cooper was the first woman registered to practice as a doctor in Queensland. It was through research into her life that I discovered the major contributions to the lives of women and children made by her lifelong friend, Mary Josephine Bedford. These included the establishment of the Crèche and Kindergarten Association (C&K) and the Playground Association. A tree, planted in Newstead, commemorates Miss Bedford, who was an honorary life member of the Women's Historical Association.  The photo taken in the early 1900s shows Miss Bedford driving Dr Cooper on her house calls. It comes from the SLQ collection.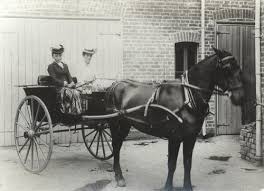 As our presentation focussed on the research process we couldn't document the lives of these two remarkable women in any great detail. I am therefore planning on writing up a story to be published in Generation in due course.
I learn something new from every course/seminar/conference that I attend. I therefore encourage you all to seek out learning opportunities, either face-to-face, in print or online – you never know what you'll discover.
Until next time
Pauline