My Grandma Irvine: Lills Life and her autograph book.
Inately proud of her extended family, Lill kept in regular contact with her extended family and friends. How do I know this, you may well ask? Primarily through her marriage, which came about through meeting her future husband while visiting interstate family on both her mother & father's sides. Then there is that little book collected by many a young girl in the past, their autograph book. I have a copy of Lill's little book, but more on that later.
Firstly back to her beginnings. The family residence in Wilson Street, Redfern was very much within a high density inner Sydney suburb at the time of her birth in 1887.[1] William White & Euphemia Brown ms Webster named their daughter Elizabeth Agnes White but the family all knew her a 'Lill' maybe a corruption of her name by her younger siblings, unable to pronounce it properly.
Lill and her family moved to their new home in Harrow Road, Bexley in Dec 1898, although initially she and her sister Edith slept at their Grandfather Webster's just down Harrow Road a little. She attended Kogerah School for awhile and then along with Edith attended Bexley State School – the family home was about half way between each. Her dad's diary confirms that he paid 1/3d per week school fees for each child and that during her youth there were constant visits to relatives in Mongarlowe, near Braidwood, Cowra, Woollongong and throughout Sydney and sometimes staying for long periods in each.
Now to that Autograph book which had been given to Lill by her brother William on 4 June 1909, on the occasion of her 21st birthday. I'm putting my hand up as having my own autograph book which is still in my possession, maybe the reader has one as well? In them is usually written many short poems or dittys collected throughout a period of maybe three or four years. Mostly rhyming, some smart, some maybe risque, and some just notations. However, Grandma's was different as it contained several beautifully illustrated drawings and scenes and is an absolute treasure.
The book featured five coloured drawings throughout it's pages, with four featured above. There were also ten black & white sketches, some of these are shown below.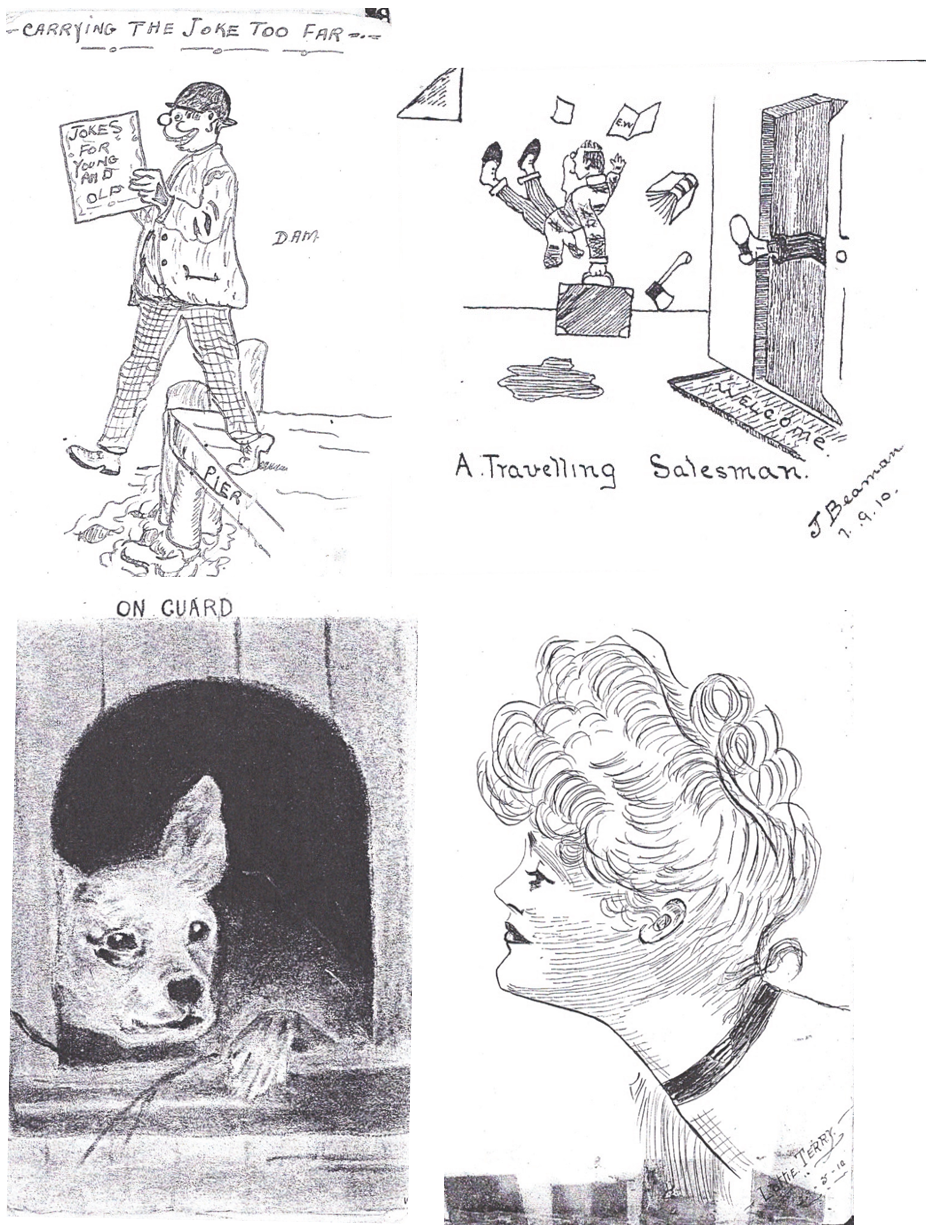 Top Left: D.A.M (probably D.A.Morison of Forest Lodge) drew a number of sketches in the book, this one is particularly funny and when looking at it, just replace the paper with a mobile phone for daily life today!
Top Right: Another sketch 'A Travelling Salesman' by James Beaman done on 7 Sept 1910. Remember that at this period it was common for travelers to walk around selling their products door to door, and they weren't always welcomed.
Bottom Left: This lovely black & white sketch was done by Vera V. Roy.
Bottom Right: Sadly, some pages throughout the book were obviously coming loose so in the past were sticky-taped in place. This cute drawing was sketched by Lottie Terry on 13 May 1910.
All the above appear to be local friends, rather than family members.
Next a combination of some of the pages of poems.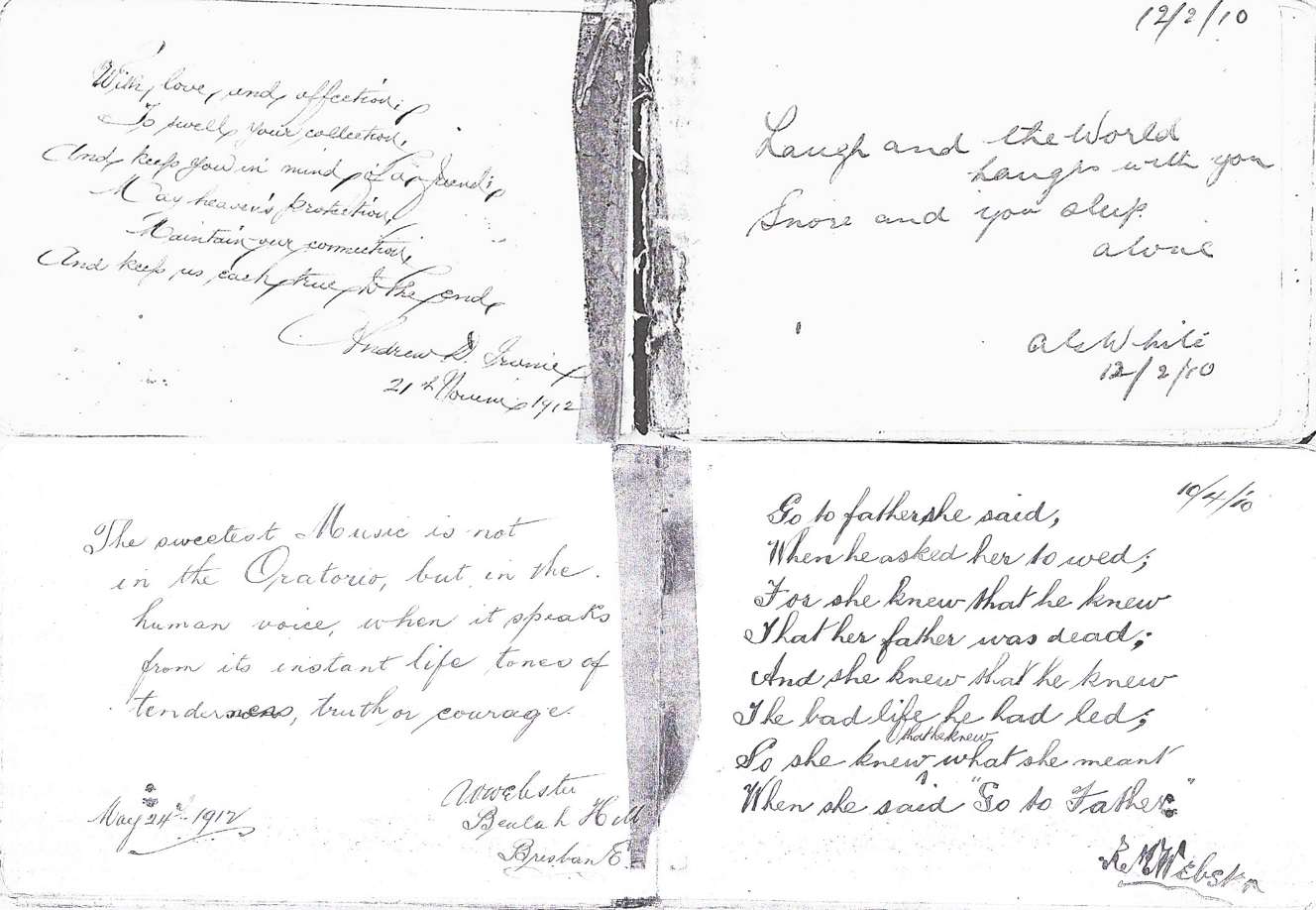 Top Left: A poem by Lill's future husband, Andrew D. Irvine on 21 Nov 1912.
Top Right: By A.G. White on 12 Feb 1910, this is Arnold Gordon White, her cousin.
Bottom Left: By Albert Victor Webster, son of David & Clara Webster. David was the founder of Websters Biscuits, Shingle Inn etc. The family lived in 'Beulah' on Gladstone Road, Dutton Park.
Bottom Right: By Roy Mervyn Webster, another son of the above David Webster. Roy signed up during WW1 and sadly, was killed near Millencourt, France on 31 March 1918. Roy and Albert were Lill's second cousins.
Top Left: By Eva Irvine, Lill's future Sister-in-law written on 9 Jan 1913.
Top Right: By Fred W. Webster on 11 Feb 1910. Frederick was one of the three sons of Thomas Webster and his wife Mary Amelia Osmond. Two years after writing his poem he succumbed to peritonitis at his home in Hillcrest Avenue, Yeronga on 9 Dec 1913. His brother Ralph had died in the Friendly Societies Hospital, Wickham Terrace, Brisbane from Dengue Fever on 11 Bottom Left: By Eric Webster, Albion written on 2 Dec 1912, he was a brother to Fred and Ralph. Adding to his widowed mother's sadness was that this remaining son, Eric Osmond Webster, also joined up in WW1 and died of pneumonia at Lemnos in Greece on 28 March 1915. Amelia, known as Minnie to the Irvine children, was very close to Lill. Amelia's deceased husband Thomas, was a brother to David Webster, founder of the Shingle Inn. Additionally, Thomas was a first cousin of Elizabeth's mother, Euphemia Brown Webster so Amelia's three sons were second cousins to Lill. Eric's 'Dead Mans Penny' was passed to my father by Minnie, then to my brother.
Bottom Right: A poem by unknown, possibly one of the local Beveridge family who Lill and her sister Edith were close to.
Another common thread through all autograph books is to be the last one featured and four viewed for the spot in Lill's book, but A.M. Brangwin (Jessie's mother) has the honour. Through the book, I was able to work out who many of the writers were. Many were her Queensland Webster relatives, some were her future husband's siblings and extended family and some were her Bexley local friends, as well as cousins from the NSW Webster, Anderson, Stevens and White families.
Grandma had passed the little book down to her youngest daughter, Una Merle Irvine (married name Mitchell) sometime during Lill's life, maybe when she began staying with each of her children after her husband Andrew Irvine passed away. Aunty Una showed it to me in the 1990s and I photographed it, then had each page image printed out.
From the book I learnt that Andrew Davies Irvine came into her life as early as 1912. Despite Andrew living in Brisbane and Lill returning to her Sydney home, they kept in touch and were married at 'Mongarlowe' Lill's home in Harrow Road, Bexley on 8 April 1914. The couple then returned to 'Merkara' which was the home of Andrew, his mother Harriet and his sister, Eva Irvine. The residence was built by Councillor Richard Dansie about 1888, but sold some four years later. Harriet had seemingly initially purchased the property by 1912, and Andrew purchased it from her in Jan 1914 prior to his marriage. 'Merkara' was on the corner of Fourth Avenue (now named Dower Street) & Old Cleveland Road, Coorparoo in Brisbane and next door to one of Lill's second cousins, David John Webster and his wife, Olive.[2]
Lill quickly fell pregnant with their only son, Leonard who was born the following February 1915 and his birth was followed in quick succession by three girls, Edith (1916), Rita (1917) and finally Una in 1919. At this stage the family engaged Lena, as a nursemaid and she lived in a room off the home's side verandah. At my birthday or Christmas Grandma Irvine (Lill) would usually recycle a card, by cutting out the image and writing on the back. When a teenager, my gifts were varied but often books previously treasured by Lill who was aware I loved poetry, so at times I was given little books of poems.
Heartbroken after Andrew passed away in 1961, the family home at Coorparoo was sold and a block of units built on the double allotment.[3] Lill could not bear to go past there as it upset her so much. Initially she visited her four children staying with each for a few months while her eldest daughter, Edith and her husband had an extension built at their Oxley home for her.
At my birthday or Christmas Grandma Irvine (Lill) would usually recycle a card, by cutting out the image and writing on the back. When a teenager, my gifts were varied but often books previously treasured by Lill who was aware I loved poetry, so at times I was given little books of poems.
Sadly, some years later she was diagnosed with ovarian cancer and moved to Canossa Home at Oxley,  passing away within twelve months of her diagnosis on 15 September 1967 at Princess Alexander Hospital, South Brisbane.[4]  What of the little autograph book with its 82 poems and 15 drawing including 5 of them coloured? Thankfully although tattered and much loved, it has survived and is in the possession of one of my cousins.
[1] NSW BMD. 1887 Births. Ref: 11415/1887  Registered at: Redfern District. Father: William. Mother: Euphemia B
[2] Dowar Street was then named Fourth Avenue, Coorparoo.
[3] Qld Historical BMD Index. Death Ref: 1961/047494
[4] Qld Historical BMD Index. Deaths. Ref: 1967/B92152