The Life and Times of Thomas Curran
Thomas Curran is my 3-time great grandfather. He lived a full life both in Jersey and Victoria after he moved to Australia in 1852.
I visited Jersey earlier this year and saw first hand Toms house and the hotel he operated
Here is part of his story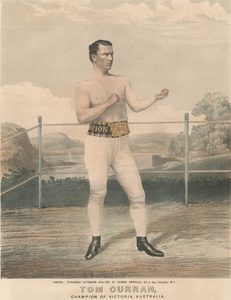 Toms portrait in the National Library Australia
Tom Curran was born on the 10th Of September in the year of 1827, in the town of St Helier on the Island of Jersey, one of the Channel Islands. His mother was Mary Carney, born about 1811 in County Mayo, Ireland and his father was Michael Curran, born about 1809 in County Mayo Ireland. They had sons William and John, twins, Thomas and Edward.
Tom entered into a few boxing contests in St Helier with mixed success.
Tom had taken up the work as an Innkeeper at 75 King Street, St Helier when he turned 22 years of age.
Tom's first marriage lasted a year. Tom remarried and with his second wife moved to Australia in 1852 and ended up at Port Philip Bay
It appears the family stayed around Melbourne for a period, then by 1854 they head to the Bendigo Gold Fields to seek their fortune like thousands of others. Some find the elusive gold, while others eke out a hard-fought living.
By March of 1857, Thomas is mentioned as taking 'wages in' for a boxing bout under his tutelage, in the Butcher's Arms Hotel in Dunolly Victoria. At that time the population had increased to 12,000 people as the gold rush in this area took hold. It was 117 miles North West of Melbourne, not far from Maryborough Victoria.
It appears that Thomas is now breaking into the boxing circuit around the gold fields in Western Victoria to make money.
Thomas and his family have moved into the Great Western Gold Fields around the region of Ararat. On the 22nd of August in 1858, their son William Branch Curran is born.
Three years later in early 1857 Thomas Curran and his family move into the thriving Ararat region.
Thomas Curran is now mentioned in the National Hotel on the Armstrong diggings near Ararat, but by late September of 1858, Thomas is mentioned as being insolvent and searching for work to feed and house the family.
In search of a place to settle, Thomas and family are on the move once again, he is found entering the Ballarat precinct as thousands descend upon the surrounding gold mining areas, along with many Chinese gold hunters.
It is reported that Thomas Curran had fallen on hard times and spends time in jail. Thomas of the Armstrong Diggings near Ararat had losses in trade and bad debts, and losses in building a theatre at Ararat.
A deficiency of £52 8s 8p. A court hearing is set for November 1858. Strangely, Thomas did not appear. It appears he may have satisfied the creditors, as in December he is appearing in the Glasgow Arms Hotel in Main Road Ballarat, in a grand sparing exhibition. He also challenges the well-regarded Boxer 'John Perry' to a bout for 300 pounds on the side wager. It could be given that the Curran family are staying around Ballarat as Thomas tries to gain funds for them to live on, week to week.
By 1859, Thomas and the family are recorded at the Bridge Hotel, Flemington in Melbourne. The exhibition bouts may have given them more funds to start over once again. Maybe not as owner but as a licensee.
In January of 1859, Thomas Curran takes wages that he could run 7 miles without any training. A quarter mile track was measured along the Flemington Road near the Bridge Hotel. Thomas stood ready at 5 pm in running costume, Unfortunately Thomas took off but sadly after all the pats on the back from well wishes he suddenly fell. He regained his feet and was off again, but in his enthusiasm, he ran too fast and after a distance he ran out of energy to continue his race for a wager. But covering about two and a half miles in good time proved he was in not bad fighting condition.
1860, The big bout for the championship, March 1860. It was held on the Werribee Plain in open country near Geelong. The bare-knuckle bout was against Harry Sellars the 5 feet 9 inches 13 stone negro fighter who had distinguished himself for a few years. 600 pounds and the Championship was on the line as hundreds of men cheered them on, it was brutal and bloody as fists smashed into head and body of both men. After two and a half hours over 26 rounds, the fight was called in Tom Curran's favour as Sellars dropped to the ground without being hit. There was uproar, but the referee held up Tom's hand as victor. After the fight it was said in the crowd that "Tom had broken ribs".
To show who was the real man in the fight, though obviously badly hurt, Tom and his seconders, walked all the way back to the hotel some distance away. Behind the closed-door Tom collapsed to the floor in exhaustion and the effects of the pummelling his body had taken. He would have spat out blood and the bruising would have covered his upper body for many days. Sellars went on to fight again but Tom Curran promptly retired from boxing. He was about 33 years of age.
After the fight there was controversy about the bout in the papers, it was from 'Honourable followers', the high-class clients of boxing, it was seen that because Sellars was a Negro, it would not be good that he won the bout.
Tom went on to operate many hotels in and around Melbourne
These included the Bull and Mouth Hotel in Bourke St where Tom set up boxing gym, the Black Boy Hotel in Little Collins St., the Woolpack Hotel in Queen St, where Tom displayed his title belt, the Castle Tavern in Great Bourke Street Melbourne which he refurbished the hotel and added a large concert, hall, where he could carry out boxing instruction, hold concerts and hold entertainment.
In an amazing effort to get people through the door at the Castle Tavern, it is advertised in the papers: – That 'Jerry' the dog VERSUS 100 rats against time, will be held in the hall, for a wager of 50 pounds. To be held in a glass pit! Also 'Buck' the dog will fight it out with 30 rats in time. The seat prices were 2 shillings for front row and 1-shilling back row seats, fights start at 8pm. Apparently it was packed out for this grizzly sporting event.
He operated the Nag's Head Family Hotel, corner of Great Bourke Street and Queen Street where he offers first class accommodation at 1 pound per week. There is a gymnasium room which he offers: – boxing, sparring, fencing, and work with dumbbells.
Tom moved to Stratford in Gippsland and takes over the Shakespeare Hotel near the Avon River, about 1886. The hotel had been delicenced and was dilapidated by the mid-1880s.
Thomas and family and they try to improve the Shakespeare Hotel, but it seems to be a forlorn effort as the old ramshackle building needs a lot of work. Later it becomes a Temperance lodge.
In 1870 June-July, Tom is operating the 'Swan with Two Throttles' Hotel Stratford, commonly called 'The Swan'. Thomas has built the hotel to a high level of standards and it comes across that the family were very settled in the community.
Tom eventually moves back to Melbourne and operates the Commotion Hotel in Fitzroy, the Royal Hotel in Swanston St. in 1889.
1892 and Thomas has moved again, and he and his 3rd wife Jessie are now at the Oriental Hotel in Nelson Place in Williamstown.
In December 1886 the Oriental Hotel suffered damage after the adjoining restaurant and bakery were destroyed by fire. Tom rebuilds the Hotel and it is still operating today.
After a couple of years at his very good hotel, Thomas once again pulls out and moves to the town of Sale where he operates the Shamrock Hotel Macalister Street, Sale.
March 1898, it is reported in the newspapers, "That Tom Curran was seriously ill at Clifton Hill".
Friends hear that Thomas had suffered a Stroke and paralysis and was in a very bad condition, his family gather around.
Thomas was buried at the Melbourne General Cemetery.