The Vickers-Frostrop wedding invitation
This is a slightly condensed version of a blog post I wrote for the Mackay Family History Society and has been reproduced with permission You can read the full post (and other blog posts) at:
Boese-Coogan Postcards #3: The Frostrop-Vickers wedding invitation
Wedding invitations have certainly changed over the last 111 years!
This postcard was sent by the Mulherin family at Coningsby, a farming locality north of Mackay, to Rudolph and Alice Boese (my great great uncle and aunt) inviting them to attend the wedding of the Mulherin's niece in April 1908.
A wedding is usually a happy event, however, as I delved into the families mentioned in this invitation, I found this to be a very sad story, particularly with regards to the Frostrop family.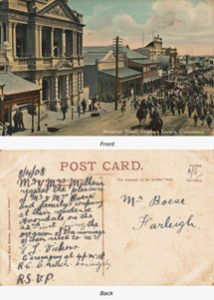 On the 22 April, 1908, William Leonard Vickers married Annie Bridget Frostrop/Frostrap in the Catholic Church at Coningsby. [Click on the card to enlarge it.]
The Frostrop family
Annie Bridget Frostrop was born on the 21 February 1888 to Andrew (Anders/Andreas)Hansen Frostrop and Bridget Maria Mulherin. Annie was their third child with a son John (also called Patrick John), the eldest, who was born on the 18 October 1884 and a daughter Dorothea (Dora) Christina who was born on the 13 June 1886 (In the QLD BDM index, the surname is written as Frostdriff and Ancestry gives the date as the 18th June. This date is from the Asylum files.). Bridget and Andrew were married on the 1 December 1883. Her name is written as Mullhern in the QLD index.
The Frostrop family arrived in Townsville on 19 February 1874 on the immigrant ship Lammershagen from Hamburg. Like so many other new arrivals to the area, the Frostrop family was Danish. Travelling on the ship was Hans, aged 47, his wife Mette, aged 49, Dorothea aged 11, Anders (Andrew) aged 19 and Hans aged 16.
It is not known what the Frostrap family did when they arrived but by 1877, only 3 years later, Andrew is listed as a freeholder on the Alexandra Plantation, outside Mackay, according to electoral rolls. He continued to live at that address for the next six years until his untimely death on the 7 June 1888 When Andrew died after only 5 years of marriage, Bridget was left with three young children aged 4, 2 and the baby Annie aged only 3½ months. Andrew's will was written only 4 days before he died so he knew death was imminent as a young man of 34 would not have expected to die so young. The illness may have been lengthy as later documents indicate that their son, Patrick John, was living with his grandparents, Hans and Mette Frostrup, from about the age of 2 years.
The Mulherin family
Bridget Frostrop (nee Mulherin) was born in Drumcondra, Dublin, (according to the marriage certificate) Ireland, about 1859, however this could vary by as much as 3 years). She was the daughter of Martin Mulherin, later a farmer of Glendaduff (but likely to be farming in the townland of Ballyteige at the time of the birth), and Bridget nee Durkin/Durkan. One of her brothers was Patrick Mulherin (later documents have his name as John Patrick), labourer at Ashburton and later a farmer at Avondale, Coningsby. According to his obituary in the Daily Mercury on the 2 July 1942, Patrick arrived in Australia in 1874 on the Star Queen (as Patrick Mulharon aged 22). There are numerous trees on Ancestry which have his year of birth as 1870 which is clearly wrong as it is more likely to be around 1846-1848. (The Brisbane City Council cemetery records give his age as 91 while his obituary gives it as 96.)
According to his obituary, Patrick came from County Mayo and on arrival in Australia on the Star Queen, aged 22, he worked on various goldfields but ill health prompted his return to Ireland in 1879. Early in 1880 he travelled to America and worked in the sugar plantations in Louisiana, around New Orleans. He came to Mackay in 1882, arriving on the Dorunda (his obituary has the ship's name as the Burunda which is incorrect) and this time used the name of John Mulhern, aged 28. Patrick married Ellen Griffin on the 16 July 1889 and had 9 children.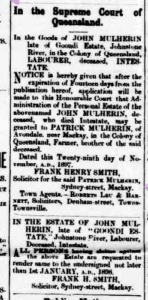 Bridget is not listed on the Dorunda. However, I found a Bridget Mulhearn, aged 23, arriving on the Carnatic on the 28 September 1880 into Townsville. Also on board is John Mulhearn aged 21. She came free while he was a remittance passenger. This may or may not be the Bridget of this story but it is highly likely. What makes this so likely is that a John Mulherin died on the 3 October 1897 aged 36 years. He was a labourer on the Goondi estate on the Johnstone River (near Innisfail). The administration of his estate (as he died intestate) was initially given to his brother Patrick Mulherin of Avondale, near Mackay but later changed to his father in Ireland, Martin Mulherin, with Frederick Bourne in Mackay as Martin's agent. The age for the John Mulhearn on the Carnatic fits with the John Mulherrin who died in 1897.
Bridget also had a sister, Ann(e) who, on the 10 January 1883, had married Robert Drew and was living at Eungella where Robert was a miner. It is probable that Anne arrived, aged 23, on the Caroline on the 1st May1882. Anne and Robert are listed at Cattle Creek in 1903 and1905 electoral rolls and he is a labourer. By 1913 he is a farmer at Finch Hatton. The couple had six children. Robert died on the 25 December 1914 while Anne died on the 3 December 1925.
For Bridget, the death of Andrew must have been a terrible blow. Though she was not left destitute, as Andrew's will left money to her through a life insurance policy, she will still have struggled with the loss of her husband, the care of three very young children and perhaps even post-natal depression as Annie was only a baby.
Eighteen months after Andrew's death, on the 14 January 1890, Bridget was admitted to Goodna Mental Asylum. This is the date given on the files but she may not have arrived at Goodna until at least a week or so later, about the 24 January. The first note about her is made on the 20 January regarding her transportation from Mackay to Brisbane.
The Asylum documents record the next sad episode in Bridget's life. The initial documents relate to whether she had the funds to pay for the expense of having a nurse accompany her to the Asylum and for her ongoing care. (A nurse, Mary Fraser, accompanied Bridget to Brisbane at a cost of £8 10s.) A letter from the gaoler at Her Majesty's Gaol in Mackay to the Superintendent of the Asylum outlines her available funds and that two of her children are in the custody of her brother (Patrick Mulherin) while another is with her mother-in-law (Mette Frostrop).
A week after her admittance, Patrick Mulherin wrote to the Curator in Insanity asking what can be done as Bridget Frostrop owes him the sum of £62 6s 4d being money that he has lent her, bills he has paid and that he has the care of her children. The Curator makes an annotation on the letter asking if the Asylum doctor will state how long Bridget might remain in the Asylum and that a letter is to be sent to Mackay asking the Commissioner of Police to interview Mulherin. The Curator wished to know if the children appeared to be well cared for and if the claim of monies owed was a just one.
A later annotation on the same letter notes that the Curator does not intend to satisfy the patient's debts as he has been informed that there is a fair probability of patient's recovery and that he also requires copies of all receipts for the monies that Mulherin has spent.
The reply from Mackay outlines Bridget's circumstances. The land owned by Bridget was bought by her father-in-law, Hans Frostrop, while the small cottage was built by her brother, Patrick Mulherin. The eldest child lives with his grandparents while his two sisters live with the Mulherin family who also take care of the household contents. The cottage is about 2 miles from town with a value of about £50. Patrick provided the writer with a list of the payments he had made on Bridget's behalf.
Bridget died in Goodna Asylum, Oxley of phthisis (tuberculosis) on the 17 June, 1892, aged 36.
Following her death, there is a further flurry of letters relating to her estate. Though Patrick did not press his claim in 1890, he does continue with the claim on her estate once she died. There is obviously gossip in Mackay about Bridget's money as Ellen Mulherin wrote to the Curator to ask what was happening with her estate as she is boldly accused by people here of having her money. A letter from Patrick to the Curator also raises similar concerns that people are encouraging Mr Frostrop (Hans Frostrop) that I am wanting it all but I am only wanting my own whitch (sic) that's not half of it but I will just have to be the looser (sic).
The Curator in Insanity notes that there will not be any money left once Mulherin is paid his claim and the Curator is reimbursed for the maintenance and burial of the deceased. Patrick Mulherin reached an agreement with Hans Frostrop that Patrick John could remain with his grandfather while the two girls remained with the Mulherin family.
Dorothy (Dora) and Annie Bridget were enrolled at Coningsby School in 1893 and are listed on the school roll as Cissy Mulherin aged 7 and Annie Mulherin aged 6. Cissy left school in July of 1899 when she was 13 and Annie in July of the following year at the age of 12.
Dora Christina (Cissy) Frostrop married Charles Vines on 12 July 1905. Charles was a farmer at Palm Vale, near Habana and was 35 while Dorothy was 19. Four girls and a boy were born to the couple. A daughter, Sarah Ann, died in infancy in 1906. The marriage was not a happy one with Cissy leaving the house in 1918. She petitioned for divorce in 1931 but the petition failed as she could not prove that he had deserted her. Charles died in 1937. Following Charles' death, Cissy married Leo McDermott and outlived him by many years, dying in her nineties in the 1980s.
Patrick John continued to live with his grandparents until Mette died on the 23 July 1906 and Hans followed two years later on the 18 January 1908. Patrick worked as a storeman until enlisting for war service in 1916 in Maryborough. He was killed in action in France on the 13 August 1918 aged 33. Patrick was initially buried in the Bayonvillers German Cemetery but was later moved to the Heath Cemetery just to the north of Harbonnieres in France. Frustratingly, the Commonwealth War Graves Commission, which maintains the cemetery, has his parents listed incorrectly as Hans Peter (his grandfather) and Ann Bridget (his sister) Frostrop.