Are you planning to write a family history or the life story of an ancestor? GSQs Library has a range of books related to writing, which are catalogued under AUS306. These are not restricted to the Writing Group; they are accessible to all GSQ members. Two Writing Group members each 'borrowed' a book in order to prepare a review for discussion at our April meeting. The books in question were: Sophie King How to write your life story in 10 easy steps and Writing Life Stories by Bill Roorbach.
As Group Convenor, I had seen both reviews before circulating them to the group. They were quite different in style, which probably reflected the different nature and focus of the books and the writing styles of the reviewers. I therefore took the opportunity to use part of the meeting to concentrate on reviews. For our writing exercise at the beginning of the session, members were invited to write a review of a favourite book or film, some of which were shared among the group. Sharing with the group is voluntary: many members often need to think about a topic before starting to write and therefore are unwilling to share what they consider a very rough first draft. This raises an important feature of the writing process – write with the aim of reviewing and editing. It's very rare that a first draft ends up being the final version. This blog post for instance has been revised several times as I try to express my thoughts more clearly. Continuing with the theme of writing reviews, I provided members with some tips and advice garnered from various sources, such as the Writing Centre at the University of North Carolina.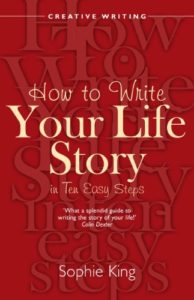 Returning to the two book reviews, Sophie King's book was, as its title suggests, an introductory level book providing a step by step approach. The reviewer commented that the steps could be used for biographies and autobiographies. Many of King's ideas are familiar and cover subjects such as the structure and presentation, context, writer's block, creating timelines. An interesting topic is how to end your own life story, at least while you're still alive! Suggestions were to offer advice, life lessons and hopes for the future. Although this book offers steps to write a personal life story, many of the ideas presented can be applied to ancestor biographies. 
The second book by Bill Roorbach is a much more in-depth exploration of strategies f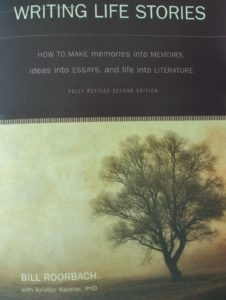 or writing a life story. It is based on a college writing course and is imbued with the personality of the author. He provides many anecdotes and writes, at times, with a wry sense of humour. Each chapter comprises a lesson with specific exercises that focus on a particular aspect of writing. The drafting and revision process is clearly seen in the examples of student work. Working your way through this book would definitely be for the dedicated writer, but its value to family historians lies in the ability to dip into a relevant chapter when tackling a particular topic.
Many published authors talk about 'finding your voice' when writing and we considered how we would know when we had found it. The general view was that this could change depending upon what we were writing and the audience. Including extensive quotes from other writers makes it difficult to find your own voice. I think, however, that we often start writing in a particular 'voice', which for me is a fairly formal one; when I read through what I've written I try to tailor the writing to the situation.  
Members shared strategies they've used to write biographies of their ancestors. Creating a timeline of the major events in a person's life is extremely useful in setting the framework for a biography. This timeline allows you to jump about in the story, adding details and context as you go, without getting lost. It is a relatively straightforward process to reorganise material later. Too much context can be overwhelming, however, and make it difficult to focus on the family's story. Finding interesting things and creating a hook help to keep people reading.
All in all this was a very interesting and thought-provoking meeting, with the majority of members probably leaving with the thought that they needed to start writing their own stories. I hope that this has given you some food for thought and the impetus to get started. We will be someone's ancestors one day.  
GSQ has some great books on a wide range of topics, so do take the time to browse the shelves the next time you visit. If you would like to try writing a review, I'm sure the editors of Generation would welcome your contribution.
Until next time
Pauline