Precious items evoke precious memories.
Not all our heirlooms are photos, china, jewellery etc.  This is the story of one of my precious items, a piece of furniture lovingly crafted by my father for his future family home, just prior to my parents' marriage in 1939.
Some of the items Dad made included a sideboard, a china cabinet, a dining room suite, telephone table with attached seat (almost retro style), a lovely double bed suite with matching duchess[1] and stool. In many of the items he carved the shape of an iris inlaid in different species of wood. I'm blessed that I managed to salvage design drawings of his pieces and also a couple of the old Trittons furniture catalogues that he used to get idea from; Trittons was a long-standing Brisbane company who are no longer trading.
Restoring the sideboard
My task at the time was a labour of love. It was hard, it was dirty, it was back back-breaking even to my younger self and it took many hours of many days to complete. The mission was to restore a sideboard that my father, a Master Cabinetmaker, had made for my Mum in the period pre WW2. Growing up I knew that Dad had made every piece of furniture in our family home but never thought to stop and think how lucky we were to have such a talented man who produced such beautiful pieces.
Following the death of our much-loved parents, myself, my siblings and two adult nieces had each decided what we'd like. As I was living in Sydney, I only chose the sideboard, squatters chair and piano and thankfully they all arrived with no damage. Four years later, as I knew we wouldn't have room in our new home in Queensland, I passed the sideboard to my eldest niece. This involved taking it in our trailer to her country home 430 klms away. Years later my niece had shifted to Queensland and eventually offered it back to me.
By this time I was lamenting my lack of heirloom items that my family had and so gratefully accepted the offer. It certainly had received an adventurous life in the meantime. This item is very heavy so we left it in the spare side of our double garage where I could work on its restoration soon after. Somewhere along the line in its sad post-1988 life, said cabinet lost the three bevelled short, scalloped mirrors that originally sat at the back of the top. I have not tried to replace them. Initially I removed the drawers, back, four legs and three doors. The legs needed repairing so hubby Chris tackled that task. The middle one with leadlight glass had one little panel missing so I sourced a local specialist to replace the pane and resolder etc the rest. The result was well worth the $$$s.
My next challenge was to putty up pieces of missing veneer and sculpt the chipped bits back into the legs. Next was the hardest part, lots of sanding with my trusty sheet sander using a couple of different grades, heavy first, then a fine particle one to smoothe the surface out later. My mouse sander came in handy for the corners and edges and just the old-fashioned way with a sheet round the sanding-block was also used in hard-to-reach places.
As mentioned, all this is very dirty work, so I donned an old cap to save the dust from getting in my hair. Looking at myself in the mirror one day, I realised I had subconsciously done what Dad always did – wore a cap when working in his workshop downstairs. Next was the rewarding bit, a light coating of stain to bring back the wood grain, this is the process that I enjoy the most as it's beautiful seeing it come back to life. Next step was to begin adding the clear lacquer coats, usually three spaced a few days apart.
The last task was to add all the bits and pieces back onto the cabinet and install the new handles, sourced from a supplier of replica items. During this project my eldest daughter had taken an interest, and agreed she'd like to have the cabinet when we eventually shifted, so she chose the vintage handles. The sideboard now lives at her house, and I sincerely hope that it remains our family treasure, as has all my dad's other precious pieces to date.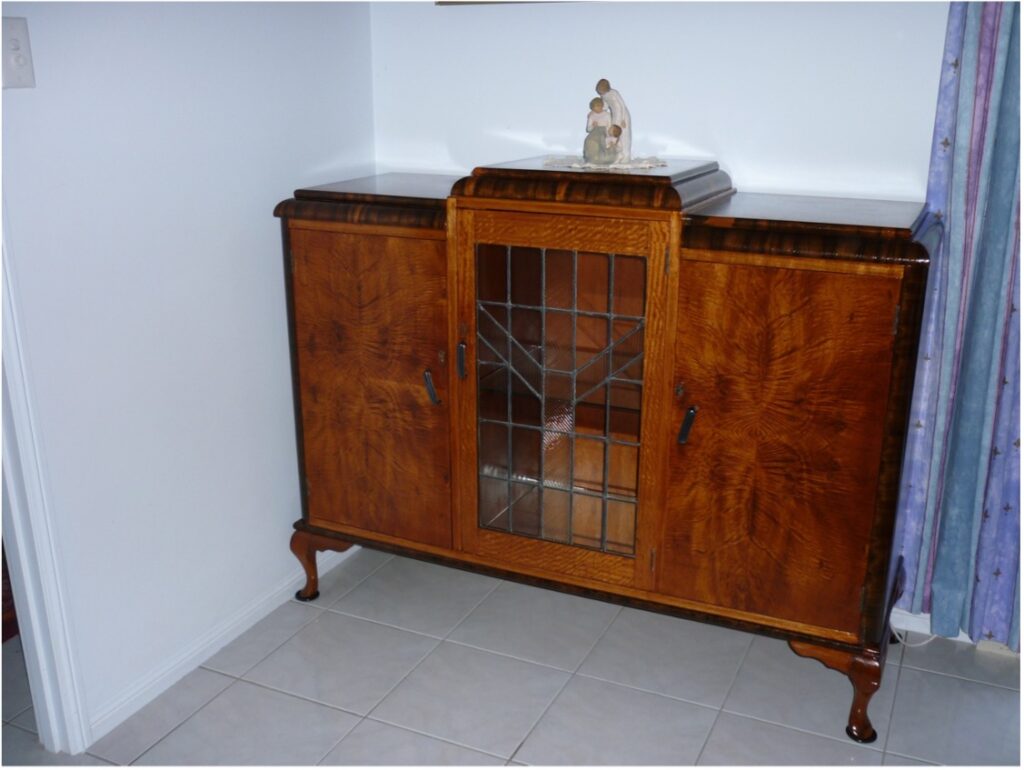 Postscript.
I've recently been visiting my sister and recorded some of her memories. Talking about our grandparents' home 'Merkara' on Old Cleveland Road, Coorparoo where dad and his sisters grew up, my sister remarked that she didn't know how dad made all that beautiful furniture for mum under Merkara prior to their marriage. The beautiful old Queenslander was almost on the ground at the back, but higher at the front and that underhouse section had a dirt floor. What a labour of love it must have been for him, making all the furniture for their future life together.
[1] Duchess is an old term for a dressing table